PRÁVNĚHISTORICKÉ STUDIE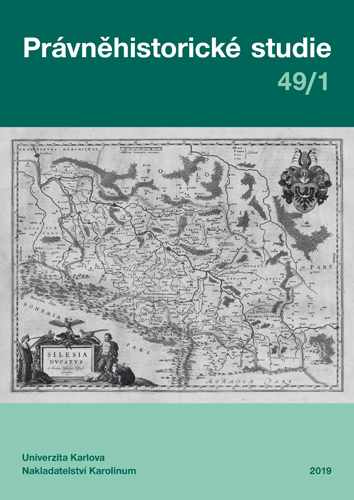 Právněhistorické studie (dále jen PHS) jsou odborným recenzovaným časopisem vydávaným od roku 1990 Univerzitou Karlovou v Praze za vědecké garance Ústavu právních dějin Právnické fakulty UK v univerzitním nakladatelství Karolinum. PHS jsou jediné české a slovenské vědecké periodikum v oboru dějin státu a práva.
První číslo časopisu vyšlo v Nakladatelství Československé akademie věd v červnu roku 1955. Časopis byl nejprve vydáván Kabinetem právních dějin ČSAV, později Ústavem státu a práva ČSAV a poté Ústavem právních dějin Právnické fakulty Univerzity Karlovy.
PHS vycházejí třikrát ročně v dubnu, srpnu a prosinci a otiskují původní vědecké práce, vedle nich i recenze, anotace a zprávy z vědeckého života z oboru právních dějin. Přinášejí rovněž komentované materiály právněhistorické povahy. PHS přijímají příspěvky od domácích i zahraničních autorů. Příspěvky zahraničních autorů jsou uveřejňovány v původním jazyku, a to v angličtině, slovenštině, němčině, francouzštině, italštině nebo polštině.
Časopis Právněhistorické studie (ISSN 0079-4929) je evidován v Českém národním středisku ISSN (vedena Státní technickou knihovnou). Časopis je evidován Ministerstvem kultury ČR podle zákona č. 46/2000 Sb., o právech a povinnostech při vydávání periodického tisku a o změně některých dalších zákonů (tiskový zákon), a má přiděleno evidenční číslo periodického tisku MK E 18813.
Časopis Právněhistorické studie je tzv. otevřeným časopisem, a zajišťuje otevřený přístup k vědeckým informacím (Open Access). Veškerý obsah od čísla 48/2 je zveřejněn na webových stránkách časopisu (studie od čísla 43/2013), přičemž přístup k němu mají všichni bezplatně.
Časopis Právněhistorické studie využívá licenci Creative Commons: CC BY 4.0.
Dlouhodobou archivaci digitálního obsahu časopisu zajišťuje Portico.
Raptus Semproniae? An analysis of the Martial's Epigram XII, 52
[Raptus Semproniae? An analysis of the Martial's Epigram XII, 52]
Joanna Kulawiak-Cyrankowska
DOI: https://doi.org/10.14712/2464689X.2019.2
zveřejněno: 07. 08. 2019
Abstract
The Epigram XII, 52 written by Marcus Valerius Martialis is a description of a story of Sempronia – a woman, who was either abducted or seduced, but who later left her lover and returned to her lawful husband. The poet, by repeating the terminology associated with violence (raptus, rapina, raptor, rapta), puts emphasis on the motive of force (vis). This might suggest that the poem was composed as a speech in defence of Sempronia and Martial could have been trying to convince the general public that the woman was simply forced to leave her husband. The main aim of the paper is to assess to what extent this attempt could have been effective and credible in the eyes of an ancient reader. Moreover, describing the mutual relations between poetry, law and rhetoric will allow determining if Martial knew Roman law and wanted to make use of his knowledge or if he simply found linguistically attractive using the words that sounded similar but did not have the same meaning.
Klíčová slova: Raptus; vis; force; Martial; Roman Law
reference (45)
1. AMIELAŃCZYK, K. Crimina legitima w rzymskim prawie publicznym. Lublin: Wydawnictwo Uniwersytetu Marii Curie-Skłodowskiej, 2003.
2. BERTI, E. Scholasticorum studia. Seneca il Vecchio e la cultura retorica e letteraria della prima età imperiale. Pisa: Giardini, 2007.
3. BIONDI, B. Il diritto romano cristiano: La giustizia, le persone. Vol I. Milano: Giuffrè, 1952.
4. BOHN, H. G. (ed.). The Epigrams of Martial: Translated Into English Prose. Each Accompanied by One Or More Verse Translations, from the Works of English Poets, and Various Other Sources. London: Georg Bell and Sons, 1881.
5. BOTTA, F. "Per vim inferre". Studi su stuprum violento e raptus nel diritto romano e bizantino, Cagliari: Edizioni AV, 2004.
6. BRESCIA, G. Ambiguous silence: stuprum and pudicitia in Latin Declamation. In: AMATO, E. - CITTI, F. - HUELSENBECK, B. (eds.). Law and Ethics in Greek and Roman Declamation. Berlin - Munich - Boston: De Gruyter, 2015.
7. BROTHWELL, D. - BROTHWELL, P. Food in Antiquity. A survey on the diet of early peoples. Expanded edition. Baltimore and London: The Johns Hopkins University Press, 1998.
8. CROOK, J. A. Law and Life of Rome. Ithaca, NY: Cornell University Press, 1967
9. DE GIOVANNI, L. La giurisprudenza severiana tra storia e diritto. Le Institutiones di Elio Marciano. Athenaeum, 2006, 94, pp. 487-506.
10. DEMINION, M. A. Staging Morality: Studies in the Lex Iulia de Adulteriis of 18 BCE, pp. 27-53. Online:
11. https://dspace.library.uvic.ca/bitstream/handle/1828/3341/Staging%20Morality.pdf?sequence=1&isAllowed=y
12. DESANTI, L. Costantino, il ratto e il matrimonio riparatore. Studia et Documenta Historiae et Iuris, 1986, 52, pp. 195-217.
13. Dictionnaire étymologique de la langue latine: histoire des mots par A. ERNOUT, A. MEILLET. Paris: Klincksieck, 2001.
14. EVANS-GRUBBS, J. Abduction Marriage in Antiquity: A Law of Constantine (CTh. IX 24.1) and its Social Context. The Journal of Roman Studies, 1989, 79, pp. 59-83. CrossRef
15. FAIRWEATHER, J. Seneca the Elder. Cambridge: Cambridge University Press, 1981, reprint 2007. CrossRef
16. FERRARI, A. Dizionario dei luoghi del mito: Geografia reale e immaginaria del mondo classic. Milano: Biblioteca Universale Rizzoli, 2011.
17. FERRINI, C. Diritto penale romano. Teorie generali. Milano: Hoepli, 1899.
18. GRODZYNSKI, D. Ravies et coupables. Un essai d'interprétation de la loi IX, 24, 1 du Code Théodosien. Mélanges de l'école française de Rome, 1984, 96.2, pp. 697-726. CrossRef
19. KOCH, A. Ewolucja deliktu iniuria w prawie rzymskim epoki republikańskiej. Czasopismo Prawno-Historyczne, 1967, 19.2, pp. 51-74.
20. LAMBERTINI, R. Stuprum violento e ratto. Index. Quaderni camerti di studi romanistici, 2008, 36.
21. LANG, J. Index omnium vocabulorum quae in omnibus M. Val. Martialis poëmatum libris reperiuntur, unâ cum rerum, epithetorum ac phrasium singularium annotatione, tàm ad linguae latinae, quàm ad poëseos rectum usum. Argentina: Aere Lazari Zetneri, 1595.
22. LENEL, O. Palingenesia iuris civilis. Iuris consultorum reliquiae quae Justiniani Digestis continentur ceteraque juris prudentiae civilis fragmenta minora secundum auctores et libros. Vol. I. Lipsiae: ex officina Bernhardi Tauchniz, 1960.
23. Les Épigrammes de Martial traduites en vers français par C. DUBOS. Précédés d'un essai sur la vie et les ouvrages de Martial par M. J. JANIN. Paris: Jules Chapelle et compagnie, Éditeurs, 1841.
24. MARCO VALERIO MARZIALE. Gli epigrammi. Testo latino a fronte. VIVALDI, C. (a cura di). Roma: Newton Compton, 1993.
25. MARTIAL. Epigramme. Gesamtausgabe: Lateinisch-deutsch. BARIÉ, P. - SCHINDLER, W. (eds.). Berlin: De Gruyter Akademie Forschung, 2013. CrossRef
26. MARTIAL. Epigrams, Volume I: Spectacles. Books 1-5. Edited and translated by D. R. Shackleton Bailey. Loeb Classical Library 94. Cambridge - Massachusetts - London: Harvard University Press, 1993. CrossRef
27. MARTIAL. Epigrams: With Parallel Latin Text. Translated by G. Nisbed. Oxford: Oxford University Press, 2015.
28. MARTIALIS M. V. M. Waleryusa Marcyalisa Epigramów ksiąg XII. Trans. J. Czubek. Kraków: nakł. Akademii Umiejętności, 1908.
29. MARZIALE. Epigrammi. Vol. II. BETA, S. (a cura di). Milano: Mondadori, 2007.
30. MORAWSKI, K. Historja literatury rzymskiej za cesarstwa. Od Augusta do Hadrjana. Kraków: Gebethner i Wolff, 1919.
31. NGUYEN, N. L. Roman Rape: An Overview of Roman Rape Laws from the Republican Period to Justinian's Reign. Michigan Journal of Gender and Law, 2006, 13.1, pp. 86-96.
32. OVID. Art of Love. Cosmetics. Remedies for Love. Ibis. Walnut-tree. Sea Fishing. Consolation. Translated by J. H. Mozley. Revised by G. P. Goold. Loeb Classical Library 232. Cambridge - Massachusetts - London: Harvard University Press, 1929.
33. PLINY THE YOUNGER. Letters, Volume I: Books 1-7, Panegyricus. Trans. by B. Radice. Loeb Classical Library 55. Cambridge - Massachusetts - London: Harvard University Press, 1969. CrossRef
34. QUERZOLI, S. La puella rapta: paradigmi retorici e apprendimento del diritto nelle Istituzioni di Elio Marciano. Annali Online Lettere - Ferrara, 2011, 1-2.
35. SENECA THE ELDER. Declamations, Volume 1: Controversiae, Books 1-6. With an English translation by M. Winterbottom. Loeb Classical Library 463. Cambridge - Massachusetts - London: Harvard University Press, 1974. CrossRef
36. SITEK, B. Crimen rapti mulieris. Studia nad fragmentem Marcianusa 14 Inst. D. 48,6,5,2. In: KOWALSKI H. - KURYŁOWICZ M. (eds.). Contra leges et bonos mores: Przestępstwa obyczajowe w starożytnej Grecji i Rzymie. Lublin: Wydawnictwo Uniwersytetu Marii Curie-Skłodowskiej, 2005.
37. SPIELBERG, L. Non contenti exemplis saeculi vestri: Intertextuality and the Declamatory Tradition in Calpurnius Flaccus. In: DINTER, M. T. - GUÉRIN, Ch. - MARTINHO, M. (eds.). Reading Roman Declamation-Calpurnius Flaccus. Berlin: Walter de Gruyter GmbH, 2017. CrossRef
38. SZELEST, H. Marcjalis i jego twórczość. Warszawa - Wrocław - Kraków: Zakład Narodowy im. Ossolińskich. Wydawnictwo Polskiej Akademii Nauk, 1963.
39. SUETONIUS. Lives of the Caesars, Volume I: Julius. Augustus. Tiberius. Gaius. Caligula. Translated by J. C. ROLFE. Introduction by K. R. BRADLEY. Loeb Classical Library 94. Cambridge - Massachusetts - London: Harvard University Press, 1914. CrossRef
40. The Digest of Justinian. Vol. 4. Translation edited by A. Watson. Philadelphia: University of Pensylvania Press, 1998, p. 330.
41. Thesaurus linguae Latinae (TLL) Online (n.d.). Berlin, Boston: De Gruyter. Online:
42. https://www.degruyter.com/view/TLL/11-2/11_2_1_11_2_1_raptus_2_fv_19012013.xml.
43. WIEWIOROWSKI, J. Małżeństwo przez porwanie w antyku. Ustawa Konstantyna I (CTh. 9.24.1) w świetle psychologii ewolucyjnej. In: KALINOWSKI, Z. - PRÓCHNIAK, D. (eds.). Bitwa przy Moście Mulwijskim. Konsekwencje. Poznań: Wydawnictwo Poznańskiego Towarzystwa Przyjaciół Nauk, 2014.
44. WIEWIOROWSKI, J. Odpowiedzialność senatora, który uprowadził dziewicę (pannę) - uwagi na marginesie CTh 9.1. - C. 3.24.1. In: KOWALSKI, H. - KURYŁOWICZ, M. (eds.). Contra leges et bonos mores: Przestępstwa obyczajowe w starożytnej Grecji i Rzymie. Lublin: Wydawnictwo Uniwersytetu Marii Curie-Skłodowskiej, 2005.
45. WIEWIOROWSKI, J. Porywanie kobiet jako zjawisko społeczne w późnym antyku. Moralność i prawo. In: BANASZKIEWICZ, J. - ILSKI, K. (eds.). Homo, qui sentit. Ból i przyjemność w średniowiecznej kulturze Wschodu i Zachodu. Poznań: Wydawnictwo Instytutu Historii UAM, 2013.

Raptus Semproniae? An analysis of the Martial's Epigram XII, 52 is licensed under a Creative Commons Attribution 4.0 International License.
240 x 170 mm
vychází: 2 x ročně
cena tištěného čísla: 250 Kč
ISSN: 0079-4929
E-ISSN: 2464-689X
Ke stažení