PSYCHOLOGIE PRO PRAXI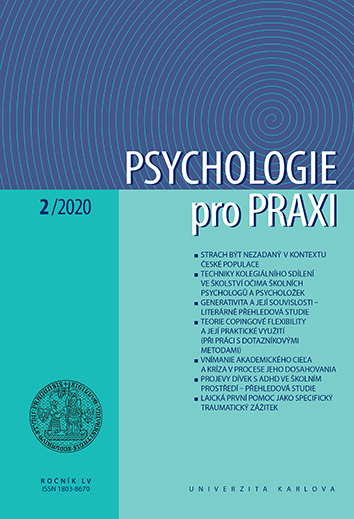 Psychologie pro praxi chce navázat na cennou tradici předchozího odborného časopisu Psychologie v ekonomické praxi s tím, že nabízí prostor pro publikování původních příspěvků z psychologie i příbuzných disciplín. Preferovány jsou tyto základní obory: psychologie pedagogická a školní, psychologie práce a organizace, psychologie sociální a vývojová, psychologie zdraví a klinická psychologie. Vítány jsou příspěvky, které se zabývají studiem psychologických témat v rámci různých aplikovaných oblastí či napříč kulturami.
Techniky kolegiálního sdílení ve školství očima školních psychologů a psycholožek
[Collegiate sharing techniques in education through the eyes of school psychologists]
Helena Franke, Anna Vozková
DOI: https://doi.org/10.14712/23366486.2022.1
zveřejněno: 01. 07. 2022
Abstract
169 school psychologists participated in a questionnaire survey asking them about collegial sharing techniques in educational setting. The survey was part of the research project "Supervision – prevention of teacher burnout". The aim of the study was to find out if school psychologists play a role in providing collegial sharing in schools and their attitude towards it. A questionnaire was created for the purposes of the research, it included quantitative and qualitative answers. Organized forms of collegial sharing (supervision and intervision) took place in only 21 percent of the monitored schools. However, 90 percent of participating school psychologists considered them important, and they believe that these techniques should be introduced to schools. They see the lack of time and interest in teachers as the main obstacles to the spread of these techniques in educational settings. School psychologists were interested in their own supervision and training in conducting of supervision or intervision.
klíčová slova: supervision; intervision; collegial sharing; burnout; education; school psychology
reference (31)
1. Avalos, B. (2011). Teacher Professional Development in Teaching and Teacher Education Over Ten Years. Teaching and Teacher Education, 27(1), 10-20. CrossRef
2. Baštecká, B., Čermáková, V., & Kinkor, M. (2016). Týmová supervize: teorie a praxe. Portál.
3. Bogo, M., & McKnight, K. (2005). Clinical Supervision in Social Work: A Review of the Research Literature. In L. Shulman, & A. Safyer (Eds.) (2005). Supervision in Counseling. Interdisciplinary Issues and Research. The Haworth Press, Inc.
4. Clarke, D., & Hollingsworth, H. (2002). Elaborating a model of teacher professional growth. Teaching and teacher education, 18(8), 947-967. CrossRef
5. Farrell, T. S., & Jacobs, G. M. (2016). Practicing What We Preach: Teacher Reflection Groups on Cooperative Learning. TESL-EJ, 19(4), 1-9.
6. Franzenburg, G. (2009). Educational intervision: Theory and practice. Problems of Education in the 21st Century, 13(1), 37-43.
7. Guskey, T. R. (2002). Professional development and teacher change. Teachers and teaching, 8(3), 381-391. CrossRef
8. Hagemeier, C., Bischoff, L., Jacobs, J., & Osmon, W. (1998). Role Perceptions of the School Psychologist by School Personnel. Paper presented at the Annual National Convention of the National Association of School Psychologists.
9. Halama M. (2012). Postoj učitelů k supervizi. Sborník konference Rozvoj školy a supervize. Lumen vitale.
10. Havrdová, Z., & Hajný, M. (2008). Praktická supervize. Galén.
11. Jarzabkowski, L. M. (2002). The social dimensions of teacher collegiality. The Journal of Educational Enquiry, 3(2). 2-20.
12. Jindra, J. (2008). Balintovská skupina. In Skupinové řešení problémů - metody vedoucí k rozhodnutí dostupné z https://clanky.rvp.cz/clanek/a/2806/2805/SKUPINOVE-RESENI-PROBLEMU---METODY-VEDOUCI-K-ROZHODNUTI.html/
13. Kratochvíl, Z. (1997). Základy psychoterapie. Portál.
14. Kusák, P., & Urbanovská, E., (2009). Syndrom vyhoření učitelů ve vztahu k vybraným determinantám. E - pedagogium, 9(4), 108-121
15. Marcos, J. M., Sanchez, E., & Tillema, H. H. (2011). Promoting teacher reflection: What is said to be done. Journal of Education for Teaching, 37(1), 21-36. CrossRef
16. Neumannová, M. (2008). Supervize/intervize jako prevence syndromu vyhoření ve Sdružení linka bezpečí. [Diplomová práce, FSS MU].
17. Pačesová, M. (2004). Lékař, pacient a Michael Balint: balintovské skupiny v Česku. Triton
18. Poulou, M. (2002) 'Prospective Teachers' Perceptions of the School Psychologist's Role', Mediterranean Journal of Educational Studies, 7(1), 47-63.
19. Poulou, M. (2003). Reflections of pre-service psychologists on the role of the school psychologist. School Psychology International, 24(4), 378-393. CrossRef
20. Proctor, B. (2006). Group supervision. A Guide to Creative Practice. SAGE Publications.
21. Sasson, B. D., & Somech, A. (2015). Observing aggression of teachers in school teams. Teachers and Teaching, 21(8), 941-957. CrossRef
22. Schepper, B., Ionescu, M., Pelemen, B., Sharmahd, N., & Vestmans, S., (2015). Wanda se setkává s ISSOU - Příručka pro facilitátory, Johan Veeckman, Hoogpoort 15, 9000 Ghent, Belgium.
23. Shriberg, D. (2007). The school psychologist as leader and change agent in a high-stakes era. Journal of Applied School Psychology, 23(2), 151-166. CrossRef
24. Smetáčková, I., Viktorová, I., Štech, S., Pavlas-Martanová, V., Páchová, A., Francová, V., & Ptáček, R. (2019). Syndrom vyhoření a jeho souvislosti u vyučujících na českých základních školách. Československá psychologie, 63(4), 386-401.
25. Svendsen, B. (2016). Teachers' experience from a school-based collaborative teacher professional development programme: reported impact on professional development. Teacher Development, 20(3), 313-328. CrossRef
26. Štech, S., & Zapletlová, J. (2013). Úvod do školní psychologie. Portál.
27. Tošner, J. (2017). Metodika supervize v sociálních službách v podmínkách projektu Podpora transformace sociálních služeb v letech 2011-2013. Ministerstvo práce a sociálních věcí České republiky.
28. Van Gyn, G. H. (1996). Reflective practice: The needs of professions and the promise of cooperative education. Journal of Cooperative Education, 31(2-3), 103-131.
29. Watkins, M. W., Crosby, E. G., & Pearson, J. L. (2001). Role of the school psychologist: Perceptions of school staff. School Psychology International, 22(1), 64-73. CrossRef
30. Žídková, Z., & Martinková, J. (2003). Psychická zátěž učitelů základních škol. České pracovní lékařství, 4(3), 6-10.
31. <bez popisu>

Techniky kolegiálního sdílení ve školství očima školních psychologů a psycholožek is licensed under a Creative Commons Attribution 4.0 International License.
157 x 230 mm
vychází: 2 x ročně
cena tištěného čísla: 80 Kč
ISSN: 1803-8670
E-ISSN: 2336-6486
Ke stažení