PRÁVNĚHISTORICKÉ STUDIE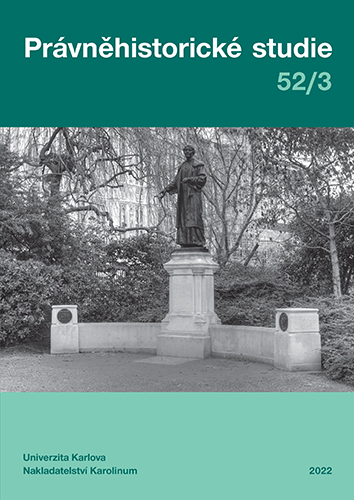 Právněhistorické studie (dále jen PHS) jsou odborným časopisem zařazeným do prestižní mezinárodní databáze SCOPUS, vydávaným Univerzitou Karlovou v Praze za vědecké garance Katedry právních dějin Právnické fakulty UK v univerzitním nakladatelství Karolinum. PHS jsou časopisem zaměřujícím se na obor právních dějin a témata, která s nim souvisí.
První číslo časopisu vyšlo v Nakladatelství Československé akademie věd v červnu roku 1955. Časopis byl nejprve vydáván Kabinetem právních dějin ČSAV, později Ústavem státu a práva ČSAV a poté Ústavem právních dějin Právnické fakulty Univerzity Karlovy.
PHS vycházejí třikrát ročně v dubnu, srpnu a prosinci a otiskují původní vědecké práce, vedle nich i recenze, anotace a zprávy z vědeckého života z oboru právních dějin. Přinášejí rovněž komentované materiály právněhistorické povahy. PHS přijímají příspěvky od domácích i zahraničních autorů. Příspěvky zahraničních autorů jsou uveřejňovány v původním jazyku, a to v angličtině, slovenštině, němčině, francouzštině, italštině nebo polštině.
Časopis Právněhistorické studie (ISSN 0079-4929) je evidován v Českém národním středisku ISSN (vedena Státní technickou knihovnou). Časopis je evidován Ministerstvem kultury ČR podle zákona č. 46/2000 Sb., o právech a povinnostech při vydávání periodického tisku a o změně některých dalších zákonů (tiskový zákon), a má přiděleno evidenční číslo periodického tisku MK E 18813.
Časopis Právněhistorické studie je tzv. otevřeným časopisem, a zajišťuje otevřený přístup k vědeckým informacím (Open Access). Veškerý obsah od čísla 48/2 je zveřejněn na webových stránkách časopisu (studie od čísla 43/2013), přičemž přístup k němu mají všichni bezplatně.
Časopis Právněhistorické studie využívá licenci Creative Commons: CC BY 4.0.
Dlouhodobou archivaci digitálního obsahu časopisu zajišťuje Portico.
The Case of Lucretia - Symbolizing the Political Reality
Konstantin Tanev
DOI: https://doi.org/10.14712/2464689X.2022.34
zveřejněno: 27. 01. 2023
Abstract
The myth of Lucretia, the wife of Collatinus, raped by Sextus Tarquinius – the son of the last Roman king – is very influential in the Classical and Medieval literature, likewise in the Modern times in the different fields of science and art. Its pristine form is now lost in the distant past and it is possible to compare the sources to see several layers of its political, legal, and ethical interpretation. Following these elaborations, we find a history of different legal institutions and rhetoric argumentation. However, with the help of archaeological findings some elements of its historical image starts to appear being the model family values and religious beliefs built in the foundation of common cultural forms in Italy.
klíčová slova: Lucretia; pudor; castitas; metus; vis; adulterium; stuprum
reference (22)
1. ALFÖLDI, A. Early Rome and the Latins. Ann Arbor: University of Michigan Press, 1965.
2. BAUMAN, R. A. "Quod metus causa" and the Criminal Law. Latomus, 1993, 52, 3, pp. 550-566.
3. BOTTA, F. "Per vim inferre". Studi su stuprum violento e raptus nel diritto romano e bizantino. Cagliari: AV, 2004.
4. BRESCIA, G. Ambiguous Silence: stuprum and pudicitia in Latin Declamation. AMATO, E. - CITTI, F. - HUELSENBECK, B. (eds.). Law and Ethics in Greek and Roman Declamation. Berlin - Munich - Boston: De Gruyter, 2015, pp. 75-93. CrossRef
5. DONALDSON, I. The Rapes of Lucretia a Myth and its Translations. Oxford: Oxford University Press, 1982.
6. DUMEZIL, G. Mitra-Varuna. Essai sur deux représentations indo-européennes de la souveraineté. Nouvelle edition. Paris: Gallimard, 1948.
7. DUNLOP, J. History of Roman Literature from Its Earliest Period to the Augustan Age, V. 1. London: Longman, Hurst, Rees, Orme, Brown, and Green, Paternoster-Row, 1824.
8. FIORI, R. Ordalie e diritto romano. Iura, 2017, 65.
9. FISCHER, J. The Annals of Quintus Ennius and the Italic Tradition. Baltimore: Johns Hopkins University Press, 1969.
10. FÖGEN, M. TH. Römische Rechtsgeschichten. Über Ursprung und Evolution eines sozialen Systems. Veröffentlichungen des Max-Plank-Instituts für Geschichte, Band 172. Göttingen: Vandenhoeck & Ruprecht, 2002.
11. GLENDINNING, E. Reinventing Lucretia: Rape, Suicide and Redemption from Classical Antiquity to the Medieval Era. International Journal of the Classical Tradition, 2013, 20. CrossRef
12. KANG, M. The Making of Womanhood in Early India: Pativrata in the Mahabharata and Ramayana. Journal of Social Sciences - Sri Lanka, 2015, 07 (04), pp. 206-212.
13. MALLAN, C. T. The Rape of Lucretia in Cassius Dio's "Roman History". The Classical Quarterly, New Series, 2014, 64, 2. CrossRef
14. NIEBUHR, B. G. Römische Geschichte. T. I. Berlin: Realbuchhandlung.
15. OGILVIE, R. M. A Commentary on Livy Books 1-5. Oxford, Claredon, 1965.
16. PAIS, E. Ancient Legends of Roman History. COSENZA, M. (translation). New York: Dodd, Mead & Company, 1907, pp. 185-203.
17. RIZZELI, G. Adulterium. Immagini, etica, diritto. Rivista di diritto romano, 2008, 8, pp. 30-41, n. 138.
18. ROOS, A. G. (rec. et praef. est). Excerpta de virtutibus et vitiis. II. BOISSEVAIN, U. PH. - DE BOOR, C. - BÜTTNER-WOBST, TH. - ROOS, A. G. Excerpta historica iussu Imp. Constantini Porphyrogeniti confecta. Berlin: Apud Weidmannos, 1910.
19. SCHWARTZ, M. Transformations of the Indo-Iranian Snake-man: Myth, Language, Ethnoarcheology, and Iranian Identity. Iranian Studies, 2012, 45, 2, pp. 275 - 279. CrossRef
20. SMALL, J. P. The Death of Lucretia. American Journal of Archaeology, 1976, 80, 4, pp. 349-360. CrossRef
21. WEBB, M. On 'Lucretia who slew herself': Rape and Consolation in Augustine's De civitate dei. Augustine studies, 2013, 44, 1, pp. 35-58. CrossRef
22. ДУЙЧЕВ, И. С. - САЛАМИНА, М. А. - ТВОРОГОВА, О. В. Среднеболгарский перевод хроники Константина Манасии в славянских литературах. ДУЙЧЕВ, И. С. - ЛИХАЧЕВ, Д. С. (ред.). София: Издательство БАН, 1988.

The Case of Lucretia - Symbolizing the Political Reality is licensed under a Creative Commons Attribution 4.0 International License.
240 x 170 mm
vychází: 3 x ročně
cena tištěného čísla: 250 Kč
ISSN: 0079-4929
E-ISSN: 2464-689X
Ke stažení