HISTORICKÁ SOCIOLOGIE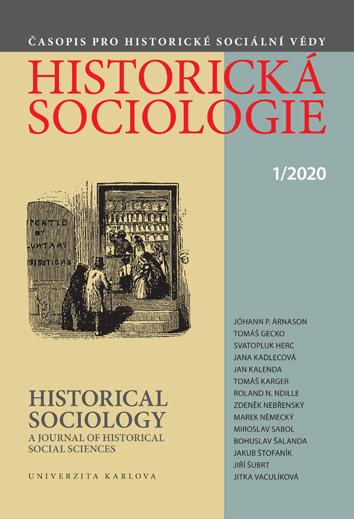 Interdisciplinární časopis se zaměřuje především ze sociologického, politologického a historického hlediska na problematiku dlouhodobých sociálních procesů a trendů, modernizace, globalizačních tendencí a vlivů. Časopis vytváří širší platformu pro badatele v historických sociálních vědách. Epistemologické pole časopisu není striktně ohraničené a počítá s přesahy do civilizacionistiky, kulturní sociologie a dalších spřízněných oblastí.
Časopis vydává nakladatelství Univerzity Karlovy v Praze Karolinum ve spolupráci s Fakultou humanitních studií Univerzity Karlovy v Praze.
Historická sociologie je vědecký časopis s otevřeným přístupem, což znamená, že veškerý obsah je volně k dispozici bez poplatku pro uživatele nebo instituci. Uživatelé mohou číst, stahovat, kopírovat, distribuovat, tisknout, vyhledávat nebo odkazovat na plné texty článků v tomto časopise, aniž by potřebovali předchozí povolení od vydavatele nebo autora.
Recenzovaný vědecký časopis vychází dvakrát ročně, v červnu a v prosinci.
Časopis je abstraktován a indexován v CEEOL, CEJSH, DOAJ, EBSCO, Emerging Sources Citation Index, ERIH PLUS, OAJI, recensio.net, Scopus, SSOAR, Ulrichsweb.
Dlouhodobou archivaci elektronického obsahu časopisu zajišťuje Portico.
Colonial Heritages, Educational Incompartibilities and the Challenges for a Reunified Cameroon: 1961–2016
Roland N. Ndille
DOI: https://doi.org/10.14712/23363525.2020.3
zveřejněno: 12. 05. 2020
Abstract
The reunification of British Southern Cameroons and La Republique du Cameroun 1961 required the adoption of new national policies which were to guarantee that none of the colonial identities were jeopardized. In doing this, the Federal Republic adopted harmonization as a policy framework for the establishment of a new national educational system that was to unequivocally represent both colonial heritages without feelings of marginalization by any side. Using archival evidence and some empirical literature, this paper has examined the landmark developments in the harmonization of education in the country. It has observed that although significant strides have been made there are still huge challenges. The paper concludes that until both sides are determined to put national interests above former colonial interests, harmonization and the ultimate establishment of a national educational system cannot be achieved.
Klíčová slova: Reunification of Cameroon; Harmonization of Education; British and French Colonial heritages; Incompatibilities
reference (31)
1. Achobang, Christopher [2010]. Decolonize the Mount Cameroun Race. Prince Report online Newsletter. Retrieved from: <http://princereport.blogspot.com/2010/02/decolonize-of-mount-cameroon-race.html>.
2. Amal, Ray - Mohit, Bhattacharya [2005]. Political Theory: Ideas and institutions. Kolkata: World Press.
3. DeKorne, Helen [2012]. The Builders of Identity: Education, Language and the Elites of Cameroon 1916-1961. Unpublished BA (hons) Thesis Wesleyan University, Connecticut.
4. East African Community [2012]. Regional Report: Harmonisation of the East African Education Systems & Training Curricula.
5. East Cameroon [1963]. Loi No. 1.63/COR-5, du Juillet 1963 Portant Organization de L'Enseignement Primaire Elementaire. Yaounde: Journal Officiel de L'Etat du Cameroun Oriental. Federal Republic of Cameroon [1961]. The Federal Constitution. Yaounde: National Printing Press, p. 1.
6. Federal Republic of Cameroon [1963]. Law No. 63/DF/13 of 19 June 1963 on the Harmonization of Educational Structures in the Federal Republic of Cameroon. National Archives Buea (NAB).
7. Federal Republic of Cameroon [1965]. Higher Council of Education Guidelines on the Harmonization of Education in the entire Extant of the Federation. Yaoundé: HCE.
8. Federal Republic of Cameroon [1966]. Report on the Educational Meeting in Yaoundé to Harmonize Syllabuses and Examinations, January 13-15, 1966. Yaoundé: HCE.
9. Franz, Fanon [1963]. The Wretched of the Earth. Middlesex, England: Penguin Books.
10. Gwei, Solomon Nfor [1975]. Education in Cameroon: Western Precolonial and colonial antecedents and the development of Higher Education. PhD thesis University of Michigan.
11. Hoosen, Sarah - Butcher, Neil - Khamati Njenga, Beatrice [2009]. Harmonization of Higher Education Programmes: A Strategy for the African Union. Africa Integration Review 3 (1): 3-18.
12. Ministry of National Education (MINEDUC) [1985]. La Reforme de L'Enseignment Au Cameroun: Bilan 1967-1985 et strategies de Relance. Yaounde: National Centre of Education (NCE).
13. Ndille, Roland [2015]. From Adaptation to Ruralization of Education in Cameroon: Replacing Six with Half a Dozen. African Educational Research Journal 3 (3): 153-160.
14. Ndille, Roland [2018]. British and French Implementation of Colonial Education Policy in Cameroon: A Comparative Analysis. International Journal of Research in Educational Studies 4 (5): 1-18.
15. Ndongko, Therese - Nyamnjoh, Francis [2000]. The Cameroon General Certificate of Examination Board. In. Ndongko, Therese - Tambo, Leke (eds.). Educational Development in Cameroon 1961-1999. Platville, MD: Nkemnji Global Tech, pp. 246-257.
16. Ngalim, Valentine [2014]. Harmonization of the Educational Subsystems of Cameroon: A Multi cultural perspective for Democratic Education. Creative Education 5 (5): 332-346.
17. Ngoh, Victor-Julius [1987]. Cameroon 1884 to 1985: A Hundred Years of History. Limbe: Navi-Group Publishers.
18. Ramon, Grosfoguel [2007]. The Epistemic Decolonial Turn: Beyond Political Economy Paradigms. Cultural Studies 21 (2-3): 211-223. CrossRef
19. Ravioli, Simone [2009]. Harmonizing Higher Education: Standard Perspectives in Support of the Bologna Process. Akademik Bilişim Harran Üniversitesi 11 (0): 1-13.
20. Republic of Cameroon [1984]. Ministry of National Education, Inspectorate General of Pedagogy Annual Report for 1984.
21. Sabelo, Ndlovu-Gatsheni [2013]. Coloniality of Power in Postcolonial Africa: Myths of Decolonization. Dakar: CODESRIA.
22. Tamanji, Asanji [2011]. Three Instances of Western Colonial Governments and Christian Missions in Cameroon Education: 1884-1961. PhD Thesis, Loyola University, Chicago.
23. Tambo, Leke [2000]. Strategic concerns in Curriculum Development in Cameroon. In. Ndongko, Therese - Tambo, Leke (eds.). Educational Development in Cameroon 1961-1999. Platville, MD: Nkemnji Global Tech.
24. Tatangang, Henry [2011]. Education, training and Employment: the key to Africa's development in the era of globalization. New York: Xlibis.
25. Tchombe, Therese [2001]. Structural reforms in Education in Cameroon. Conference Paper, University of Yaoundé 1 School of education.
26. Theresia, Ndongko - Leke, Tambo [2000]. Educational Development in Cameroon 1961-1999. Platteville MD: Nkenmji Global Tech.
27. UNESCO [1962]. Cameroonian Education Planning Group. Report Drawn up on the Return of the First Mission 10 March to 20 May 1962. Paris: UNESCO.
28. UNESCO [1963]. Emergency Programme for Africa: Cameroon Second Mission of the Education Planning Group September to December 1963. Paris: UNESCO.
29. Walter, Mignolo [1998]. The Darker Side of the Renaissance. Ann Arbor: University of Michigan Press.
30. West Cameroon [1963]. West Cameroon Education Ordinance. Buea: Government Printers.
31. White, Bob [1996]. Talk about School: Education and the colonial Project in French and British Africa (1860-1960). Comparative Education 32 (1): 9-26. CrossRef

Colonial Heritages, Educational Incompartibilities and the Challenges for a Reunified Cameroon: 1961–2016 is licensed under a Creative Commons Attribution 4.0 International License.
230 x 157 mm
vychází: 2 x ročně
cena tištěného čísla: 120 Kč
ISSN: 1804-0616
E-ISSN: 2336-3525
Ke stažení