AUC PHILOLOGICA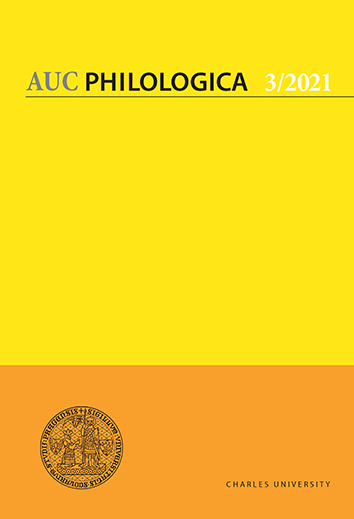 AUC Philologica (Acta Universitatis Carolinae Philologica) je akademický časopis publikující jak lingvistické, tak literárně historické a teoretické studie. Nedílnou součástí časopisu jsou i recenze odborných knih a zprávy z akademického prostředí.
Časopis je indexován v databázích CEEOL, DOAJ, EBSCO a ERIH PLUS.
Writing Personal Essays between the Hundred Flowers Campaign and the Cultural Revolution: Feng Zikai, Conformist and Authenic
Dušan Andrš
DOI: https://doi.org/10.14712/24646830.2022.4
zveřejněno: 15. 02. 2022
Abstract
This study examines Feng Zikai's essays from 1956 to 1965 as products of his attempts to come to terms with the social, political, and cultural situation of the era through writing literary pieces and essays. This analysis of his prose writings that were created over a ten-year stretch bookmarked by the Hundred Flowers Campaign and the Cultural Revolution presents Feng Zikai's hesitant reassessment of his own work, its intellectual and artistic foundations, and his difficult search for a conformist but at the same time authentic essayistic voice that would allow him to grasp and accept the reality of this period.
klíčová slova: Feng Zikai; essay; early PRC; conformity and independent voice
reference (12)
1. An Dechang 安德昌 [Andrš, Dušan] (2005). "Ganqing yiru yu wuguanxin: Feng Zikai de zonghexing yishuguan jiedu" 感情移入与无关心 :丰子恺的综合性艺术观解读. In: David Der-wei Wang and Kim Chew Ng (eds.), National Imaginaries: 15 Perspectives on Modern Chinese Literature. Taibei: Maitian chuban, 181-201.
2. Andrš, Dušan (2005). "Role umění v životě člověka: Feng Zikai a jeho příspěvek k čínské estetice první poloviny 20. století." Studia Orientalia Slovaca, vol. 4, 153-175.
3. Andrš, Dušan (2008). "Narrative Strategies in Modern Chinese Essay Writing: An Analysis of Essays by Feng Zikai and Lu Li." In: Olga Lomová (ed.), Paths Toward Modernity. Studia Orientalia Pragensia XXVI. Prague: Charles University, 395-418.
4. Barmé, Geremie R. (2002). An Artistic Exile: A Life of Feng Zikai (1898-1975). Berkeley: University of California Press.
5. Chen Xing 陈星 (2011). Feng Zikai pingzhuan 丰子恺评传 [A Critical Biography of Feng Zikai]. Jinan: Shandong huabao chubanshe.
6. Feng Yiyin 丰一吟 (1983). Feng Zikai zhuan丰子恺传 [A Biography of Feng Zikai]. Hangzhou: Zhejiang renmin chubanshe.
7. Feng Zikai wenji 丰子恺文集 [Collected Works of Feng Zikai] (1992). Vol. 3, 5, 6 Hangzhou: Zhejiang wenyi chubanshe, Zhejiang jiaoyu chubanshe.
8. Harbsmeier, Christoph (1984). The Cartoonist Feng Zikai: Social Realism with a Buddhist Face. Oslo: Universitetsforlaget.
9. Hawks, Shelley Drake (2017). The Art of Resistance: Painting by Candlelight in Mao's China. Seattle: University of Washington Press.
10. Shi Xiaofeng 石晓枫(2006). Baima hupande huiguang: Feng Zikai sanwen yanjiu 白马湖畔的辉光:丰子恺散文研究. Taibei: Xiuwei zixun keji.
11. Spence, Jonathan D. (1990). The Search for Modern China. New York, London: W. W. Norton.
12. Zhuang, Sue (2020). "A Critical View of the Yangzhou Dream. Feng Zikai's Essay "The Yangzhou Dream" (Yangzhou meng, 1958)." In: Roland Altenburger, Margaret B. Wan, Vibeke Børdahl (eds.), Yangzhou, A Place in Literature: The Local in Chinese Cultural History. Honolulu: University of Hawaii Press, 343-356. CrossRef

Writing Personal Essays between the Hundred Flowers Campaign and the Cultural Revolution: Feng Zikai, Conformist and Authenic is licensed under a Creative Commons Attribution 4.0 International License.

vychází: 4 x ročně
cena tištěného čísla: 150 Kč
ISSN: 0567-8269
E-ISSN: 2464-6830
Ke stažení