AUC PHILOLOGICA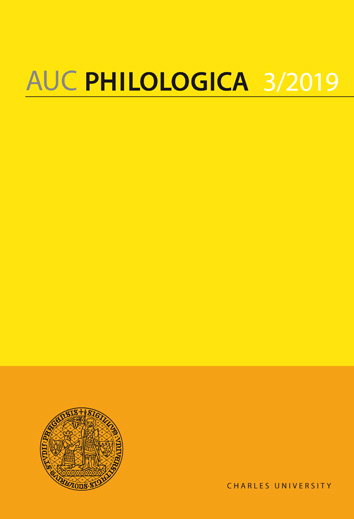 AUC Philologica (Acta Universitatis Carolinae Philologica) je akademický časopis publikující jak lingvistické, tak literárně historické a teoretické studie. Nedílnou součástí časopisu jsou i recenze odborných knih a zprávy z akademického prostředí.
Časopis je indexován v databázích CEEOL, DOAJ, EBSCO a ERIH PLUS.
Old Norse Þión and Its Old Russian Relative Tiun. Or How Scandinavian Servants Became East Slavic Bureaucrats
Hana Štěříková
DOI: https://doi.org/10.14712/24646830.2019.27
zveřejněno: 19. 12. 2019
Abstract
The Old Russian word ti(v)un is one of the few medieval loanwords from Old Norse which has been preserved in Russian, Ukrainian and Belarusian to this day. Medieval judicial charters and legal texts from Scandinavia and East Slavic territories show that there was a significant semantic shift around the time of the borrowing process itself: from a name for common unfree servants to the post of a prince's official. Besides, it has gone through quite an extensive semantic development through the cen-turies both in North Germanic and East Slavic dialects that shows quite remarkable similarities.
Klíčová slova: lexical interference; semantic shifts; Old Norse; Old East Slavic; medieval judicial charters; Scandinavian loanwords in Old Russian
reference (43)
1. Åkerberg, Bengt. Älvdalsk grammatik. Älvdalen: Ulum Dalska, 2012.
2. von Amira, Karl. Germanisches Recht. Bd. II: Rechtsaltertümer. 4. Auflage. Berlin: De Gruyter, 1967.
3. Antonsen, Elmer H. Runes and Germanic Linguistics. Berlin: Mouton de Gruyter, 2002. CrossRef
4. Árnason, Mörður. Íslensk orðabók. Reykjavík: Edda, 2007.
5. Brink, Stefan. Vikingarnas slavar. Den nordiska träldomen under yngre järnålder och äldsta medeltid. Stockholm: Atlantis, 2012.
6. Busel, Vjačeslav Tymofijovyč. Velikij tlumačnij slovnik sučasnoï ukraïnskoï movi. Kiïv: Perun, 2009.
7. Fasmer, Max. Ètimologičeskij slovar' russkogo âzyka IV. Moskva: Progress, 1987.
8. Fischer, Frank. Die Lehnwörter des Altwestnordischen. Berlin: Mayer & Müller, 1909.
9. Hellquist, Elof. Svensk etymologisk ordbok. Lund: Berlingska boktryckeriet, 1922.
10. Holtsmark, Anne. Ordförrådet i de eldste norske håndskrifter til ca. 1250. Oslo: J. Dybwad, 1955.
11. Kroonen, Guus. Etymological Dictionary of Proto-Germanic. Leiden - Boston: Brill, 2013.
12. Larsson, Mats G. and Fridell, Stefan. "Roden och jarlen." Namn och bygd. Tidskrift för nordisk ortnamnsforskning 102 (2014), 51-68.
13. Leška, Oldřich. Jazyk ve strukturním pojetí. Kapitoly ze synchronní a diachronní analýzy ruštiny. Prague: Slovanský ústav, 2003.
14. Melnikova, E. A. and Petrukhin, V. J. "The Origin and Evolution of the Name 'Rus': the Scandinavians in Eastern-European Ethno-Political Processes before the 11th Century." Tor 23, (1990/1991), 203-234.
15. Levander, Lars. Dalmålet. Beskrivning och historia. D. I. Uppsala: Appelberg, 1925.
16. Magnússon, Ásgeir Blöndal. Íslensk orðsifjabók. Reykjavík: Orðabók Háskólans, 2008.
17. Noreen, Adolf. Altisländische und altnorwegische Grammatik. Unter Berücksichtigung des Urnordischen. Halle: Max Niemayer, 1884.
18. Noreen, Adolf. Altschwedische Grammatik: mit Einschluss des Altgutnischen. Halle: Max Niemayer, 1904.
19. Ožegov, S. I. and Švedova, N. Û. Tolkovyj slovar' russkogo âzyka. Izd. 4-oe. Moskva: Vysšaâ škola, 2004.
20. Schaller, H. W. et al. Real- und Sachwörterbuch zum Altrussischen. Neuried: Hieronymus Verlag, 1985.
21. Sreznevskij, I. I. Slovar' drevnerusskogo âzyka. Moskva: Kniga, 1989. (1st edition in 1890-1912 as Materialy dlâ slovarâ drevne-russkago âzyka po pis'mennym pamâtnikam)
22. Steensland, Lars. Material till en älvdalsk ordbok. Älvdalen: Ulum Dalska, 2010.
23. Sudnik, M. R. Tlumačaĺny sloŭnik bielaruskaj litaraturnaj movy. Minsk: Belaruskaâ èncyklapedyâ, 1996.
24. Thörnqvist, Clara. Studien über die nordischen Lehnwörter im Russischen. Uppsala - Stockholm: Almqvist & Wiksell, 1948.
25. Uhlenbeck, C. C. "Die germanischen Wörter im Altslawischen." Archiv für slavische Philologie 15, 1893, 481-492.
26. Ušakov, D. N. Tolkovyj slovar' russkogo âzyka. Moskva: Sovetskaâ ènciklopediâ, 1935-1940.
27. Vasmer, Max. Russisches etymologisches Wörterbuch, T. III. Heidelberg: Carl Winter, 1958.
28. de Vries, Jan. Altnordisches etymologisches Wörterbuch. Leiden: Brill, 1962.
29. Wissmann, Wilhelm. Die altnordischen und westgermanischen Nomina postverbalia. Heidelberg: Carl Winter, 1975.
30. Zaliznjak, A. A. Drevnenovgorodskij dialekt. Izd. 2-e, pererabotannoe s učëtom materiala naxodok 1995-2003 gg. Moskva: Âzyki slavânskoj kuľtury, 2004.
31. ˂b˃PRIMARY SOURCES˂/b˃
32. AÈ: Akty, sobranye v biliotekax i arxivax Rossijskoj imperii arxegrafičeskoju èkspedicieju Imperatorskoj akademii nauk. Sankt-Peterburg: Tipografiâ II Otdeleniâ Sobstvennoj E. I. V. Kancelârii, 1836.
33. Danske Runeindskrifter [online] http://runer.ku.dk.
34. DL: Dalalagen (Äldre Westmannalagen). In: Schlyter, J. [ed.]: Samling af Sweriges gamla lagar, bd. 5. Lund: Berlingska boktryckeriet, 1851.
35. ENL: The Earliest Norwegian Laws: Being the Gulathing Law and the Frostathing Law. Transl. by Laurence M. Larson. New Jersey: The Lawbook Exchange, 2008.
36. Fornsvensk lexikalisk databas [online] https://spraakbanken.gu.se/fsvldb.
37. GVPN: Gramoty Velikogo Novgoroda i Pskova. Moskva – Leningrad: Izdateľstvo Akademii nauk SSSR, 1949.
38. Karskij, E. F. [ed.]: Russkaja Pravda po drevnejšemu spisku. Leningrad: Izdateľstvo Akademii nauk, 1930, 26–62.
39. NGL: Norges gamle love indtil 1387. Bd. I–II. Keyser, R., Munch, P. A. [ed.]. Christiania: C. Gröndahl, 1846–1848.
40. Samnordisk runtextdatabas [online] http://www.nordiska.uu.se/forskn/samnord.htm.
41. UL: Uplandslagen. In: Schlyter, J. [ed.]: Samling af Sweriges gamla lagar, bd. 3. Stockholm: P. A. Norstedt & Söner, 1834.
42. WgL: Westgötalagen. In: Collin, S. – Schlyter, J. [eds.]: Samling af Sweriges gamla lagar, bd. 1. Stockholm: Z. Haeggström, 1827.
43. <bez popisu>

Old Norse Þión and Its Old Russian Relative Tiun. Or How Scandinavian Servants Became East Slavic Bureaucrats is licensed under a Creative Commons Attribution 4.0 International License.

vychází: 4 x ročně
cena tištěného čísla: 150 Kč
ISSN: 0567-8269
E-ISSN: 2464-6830
Ke stažení