AUC PHILOLOGICA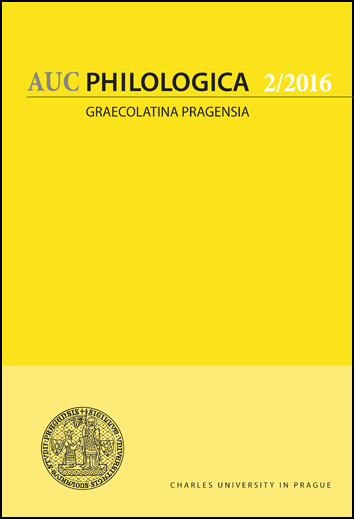 AUC Philologica (Acta Universitatis Carolinae Philologica) je akademický časopis publikující jak lingvistické, tak literárně historické a teoretické studie. Nedílnou součástí časopisu jsou i recenze odborných knih a zprávy z akademického prostředí.
Časopis je indexován v databázích CEEOL, DOAJ, EBSCO a ERIH PLUS.
Talion social et plaidoyer littéraire dans La Mère du chien de Pavlos Matessis
[Social revenge and literary defence in Pavlos Matesis' Mother of the Dog]
Eugenia Marinakou
DOI: https://doi.org/10.14712/24646830.2016.4
zveřejněno: 05. 05. 2016
Abstract
The public castigation of women upon the end of the Axis Occupation of Greece on account of their sexual relationships with soldiers of the occupying army has been a phenomenon that occurred in most of the European countries. This paper, based on Pavlos Matesis' novel Η μητέρα του σκύλου, examines the literary representation of this practice of chastisement through two interrelated approaches: the symbolism of this form of punishment and the discourses of the women subjected to it, thus allowing for the main issue of the study to be established, according to which literature, by focusing on female experience, questions the violence of History which is dictated by the national values and the moral ideals of that period. Společenská odplata a literární obhajoba v Psí matce Pavlose Matesise Veřejné trestání, které podstupovaly ženy po konci okupace Řecka ze strany fašistické Osy za své sexuální vztahy s vojáky okupující armády, bylo fenoménem, k němuž došlo ve většině evropských zemí. Tento článek založený na románu Pavlose Matessise Η μητέρα του σκύλου zkoumá literární zobrazení tohoto způsobu trestání prostřednictvím dvou propojených přístupů: symbolika této podoby trestu a diskurzy žen, které mu byly podrobeny. To umožňuje ustanovení hlavního problému studie, podle kterého literatura zaměřením na ženské zkušenosti zpochybňuje násilnost dějin, které jsou diktované národními hodnotami a morálními idejemi této doby.
klíčová slova: Pavlos Matesis; public punishment of women; sexual collaboration; occupation of Greece
reference (46)
1. <bez popisu>
2. Apostolidou, V., 1995. Laike mneme kai dome tes aistheses . [Memoire populaire et structure du sentiment]. In : Epistemoniko symposio Istorike pragmatikoteta kai neoellenike pezographia 1945–1995. [Colloque scientifique. Realite historique et prose neo-hellenique (1945–1995)]. Αthenes : Ecole Moraitis, 113–127.
3. Armenopoulos, K., 1971. Proheiron nomon e Exabiblos. [Recueil de lois ou Hexabible]. Ed. K. G. Pitsakis. Athenes : Dodoni.
4. Asdrachas, S., 2007. Istorikotrope Logotehnia ≫. [Litterature tournee vers l ' Histoire]. In : Κ. Voulgaris (ed.), Meta to ' 89. Stous dromous tes istorias kai tes logotehnias. [Apres 89. Sur les chemins de l ' histoire et de la litterature]. Αthenes : Gavriilidis, 72–76.
5. Athanassopoulos, V., 2003. Dramatiko enanti lyrikou sto synhrono elleniko mythistorema. [Le dramatique face au lyrique dans le roman grec contemporain]. In : V. Athanassopoulos, Oi maskes tou realismou. Ekdohes tou neoellenikou aphegematikou logou, III. [Les masques du realisme. Versions du discours narratif neo-hellenique III]. Αthenes : Κastaniotis, 335–352.
6. Averof, G., 1984. Ge tes Odynes. [Terre de douleur]. Αthenes : Hestia.
7. Axioti, M., 1945. Oi Ellenides phrouroi tes Elladas. [Les femmes grecques gardiennes de la Nation]. Αthenes : O Rigas.
8. Axioti, M., 1946. Eikostos Aionas. [Vingtieme siecle]. Athenes : Ikaros.
9. Bachtine, M., 2000. Zetemata tes poietikes tou Dostoievski. [Problemes de la poetique de Dostoievski]. Trad. grecque A. Ioannidou, ed. V. Hatzivassiliou, avant-propos D. Tziovas. Αthenes : Polis.
10. Bonnain-Moerdyk, R., Moerdyk, D., 1977. ≪ A propos du Charivari : discours bourgeois et coutumes populaires ≫. Annales E. S. C. 32, 381–397.
11. Boumi-Pappa, R., 1946. E Athena. [Athenes]. Αthenes : s. e.
12. Brossat, A., 1992. Les tondues. Un carnaval moche. Paris : Manya.
13. Capdevila, L., Virgili, F., 1999. "Epuration" et tonte des collaboratrices : un antifeminisme ? ≫. In : Ch. Bard (ed.), Un siecle d ' antifeminisme. Paris : Fayard, 255–267.
14. Douglas, M., 2006. Katharoteta kai kindynos. Mia analyse ton ennoion tes miarotetas kai tou tabou [Purity and Danger]. Trad. grecque Α. Hatzouli, ed. T. Paradellis. Athenes : Polytropon.
15. EAM KE 29/08/1943. Eisegetike Ekthese tes grammateias ste synedriase tes KE tou EAM. [Rapport introductive du secretariat a la reunion du comite central de l ' EAM]. Αthenes : Reproduction anastatique de la Resistance nationale, 1981.
16. Gauvard, C., Gokalp, A., 1974. Les conduites de bruit et leur signification a la fin du Moyen Age : le Charivari. Annales E. S. C. 29, 693–704.
17. Granissioti, Α., 1945. Mia diamartyria. [Une protestation]. In : Philologika Chronika, n° 33, 401.
18. Kazantzaki, G., 1952. Ortans . [Hortense]. In : G. Kazantzaki, Κrisimes stigmes. [Instants critiques]. Αthenes : Kastaniotis, 55-69.
19. Koukoules, Ph., 1949. Byzantinon bios kai politismos. [Vie et civilisation des Byzantins] 3. Αthenes : Collection de l ' Institut Francais d ' Athenes.
20. Leclerc, F., Weindling M., 1995. La repression des femmes coupables d ' avoir collabore pendant l ' Occupation. In : CLIO. Histoire, femmes et societes 1, 129–150.
21. Laiou, Α., 1993. Ethniko Lintsarisma – E gynaika mou paei me ton ehthro ≫. [Le lynchage national – Ma femme va avec l ' ennemi]. In : supplement Ios du journal Eleftherotypia du 17/1/93, 38.
22. Le Breton, D., 1990. Anthropologie du corps et modernite. Paris : Quadrige/Puf.
23. Lanser, S. S., 1992. Fictions of authority. Women writers and narrative voice. Νew York/Ιthaca/London : Cornell University Press.
24. La Capra, D., 2001. Writing History, Writing Trauma. Βaltimore : John Hopkins University Press.
25. Liakos, A., 2007. Pos to parelthon ginetai istoria. [Comment le passe devient-il histoire?]. Αthenes : Polis.
26. Lintvelt, J., 1991. Oi bathmides tou logotehnikou aphegematikou keimenou ≫. [Les degres d ' un texte narratif]. In : C. Bremond, S. Chatman, A. J. Greimas, J. Lintvelt, W. Martin, G. Prince, F. K. Stanzel, Theoria tes aphegeses. [Theorie de la narration]. Trad. grecque A. Kastrinaki. Αthenes : Κastaniotis, 97–124.
27. Marinakou, Ε., 2011. L ' Occupation italo-allemande et le parcours de l ' identite feminine dans E metera tou skylou de Pavlos Matessis. These de doctorat non publiee. Montpellier.
28. Matessis, P., 1990. E metera tou skylou. [La Mere du chien]. Athenes : Kastaniotis. Traduction francaise de J. Bouchard, 1993. L ' Enfant de chienne. Paris : nallimard.
29. Mavroidi-Papadaki, S., 1946. Antartopoules. [Les petites Resistantes]. In : S. Mavroidi-Papadaki, Tes niotes kai tes leuterias. [Sur la jeunesse et la liberte]. Αthenes : Ta nea biblia, 24.
30. Mihailidis, G., 1999. Tes epanastases, tes monaxias kai tes lagneias II. O Labyrinthos. [De la revolution, de la solitude et de la luxure. Le labyrinthe]. Αthenes : Kastaniotis.
31. Papadakis, N., 1945. Mia nyhta tou 42. [Une nuit de l ' an 42]. In : Philologika Chronika, n° 32, 339–344.
32. Politi, G., 2006. To grapto kai to aphrasto e Peri pathous. [L ' ecrit et l ' inexprimable ou De la passion]. In : G. Politi, Peri amartias, pathous, blemmatos kai allon tinon. [Du peche, de la passion, du regard et autres]. Αthenes : Agra, 11–45.
33. Pomata, G., 1997. E Istoria ton Gynaikon : ena zetema orion ≫. [L ' histoire des femmes : une question de limites]. In : E. Avdela, A. Psara (ed.), Sioperes Istories. Gynaikes kai Phylo sten istorike aphegese. [Histoires silencieuses. Femme et sexe dans la narration historique]. Αthenes : Αlexandria, 149–229.
34. Puchner, W., 2003. O Magikos Kosmos tou Yperlogikou sta Theatrika Erga tou P. Matesi. Αthenes : Hellenika Grammata.
35. Psara, A., 1993. Ethniko Lintsarisma – E gynaika mou paei me ton ehthro. [Le lynchage national-Ma femme va avec l ' ennemi]. In : supplement Ios du journal Eleftherotypia du 17/1/1993, 41.
36. Simopoulos, K., 2010. Basanisteria kai exousia. Apo ten Ellenoromaike Arhaioteta, to Byzantio kai ten Tourkokratia os ten epohe mas. [Tortures et pouvoir. De l ' antiquite greco-romaine, Byzance et la domination ottomane a nos jours]. Athenes : Piroga.
37. Terzakis, A., 1947. To lykophos ton anthropon. [Le crepuscule des hommes]. Αthenes (publie en feuilleton dans I Kathimerini).
38. Theotokas, G., 1964. Astheneis kai Odoiporoi. [22 juillet 1943]. Αthenes : Hestia.
39. Thompson, E. P., 1972. Rough music : le charivari anglais ». Annales E. S. C. 27, 285–312.
40. Tsatsoulis, D., 1997. Oi ekdohes tes aletheias ≫. [Les versions de la verite]. In : D. Tsatsoulis, E Peripeteia tes Aphegeses. [La peripetie de la narration]. Athenes : Hellenika Grammata, 183–202.
41. Varon-Vassard, O., 2009. E enelikiose mias genias. Neoi kai nees sten Katohe kai ten Antistase. [Le passage a l ' age adulte d ' une generation. Jeunes gens et jeunes filles lors de l ' Occupation et dans la Resistance]. Αthenes : Hestia.
42. Venezis, I., oct. 1943. 22 Iouliou 1943. [22 juillet 1943]. In : Protoporoi [Pionniers], n° 3, sous le pseudonyme de M. Alkaios.
43. Vervenioti, T., 1994. E gynaika tes Antistases. [La femme de la Resistance]. Αthenes : Odysseas.
44. Virgili, F., 1995. Les "tondues" a la Liberation : le corps des femmes, enjeu d ' une reappropriation. In : CLIO. Histoire, femmes et societes 1, 11–127.
45. Virgili, F., 2000. La France virile. Des femmes tondues a la liberation. Paris : Payot.
46. Votsi, O., 1946. Elehtra. [Electre]. In : O. Votsi, Ymnoi. [Hymnes]. Αthenes : Mavridis, 5–8.

vychází: 4 x ročně
cena tištěného čísla: 150 Kč
ISSN: 0567-8269
E-ISSN: 2464-6830
Ke stažení