PSYCHOLOGIE PRO PRAXI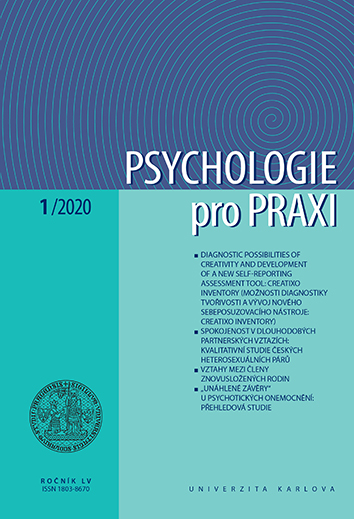 Psychologie pro praxi chce navázat na cennou tradici předchozího odborného časopisu Psychologie v ekonomické praxi s tím, že nabízí prostor pro publikování původních příspěvků z psychologie i příbuzných disciplín. Preferovány jsou tyto základní obory: psychologie pedagogická a školní, psychologie práce a organizace, psychologie sociální a vývojová, psychologie zdraví a klinická psychologie. Vítány jsou příspěvky, které se zabývají studiem psychologických témat v rámci různých aplikovaných oblastí či napříč kulturami.
Spokojenost v dlouhodobých partnerských vztazích: kvalitativní studie českých heterosexuálních párů
[The Satisfaction in Longterm Romantic Relationships: A Qualitative Study of Heterosexual Czech Couples]
Zuzana Kalousová, Iva Štětovská
DOI: https://doi.org/10.14712/23366486.2021.8
zveřejněno: 28. 06. 2021
Abstract
This article presents the results of the qualitative research, which pursued the topic of satisfaction in relationships in Czech couples. The results are compared with the outcomes of several studies from abroad. The first part of the paper consists of a brief introduction to the topic and present the results of studies with a similar design. The second part describes the research, which was part of Zuzana Kalousova's thesis in 2017. It is a qualitative research conducted via half-structured interviews with 22 respondents who have been in a satisfactory relationship for over ten years. To analyze the data, we used grounded theory. The results were ten categories that contributed to satisfaction in relationships: overcoming of differences and obstacles, doing things together, communication, endurance, not trying to solve everything, harmony, safety, good choice of spouse, stable financial situation, family.
Klíčová slova: satisfaction in romantic relationship; marital adjustment; qualitative research; Czech couples
reference (26)
1. Allendorf, K. (2012). Marital Quality from a Rural Indian Context in Comparative Perspective. Journal Of Comparative Family Studies, 43(4), 527-544. CrossRef
2. Aron, A., Norman, C., C., Aron, E., N., McKenna, C., Heyman, R., E. (2000). Couples shared participation in novel and arousing activities and experienced relationship quality. Journal of Personality and Social psychology, 78(2), 273-284. CrossRef
3. Bachand, L. L., & Caron, S. L. (2001). Ties that Bind: A Qualitative study of Happy Long-Term Marriages. Contemporary Family Therapy: An International Journal, 23(1), 105-121. CrossRef
4. <bez popisu> CrossRef
5. Bernard, J. (1933). An instrument for the measurement of the succes in marriage. Publications of the American Sociological Society, (39), 194-203. CrossRef
6. Bernard, J. (1934). Factors in the distribution of succes in marriage. American journal of sociology, (40), 49-60. CrossRef
7. <bez popisu> CrossRef
8. Davis, K. B. (1929). Factors in the sex life of twenty-two hundred women. Harper & Brothers, New York.
9. Demir, M. (2008). Sweetheart, you really make me happy: romantic relationship quality and personality as predictors of happiness among emerging adults. Journal of Happiness Studies, vol. 9(issue 2), pp. 257-277. CrossRef
10. Diener, E., & Seligman, M. (2002). Very Happy People. Psychological Science, 13(1), pp. 81-84. CrossRef
11. <bez popisu> CrossRef
12. Gottman, J. M., Coan, J., Carrere, S., & Swanson, C. (1998). Predicting Marital Happiness and Stability from Newlywed Interactions. Journal Of Marriage & Family, 60(1), 5-22. CrossRef
13. Graham, J., M. (2008). Self-expansion and flow in couples ́ momentary experiences: An experience samplingstudy. Journal of Personality and Social psychology, 95(3), 679-694. CrossRef
14. Kalousová, Z. (2017). Spokojenost v partnerských vztazích. Nepublikovaná diplomová práce. Praha: Univerzita Karlova.
15. <bez popisu> CrossRef
16. Locke, H. J., & Wallace, K. M. (1959). Short marital adjustment and prediction tests: Their reliability and validity. Marriage and Family Living, 21, 251-255. CrossRef
17. Mikkelson, A., C., & Pauley, P., P. (2013). Maximizing Relationship Possibilities: Relational Maximization in Romantic Relationships. The Journal of Social Psyhology, 153(4), 467-485. CrossRef
18. Rauer, A. & Volling, B. (2013). More than One Way to be Happy: Typology of Marital Happiness. Family Processes, 52(3), 519-534. CrossRef
19. Sims, K. E., & Meana, M. (2010). Why Did Passion Wane? A Qualitative Study of Married Women's Attributions for Declines in Sexual Desire. Journal of Sex and Marital Therapy, 36(4), 360-380. CrossRef
20. Spanier, G. B. (1976). Measuring dyadic adjustment: New scales for assessing the quality of marriage and similar dyads. Journal of Marriage and the Family, 38, 15-28. CrossRef
21. <bez popisu> CrossRef
22. Terman, L. M., & Johnson, W. B. (1939). Methodology and results of recent studies in marital adjustment. American Sociological Review, 4(3), 307-324. CrossRef
23. Wallerstein, J. S. (1996). The psychological tasks of marriage: Part 2. American Journal Of Orthopsychiatry, 66(2), 217-227. CrossRef
24. <bez popisu> CrossRef
25. <bez popisu> CrossRef
26. Yedirir, S., & Hamarta, E. (2015). Emotional Expression and Spousal Support as Predictors of Marital Satisfaction: The Case of Turkey. Educational Sciences: Theory & Practice, 15(6), 1549-1558.

Spokojenost v dlouhodobých partnerských vztazích: kvalitativní studie českých heterosexuálních párů is licensed under a Creative Commons Attribution 4.0 International License.
157 x 230 mm
vychází: 2 x ročně
cena tištěného čísla: 80 Kč
ISSN: 1803-8670
E-ISSN: 2336-6486
Ke stažení