HISTORICKÁ SOCIOLOGIE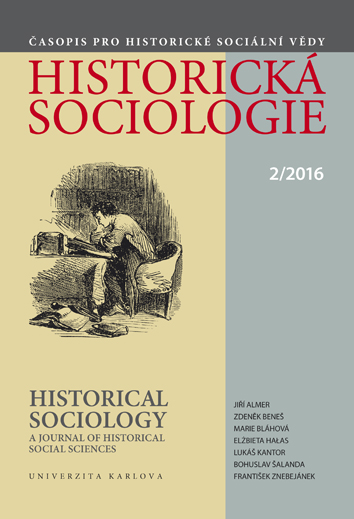 Interdisciplinární časopis se zaměřuje především ze sociologického, politologického a historického hlediska na problematiku dlouhodobých sociálních procesů a trendů, modernizace, globalizačních tendencí a vlivů. Časopis vytváří širší platformu pro badatele v historických sociálních vědách. Epistemologické pole časopisu není striktně ohraničené a počítá s přesahy do civilizacionistiky, kulturní sociologie a dalších spřízněných oblastí.
Časopis vydává nakladatelství Univerzity Karlovy v Praze Karolinum ve spolupráci s Fakultou humanitních studií Univerzity Karlovy v Praze.
Historická sociologie je vědecký časopis s otevřeným přístupem, což znamená, že veškerý obsah je volně k dispozici bez poplatku pro uživatele nebo instituci. Uživatelé mohou číst, stahovat, kopírovat, distribuovat, tisknout, vyhledávat nebo odkazovat na plné texty článků v tomto časopise, aniž by potřebovali předchozí povolení od vydavatele nebo autora.
Recenzovaný vědecký časopis vychází dvakrát ročně, v červnu a v prosinci.
Časopis je abstraktován a indexován v CEEOL, CEJSH, DOAJ, EBSCO, Emerging Sources Citation Index, ERIH PLUS, OAJI, recensio.net, Scopus, SSOAR, Ulrichsweb.
Dlouhodobou archivaci elektronického obsahu časopisu zajišťuje Portico.
Global Elite as Transnational Capitalist Class
Lukáš Kantor
DOI: https://doi.org/10.14712/23363525.2016.8
zveřejněno: 07. 01. 2017
Abstract
As a contribution to the burgeoning field of multidisciplinary globalization studies, this article evaluates how IR grand theories can conceptualize the phenomenon of global elite. It compares and synthesizes (neo)liberalism, constructivism, feminism and neo-Marxism. Liberal approaches use the analytical tool of transnational actors or transnational networks. In constructivist's perspective, part of global elite falls into the category of epistemic community. Feminists offer the term Davos Men. Neo-Marxist conceptualization revolves around the notion of transnational capitalist class. The paper concludes that neo-Marxist IR theory best accounts for the global elite and therefore, the debates on the transnational capitalist class are thoroughly and critically reviewed.
Klíčová slova: global elite; transnational capitalist class; Davos Men; epistemic community; transnational actors/networks
reference (81)
1. Acker, Joan [2004]. Gender, Capitalism and Globalization. Critical Sociology 30 (1): 17–41. CrossRef
2. Beneria, Lourdes [1999]. Globalization, Gender and the Davos Man. Feminist Economics 5 (3): 61–83. CrossRef
3. Burchill, Scott, et al. [2005]. Theories of International Relations. Palgrave Macmillan.
4. Burris, Val – Staples, Clifford L. [2012]. In search of a transnational capitalist class: Alternative methods for comparing director interlocks within and between nations and regions. International Journal of Comparative Sociology 53 (4): 323–342.
5. Carroll, William K. – Carson, Colin [2003]. The network of global corporations and elite policy groups: a structure for transnational capitalist class formation? Global Networks 3 (1): 29–57.
6. Carroll, William K. [2010]. The Making of a Transnational Capitalist Class: Corporate Power in the 21st Century. London: Zed Books.
7. Carroll, William K. – Sapinski, Jean P. [2010]. The Global Corporate Elite and the Transnational Policy-Planning Network, 1996–2006: A Structural Analysis. International Sociology 25 (4): 501–538.
8. Coleman, William D. – Skogstad, Grace [1995]. Neo-liberalism, policy networks, and policy change: Agricultural policy reform in Australia and Canada. Australian Journal of Political Science 30 (2): 242–263.
9. Conti, Joseph A. – O'Neil, Moira [2007]. Studying power: qualitative methods and the global elite. Qualitative Research 7 (1): 63–82.
10. Cox, Robert W. [1981]. Social Forces, States and World Orders: Beyond International Relations Theory. Millennium – Journal of International Studies 10 (2): 126–155. CrossRef
11. Danner, Mona – Young, Gay [2003]. Free Markets and State Control: A Feminist Challenge to Davos Man and Big Brother. Gender and Development 11 (1): 82–90.
12. Davidson, Roei – Poor, Nathaniel – Williams, Ann [2009]. Stratification and global elite theory: A cross-cultural and longitudinal analysis of public opinion. International Journal of Public Opinion Research 21 (2): 165–186.
13. Drulak, Petr – Konigova, Lucie [2005]. The Czech Republic – From Socialist Past to Socialized Future. In. Flockhart, Trine (ed.) Socializing Democratic Norms: The Role of International Organizations for the Construction of Europe. London: Palgrave, p. 149–168.
14. Dupuis-Deri, Francis [2007]. Global Protesters Versus Global Elites: Are Direct Action and Deliberative Politics Compatible? New Political Science 29 (2): 167–186. CrossRef
15. Eisenstein, Hester [2009]. Feminism Seduced: How Global Elites Use Women's Labor and Ideas to Exploit Women. Boulder, CO: Paradigm.
16. Eriksson, Johan [2014]. On the Policy Relevance of Grand Theory. International Studies Perspectives 15 (1): 94–108. CrossRef
17. Eschle, Catherine [2004]. Feminist Studies of Globalisation: Beyond Gender, Beyond Economism? Global Society 18 (2): 97–125. CrossRef
18. Fisher, Sharon – Gould, John – Haughton, Tim [2007]. Slovakia's Neoliberal Turn. Europe-Asia Studies 59 (6): 977–998.
19. Fotopoulos, Takis [2002]. The Global 'Warr' of the Transnational Elite. Democracy and Nature 8 (2): 201–240. CrossRef
20. Freeland, Chrystia [2011]. The rise of the new global elite. Atlantic Monthly 307 (1): 44–55.
21. Gill, Stephen [2009] (1990). American Hegemony and the Trilateral Commission. Cambridge: Cambridge University Press (3rd edition).
22. Gimenez, Martha E. [2004]. Connecting Marx and feminism in the era of globalization: A preliminary investigation. Socialism and Democracy 18 (1): 85–105. CrossRef
23. Goxe, Francois – Belhoste, Nathalie [2015]. Showing them the door (nicely): rejection discourses and practices of a global elite. Critical Perspectives on International Business 11 (2): 189–206.
24. Haas, Peter M. [1992]. Introduction: Epistemic Communities and International Policy Coordination. International Organization 46 (1): 1–35. CrossRef
25. Hafner-Burton, Emilie M. – Kahler, Miles – Montgomery, Alexander H. [2009]. Network Analysis for International Relations. International Organization 63 (3): 559–592. CrossRef
26. Harvey, David [2007]. Neoliberalism as Creative Destruction. Annals of the American Academy of Political and Social Science 610 (1): 21–44. CrossRef
27. Harris, Jerry [2012]. Global monopolies and the transnational capitalist class. International Critical Thought 2 (1): 1–6. CrossRef
28. Harris, Jerry [2013]. Desert dreams in the Gulf: transnational crossroads for the global elite. Race and Class 54 (4): 86–99. CrossRef
29. Hearn, Jeff [2004]. From Hegemonic Masculinity to the Hegemony of Men. Feminist Theory 5 (1): 49–72. CrossRef
30. Held, David, et al. [1999]. Global Transformations: Politics, Economics and Culture. Cambridge: Polity Press.
31. Hirsch, Joachim – Wissel, Jens [2011]. The Transformation of Contemporary Capitalism and the Concept of a Transnational Capitalist Class: A Critical Review in Neo-Poulantzian Perspective. Studies in Political Economy 88: 7–33.
32. Hoffmann-Lange, Ursula [2012]. Vertical and Horizontal Accountability of Global Elites: Some Theoretical Reflections and a Preliminary Research Agenda. Historical Social Research 37 (1): 193–208.
33. Hulme, David [2010]. Lessons from the Making of the MDGs: Human Development Meets Results-Based Management in an Unfair World. IDS Bulletin 41 (1): 15–25. CrossRef
34. Chwieroth, Jeffrey [2007]. Neoliberal Economists and Capital Account Liberalization in Emerging Markets. International Organization 61 (2): 443–463. CrossRef
35. Kakabadse, Andrew P. – Kakabadse, Nada K. (eds.) [2012]. Global Elites: The Opaque Nature of Transnational Policy Determination. Palgrave Macmillan.
36. Kauppinen, Ilkka [2013]. Academic capitalism and the informational fraction of the transnational capitalist class. Globalisation, Societies and Education 11 (1): 1–22. CrossRef
37. Kolařova, Marta [2006]. Gender and Globalisation: Labour Changes in the Global Economy. Czech Sociological Review 42 (6): 1241–1257.
38. Laursen, Finn (ed.) [2010]. Comparative Regional Integration: Europe and Beyond. Ashgate.
39. Lawson, George – Shilliam, Robbie [2010]. Sociology and international relations: legacies and prospects. Cambridge Review of International Affairs 23 (1): 69–86.
40. Macartney, Huw [2009]. Variegated neo-liberalism: transnationally oriented fractions of capital in EU financial market integration. Review of International Studies 35 (2): 451–480. CrossRef
41. Madrid, Cori [2009]. El Salvador and the Central American Free Trade Agreement: Consolidation of a Transnational Capitalist Class. Perspectives on Global Development and Technology 8 (2): 189–210. CrossRef
42. McKenna, Steve – Ravishankar, Mayasandra-Nagaraja – Weir, David [2015]. Critical perspectives on the globally mobile professional and managerial class. Critical Perspectives on International Business 11 (2): 118–121. CrossRef
43. McLaren, Peter [2014]. Education Agonistes: an epistle to the transnational capitalist class. Policy Futures in Education 12 (4): 583–610. CrossRef
44. Moravcsik, Andrew [1997]. Taking Preferences Seriously: A Liberal Theory of International Politics. International Organization 51 (4): 513–553. CrossRef
45. Murray, Joshua [2014]. Evidence of a transnational capitalist class-for-itself: the determinants of PAC activity among foreign firms in the Global Fortune 500, 2000–2006. Global Networks 14 (2): 230–250. CrossRef
46. Neubauer, Rorbert J. [2012]. Dialogue, Monologue, or Something in Between? Neoliberal Think Tanks in the Americas. International Journal of Communication 6: 2173–2198.
47. Nye, Joseph S. – Keohane, Robert O. [1971]. Transnational Relations and World Politics: An Introduction, International Organization 25 (3): 329–249.
48. OECD [2015]. Income Inequality: The Gap between Rich and Poor. OECD Insights, OECD Publishing, Paris.
49. Oikonomou, Iraklis [2011]. EU – U. S. Military Relations and the Question of the Transnational Capitalist Class. Rethinking Marxism 23 (1): 135–144. CrossRef
50. Oxfam [2015]. Wealth: Having It All and Wanting More (Oxfam research paper from January 2015 written by Deborah Hardoon).
51. Pakulski, Jan [2010]. Global Elites. In. Turner, Bryan S. (ed.) The Routledge International Handbook of Globalization Studies. Oxford, New York: Routledge, p. 328–345.
52. Patterson, Rubin [2013]. Transnational Capitalist Class: What' s Race Got to Do With It? Everything! Globalizations 10 (5): 673–690. CrossRef
53. Richardson, Ian N. – Kakabadse, Andrew P. – Kakabadse, Nada K. [2011]. Bilderberg People: Elite Power and Consensus in World Affairs. Routledge.
54. Risse, Thomas [2002]. Transnational Actors and World Politics. In. Carlsnaes, Walter – Risse, Thomas – Simmons, Beth A. (eds.). Handbook of International Relations. London: Sage, p. 255–274. CrossRef
55. Robertson, Justin [2014]. On the National Production of Global Elites: The Rise of a French Trained Global Elite in Financial Derivatives. International Political Sociology 8 (3): 275–292. CrossRef
56. Robinson, William I. [2000]. Neoliberalism, the Global Elite, and the Guatemalan Transition: A Critical Macrosocial Analysis. Journal of Interamerican Studies and World Affairs 42 (4): 89–107. CrossRef
57. Robinson, William I. – Harris, Jerry [2000]. Towards a global ruling class? Globalization and the transnational capitalist class. Science and Society 64 (1): 11–54.
58. Robinson, William I. [2004]. A Theory of Global Capitalism: Production, Class, and State in a Transnational World. Baltimore, MD: Johns Hopkins University Press.
59. Rothkopf, David [2008]. Superclass: The Global Power Elite and the World They Are Making. Farrar, Straus and Giroux.
60. Santos, Boaventura de Sousa [2006]. Globalizations. Theory, Culture and Society 23 (2–3): 393–399.
61. Sener, Meltem Y. [2007]. Turkish Managers as a Part of the Transnational Capitalist Class. Journal of World-Systems Research 13 (2): 119–141. CrossRef
62. Shields, Stuart [2007]. Too Much Shock, Not Enough Therapy: Transnational Capital and the Social Implications of Poland's Ongoing Transition to a Market. Competition and Change 11 (2): 155–178. CrossRef
63. Scholte, Jan A. [2000]. Globalization: A Critical Introduction. New York: Palgrave Macmillan.
64. Sklair, Leslie [1997]. Social Movements for Global Capitalism: The Transnational Capitalist Class in Action. Review of International Political Economy 4 (3): 514–538. CrossRef
65. Sklair, Leslie [2001]. The Transnational Capitalist Class. Oxford: Blackwell.
66. Sklair, Leslie – Struna, Jason [2013]. The Icon Project: The Transnational Capitalist Class in Action. Globalizations 10 (5): 747–763.
67. Slaughter, Anne-Marie [1997]. The Real New World Order. Foreign Affairs 76 (5): 183–197. CrossRef
68. Sprague, Jeb [2009]. Transnational Capitalist Class in the Global Financial Crisis: A Discussion with Leslie Sklair. Globalizations 6 (4): 499–507. CrossRef
69. Struna, Jason [2009]. Toward a Theory of Global Proletarian Fractions. Perspectives on Global Development and Technology 8 (2): 230–260. CrossRef
70. Takase, Hisanao [2014]. The Transnational Capitalist Class, the Trilateral Commission and the Case of Japan: Rhetorics and Realities. Socialist Studies 10 (1): 86–110. CrossRef
71. Tomusk, Voldemar [2002]. The rise of the transnational capitalist class and World Bank 'aid ' for higher education. International Studies in Sociology of Education 12 (3): 335–352. CrossRef
72. Upadhya, Carol [2004]. A New Transnational Capitalist Class? Capital Flows, Business Networks and Entrepreneurs in the Indian Software Industry. Economic and Political Weekly 39 (48): 5141–5151.
73. Unruh, Gregory C. – Cabrera, Angel [2013]. Join the Global Elite. Harvard Business Review 91 (5): 135–139.
74. van Apeldoorn, Bastiaan [2000]. Transnational Class Agency and European Governance: The Case of the European Round Table of Industrialists. New Political Economy 5 (2): 157–181. CrossRef
75. van Apeldoorn, Bastiaan [2004]. Theorizing the transnational: a historical materialist approach. Journal of International Relations and Development 7 (2): 142–176. CrossRef
76. van Apeldoorn, Bastiaan – de Graaff, Nana [2014]. Corporate elite networks and US post-Cold War grand strategy from Clinton to Obama. European Journal of International Relations 20 (1): 29–55. CrossRef
77. van der Pijl, Kees [1998]. Transnational Classes and International Relations. London, NewYork: Routledge.
78. Verdun, Amy [1999]. The role of the Delors Committee in the creation of EMU: an epistemic community? Journal of European Public Policy 6 (2): 308–328. CrossRef
79. Viotti, Paul R. – Kauppi, Mark V. [1999]. International Relations Theory: Realism, Pluralism, Globalism, and Beyond. Boston: Allyn and Bacon.
80. Vlachou, Andriana – Escudero, Jose C. – Garcla‐Guadilla, Maria P. [2000]. Jeffrey Sachs on world poverty: Three critiques. Capitalism, Nature, Socialism 11 (2): 115–127.
81. Zakaria, Fareed [2008]. The Post-American World. New York: W. W. Norton & Company.

Global Elite as Transnational Capitalist Class is licensed under a Creative Commons Attribution 4.0 International License.
230 x 157 mm
vychází: 2 x ročně
cena tištěného čísla: 120 Kč
ISSN: 1804-0616
E-ISSN: 2336-3525
Ke stažení