HISTORICKÁ SOCIOLOGIE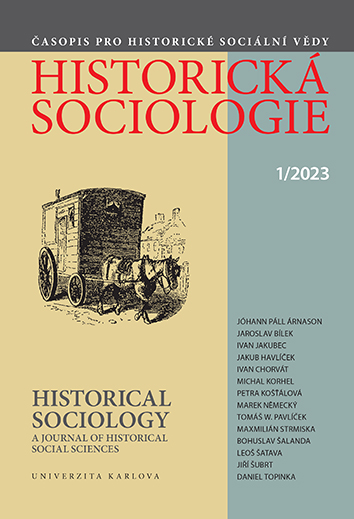 Interdisciplinární časopis se zaměřuje především ze sociologického, politologického a historického hlediska na problematiku dlouhodobých sociálních procesů a trendů, modernizace, globalizačních tendencí a vlivů. Časopis vytváří širší platformu pro badatele v historických sociálních vědách. Epistemologické pole časopisu není striktně ohraničené a počítá s přesahy do civilizacionistiky, kulturní sociologie a dalších spřízněných oblastí.
Časopis vydává nakladatelství Univerzity Karlovy v Praze Karolinum ve spolupráci s Fakultou humanitních studií Univerzity Karlovy v Praze.
Historická sociologie je vědecký časopis s otevřeným přístupem, což znamená, že veškerý obsah je volně k dispozici bez poplatku pro uživatele nebo instituci. Uživatelé mohou číst, stahovat, kopírovat, distribuovat, tisknout, vyhledávat nebo odkazovat na plné texty článků v tomto časopise, aniž by potřebovali předchozí povolení od vydavatele nebo autora.
Recenzovaný vědecký časopis vychází dvakrát ročně, v červnu a v prosinci.
Časopis je abstraktován a indexován v CEEOL, CEJSH, DOAJ, EBSCO, Emerging Sources Citation Index, ERIH PLUS, OAJI, recensio.net, Scopus, SSOAR, Ulrichsweb.
Dlouhodobou archivaci elektronického obsahu časopisu zajišťuje Portico.
Politika identit v čínských enklávách amerických měst: muzejní narace
[Identity Politics in American Chinatowns: Museum Narratives]
Daniel Topinka, Jakub Havlíček
DOI: https://doi.org/10.14712/23363525.2023.6
zveřejněno: 24. 05. 2023
Abstract
This text deals with ethnopolitical identities as presented to visitors to Chinese enclaves by their inhabitants themselves in museums of Chinese enclaves in the United States. We focus on three locations: San Francisco, New York, and Chicago. The text briefly introduces the history of Chinese immigration and the establishment of the Chinese as a minority within the American nation. It focuses on the content of the permanent exhibitions, it describes and analyzes the forms of representing Chinese identities in these museums. At a theoretical level, we draw on the concept of identity politics. We apply a syntagmatic approach, using a method of narrative analysis of the exhibitions, comparing the sequential development of the museum narrative in the order it is intended to be presented to museum visitors. We identify the various elements of the design of the exhibitions and the themes presented. Our research was conducted during field trips of the authors between 2013–2019. The exhibitions come with a so-called canonical narrative that is linearly conceived and introduces the "harmony" of Chinese and American identities. The canonical narrative is coherently and logically conceived, the presented themes support the whole narrative. The canonical narrative illuminates the presence of Chinese immigrants as a journey from exclusion to full emancipation and recognition of their equality, with reference to cultural specifics of Chinese sociocultural identities.
klíčová slova: museum narratives; Chinese Americans; identity politics; ethnopolitics; narrative analysis
reference (40)
1. Andrews, Molly - Squire, Corinne, - Tamboukou, Maria (ed.) [2008]. Doing Narrative Research. Los Angeles - London: Sage.
2. Austin, Tricia [2012]. Scales of narrativity. In. MacLeod, Suzanne - Hourston Hanks, Laura - Hale, Jonathan (ed.). Museum Making. Narratives, Architectures, Exhibitions. New York: Routledge, s. 107-118.
3. Banks, Marcus [1996]. Ethnicity: Anthropological Constructions. London: Routledge.
4. Bronson, Bennet - Chiu, Joe - Chuimei, Ho [2011]. Chinatown in Chicago. Chicago: Chinese-American Museum of Chicago.
5. Budiman, Abby - Ruiz, Neil G. [2021]. Key facts about Asian origin groups in the U.S. Pew Research Center (online), 29. 4. 2021. Dostupné z: <https://www.pewresearch.org/fact-tank/2021/04/29/key-facts-about-asian-origin-groups-in-the-u-s>.
6. Cook, Jesse B. [1931]. San Francisco's Old Chinatown. San Francisco Police and Peace Officers' Journal (online), June 1931. Dostupné z: <http://www.sfmuseum.org/hist9/cook.html>.
7. Egan, Charles [2021]. Voices of Angel Island: Inscriptions and Immigrant Poetry, 1910-1945. New York: Bloomsbury Academic.
8. Eriksen, Thomas Hylland [2007]. Antropologie multikulturních společností: rozumět identitě. Praha: Triton.
9. Eriksen, Thomas Hylland [2012]. Etnicita a nacionalismus: antropologické perspektivy. Praha: Sociologické nakladatelství.
10. Fong, Timothy P. [1994]. The First Suburban Chinatown: The Remaking of Monterey Park, California. Philadelphia: Temple University Press.
11. Guest, Kenneth J. [2013]. From Mott Street to East Broadway: Fuzhounese Immigrants and the Revitalization of New York's Chinatown. In. Wong, Bernard P. - Chee-Beng, Tan (ed.). Chinatowns around the world: gilded ghetto, ethnopolis, and cultural diaspora. Leiden: Brill, s. 35-54.
12. Halbwachs, Maurice [2009]. Kolektivní paměť. Praha: Sociologické nakladatelství.
13. Havlíček, Jakub [2018]. Čínská migrace do Spojených států: dvě staletí dějin. Historický obzor: časopis pro výuku dějepisu a popularizaci historie 29 (7-8): 161-174.
14. Ho, Chuimei - Moy, Soo Lon (ed). [2005]. Chinese in Chicago, 1870-1945. Charleston: Arcadia.
15. Hoeffel, Elizabeth M. - Rastogi, Sonya - Kim, Myoung Ouk - Shahid, Hasan [2012]. The Asian Population: 2010. United States Census Bureau (online), březen 2012. Dostupné z: https://www.census.gov/library/publications/2012/dec/c2010br-11.html.
16. Hsu, Madeline Y. [2015]. The Good Immigrants: How the Yellow Peril Became the Model Minority. Princeton: Princeton University Press.
17. Huntington, Samuel P. [2005]. Kam kráčíš, Ameriko? Krize americké identity. Praha: Rybka.
18. Chin, Ko-lin [2000]. Chinatown Gangs: Extortion, Enterprise, and Ethnicity. Oxford: Oxford University Press.
19. Chinese American Museum of Chicago (online). Dostupné z: <https://ccamuseum.org>.
20. Chinese Historical Society of America (online). Dostupné z: <https://chsa.org>.
21. Lai, Chuenyan David [1988]. Chinatowns: Towns within Cities in Canada. Vancouver: University of British Columbia Press.
22. Lee, Anthony W. [2001]. Picturing Chinatown: Art and Orientalism in San Francisco. Berkeley: University of California Press.
23. Lee, Erika [2003]. At America's Gates: Chinese Immigration during the Exclusion Era, 1882-1943. Chapel Hill: University of North Carolina Press.
24. Lin, Jan [1998]. Reconstructing Chinatown: Ethnic Enclave, Global Change. Minneapolis: University of Minnesota Press.
25. Ling, Huping [2013]. The New Trends in American Chinatowns: The Case of the Chinese in Chicago. In. Wong, Bernard P. - Chee-Beng, Tan (ed.). Chinatowns around the world: gilded ghetto, ethnopolis, and cultural diaspora. Leiden: Brill, s. 55-94.
26. Lužný, Dušan - Váně, Jan [2017]. Koncept kolektivní paměti - základní východiska a závěry. Historický časopis 65 (4): 577-590. CrossRef
27. Lynch, Kevin [2004]. Obraz města. Praha: Polygon.
28. MOCA Museum of Chinese in America (online). Dostupné z: https://www.mocanyc.org.
29. Moore, Niamh - Whelan, Yvonne [2007]. Heritage, Memory and the Politics of Identity: New Perspectives on the Cultural Landscape. Aldershot: Ashgate, 2007.
30. Roberts, John Anthony [2002]. China to Chinatown: Chinese Food in the West. London: Reaktion Books.
31. Teitelbaum, Michael - Asher, Robert [2005]. Chinese Immigrants. New York: Facts On File.
32. Thunø, Mette [2007]. Beyond Chinatown New Chinese Migration and the Global Expansion of China. Copenhagen: NIAS Press.
33. Tchen, John Kuo Wei [1984]. Genthe's Photographs of San Francisco's Old Chinatown. New York: Dover Publications.
34. Totušek, Jaroslav [2019]. Kultovní Čínská čtvrť s Nicholsonem a Dunawayovou se dočká seriálové podoby. Lidovky.cz (online), 19. 11. 2019.
35. Wong, Kevin Scott [2005]. Americans First: Chinese Americans and the Second World War. Cambridge, MA: Harvard University Press.
36. Yang, Fenggang [1999]. Chinese Christians in America: Conversion, Assimilation, and Adhesive Identities. University Park: Pennsylvania State University Press.
37. Yao, Steven G. [2010]. Foreign Accents: Chinese American Verse from Exclusion to Postethnicity. New York: Oxford University Press.
38. Zhong, Donghui [2008]. Between Two Generations: Language Maintenance and Acculturation among Chinese Immigrant Families. El Paso: LFB Scholarly Pub. LLC.
39. Zhou, Min [2009]. Contemporary Chinese America: Immigration, Ethnicity, and Community Transformation. Philadelphia: Temple University Press.
40. Zia, Helen [2000]. Asian American Dreams: The Emergence of an American People. New York: Farrar, Straus, and Giroux.

Politika identit v čínských enklávách amerických měst: muzejní narace is licensed under a Creative Commons Attribution 4.0 International License.
230 x 157 mm
vychází: 2 x ročně
cena tištěného čísla: 120 Kč
ISSN: 1804-0616
E-ISSN: 2336-3525
Ke stažení