AUC PHILOSOPHICA ET HISTORICA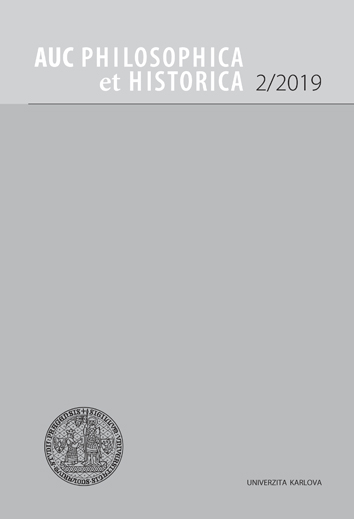 AUC Philosophica et Historica je víceoborový akademický časopis zaměřený na humanitní a společenskovědné obory (filozofie, psychologie, pedagogika, sociologie, obecné, české a hospodářské dějiny, pomocné vědy historické a archivnictví, etnologie).
Časopis je indexován v databázích CEEOL, DOAJ a EBSCO.
Teoretické modely působení umělecké intence na diváka a jejich experimentální ověření
[Theoretical models of the effect of artistic intention on the viewer and their experimental verification]
Petr Adámek
DOI: https://doi.org/10.14712/24647055.2020.9
zveřejněno: 14. 09. 2020
Abstract
The image is often discussed as a tool of the communication process across many disciplines, including the history of art and aesthetics. At present, it is also becoming of importance to cognitive sciences, which until recently have focused mainly on the basic physical properties of artefacts and how these aspects are able to influence the basic variables of our perception. However, the process of visual perception and the associated mental cognition in relation to authorial intention remained a somewhat neglected aspect. The paper presents hypotheses and theories discussing the influence of artistic intent on spectator perception and the possibilities of their application in experimental research.
Klíčová slova: psychology of art; eye movements; photography; paintings; artist's intention
reference (27)
1. Petr Adámek - Dominika Grygarová - Jiří Lukavský et al., Tracking artistic transformations: Comparing paintings and their source photographs, I-Perception 2018 (v recenzním řízení; ID: IPE-17-0156).
2. Petr Adámek, Akční skript a jeho kulturněhistorická poloha (seminární práce), Seminář dějin umění FF MU, Brno, 2014.
3. Petr Bílek, Reprezentace: Metafora, pojem či koncept?, in: Veronika Vebrová - Petr Bílek - Vladimír Papoušek et al., (edd.), Jazyk reprezentace, Praha 2012.
4. Paul Bloom, Intention, History, and Artifact Concepts, Cognition LX, 1996, č. 1, s. 1-29. CrossRef
5. Caroline Catmur, Understanding intentions from actions: Direct perception, inference, and the roles of mirror and mentalizing systems, Consciousness and cognition XXXVI, 2015, s. 426-433. CrossRef
6. Angela Ciaramidaro et al., Do you mean me? Communicative intentions recruit the mirror and the mentalizing system, Social cognitive and affective neuroscience IX, 2013, č. 7, s. 909-916. CrossRef
7. Arthur C. Danto, The Philosophical Disenfranchisement of Art, Grand Street IV, 1985, č. 3, s. 171-189. CrossRef
8. Thiery De Duve, Intentionality and Art Historical Methodology. A Case Study, Nonsite.org, č. 6 (Intention and Interpretation), http://nonsite.org/article/intentionality-and-art-historical-methodology-a-case-study, vyhledáno 20. 12. 2017.
9. Jerry A. Fodor, Déja vu All Over Again, Danto and his Critics. Second Edition, 1993, s. 55-68. CrossRef
10. Michel Foucault, This Is Not a Pipe, London 1983.
11. James J. Gibson, The Ecological Approach to Visual Perception, Oxford 2014. CrossRef
12. James J. Gibson, The Theory of Affordances, in: Robert Shaw - John Bransford (edd.), Perceiving, Acting, and Knowing, Mahwah 1977.
13. Tien Ho-Phuoc, et al., When Viewing Natural Scenes Do Abnormal Colors Impact on Spatial or Temporal Parameters of Eye Movements?, Journal of Vision XII, 2012, č. 2. CrossRef
14. Peter Koenig - Kai Kaspar, Viewing Behavior and the Impact of Low-level Image Properties across Repeated Presentations of Complex Scenes, Journal of Vision XI, 2011, č. 13.
15. Ladislav Kesner, Intence, affordance a význam kulturních objektů, in: Jiří Kroupa - Michaela Šeferisová-Laudová et al., Orbis Artium, Brno 2009, s. 59-73.
16. Jerrold Levinson, Extending art historically, Journal of Aesthetics and Art Criticism LI, 1993, č. 3, s. 411-423. CrossRef
17. Jerrold Levinson, Intention and Interpretation in Literature, in: idem, The Pleasure of Aesthetics. Philosophical Essays, Ithaca 1996, s. 175-213.
18. Paisley Livingston, Intentionalism in Aesthetics, New Literary History XXVIII, 1998, č. 4, s. 831-846. CrossRef
19. Sabira K. Mannan - Keith H. Ruddock - David S. Wooding, Automatic Control of Saccadic Eye Movements Made in Visual Inspection of Briefly Presented 2-D Images, Spatial vision IX, 1995, č. 3, s. 363-386. CrossRef
20. Davide Massaroet al., When Art Moves the Eyes. A Behavioral and Eye-tracking Study, PloS one VII, 2012, č. 5., http://journals.plos.org/plosone/article?id=10.1371/journal.pone.0037285, vyhledáno 10. 8. 2015. CrossRef
21. František Mikš, Gombrich - Tajemství obrazu a jazyk umění, Brno 2008, s. 48-49.
22. Antje Nuthmann - George L. Malcolm, Eye Guidance during Real-world Scene Search. The Role Color Plays in Central and Peripheral Vision, Journal of Vision XVI, 2016, č. 2. CrossRef
23. Allesandro Pignocchi, L'oeuvre d'art et ses intentions, Paris 2012, cit. s. 115.
24. Mark Rollins, What Monet Meant. Intention and Attention in Understanding Art, The Journal of Aesthetics and Art Criticism LXII, 2004, s. 175-188. CrossRef
25. David Summers, Form. Nineteenth-Century Metaphysics, and the Problem of Art Historical Description, Critical Inquiry XV, 1989, č. 2, s. 372-406. CrossRef
26. David Summers, Intentions in the History of Art, New literary history XVII, 1986, č. 2, s. 305-321. CrossRef
27. Calen R. Walshe - Antje Nuthmann, Mechanisms of Saccadic Decision Making while Encoding Naturalistic Scenes, Journal of Vision XV, 2015, č. 5. CrossRef

Teoretické modely působení umělecké intence na diváka a jejich experimentální ověření is licensed under a Creative Commons Attribution 4.0 International License.

vychází: 2 x ročně
ISSN: 0567-8293
E-ISSN: 2464-7055
Ke stažení