AUC PHILOLOGICA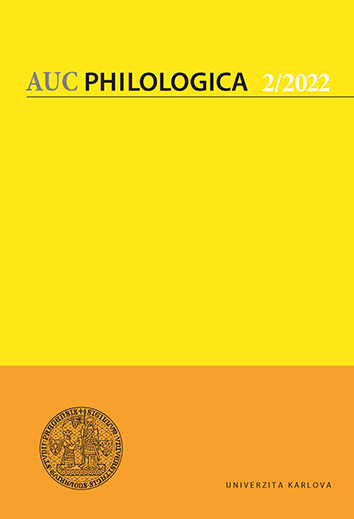 AUC Philologica (Acta Universitatis Carolinae Philologica) je akademický časopis publikující jak lingvistické, tak literárně historické a teoretické studie. Nedílnou součástí časopisu jsou i recenze odborných knih a zprávy z akademického prostředí.
Časopis je indexován v databázích CEEOL, DOAJ, EBSCO a ERIH PLUS.
"If Only They'd Stop Waiting": Staging Western Canadian Drama In Central Europe
Klára Kolinská
DOI: https://doi.org/10.14712/24646830.2022.42
zveřejněno: 16. 03. 2023
Abstract
The best of contemporary theatre in Western Canada presents stories of the historical, cultural, and ethnic diversity of the region while taking a critical stand against the traditional stereotypes of "prairie realism and cowboy iconography" which contributed to the creation of its social, as well as artistic awareness. Western Canadian playwrights reflect in their works the wide multicultural spectrum of their region, without writing mere "ethnic theatre" with limited readability and appeal. This is documented by several instances of producing Western Canadian drama "out of its context" – specifically in Central Europe. In the Czech Republic, it was the productions of Brad Fraser's Kill Me Now by theatres in Ostrava and Mladá Boleslav in 2017 and 2019, respectively, and the production of Vern Thiessen's play Lenin's Embalmers by a Liberec theatre which premiered in December 2017. The article discusses the productions of Western Canadian plays by Czech theatres, with special focus on the dramaturgical decisions and theatrical presentations concerned, as well as on the critical and audience response the productions have received, with the aim to demonstrate that Western Canadian drama presents not only a valuable source for cultural and theatrological study, but also inspiring material for meaningful stage productions in Czech – and potentially European – theatres.
klíčová slova: Canadian drama and theatre; regionalism; Western Canadian theatre; theatre dramaturgy; Vern Thiessen; Brad Fraser
reference (20)
1. Bassnett-McGuire, Susan. "Ways through the Labyrinth: Strategies and Methods for Translating Theatre Texts". The Manipulation of Literature. Studies in Literary Translation. Edited by Theo Hermans. London: Croom Helm, 1985. 87-102. CrossRef
2. Bessai, Diane. "The Regionalism of Canadian Drama". Space and the Geographies of Theatre. Critical Perspectives on Canadian Theatre in English, 9 (2007). Toronto: Playwrights Canada Press, 1-14.
3. Coates, Donna and George Melnyk. "Preface: The Struggle for an Alberta Literature", in Wild Words:
4. Essays on Alberta Literature. Edited by Donna Coates and George Melnyk. Edmonton: Athabasca University Press, 2009. vii-xi.
5. Freitag, Florian. "Regionalism in American and Canadian Literature", in The Palgrave Handbook of Comparative North American Literature. Edited by Reinhard Nischik. New York: Palgrave Macmillan US, 2014. 199-218. CrossRef
6. Frye, Northrop. The Bush Garden: Essays on the Canadian Imagination. Toronto: Anansi, 1971.
7. Hurley, Erin. "Theatre as a National Export: On Being and Passing in the United States". Space and the Geographies of Theatre. Critical Perspectives on Canadian Theatre in English, 9, Toronto: Playwrights Canada Press, 2007. 174-93.
8. Nothof, Anne. "No Cowpersons on this Range: The Cultural Complexity of Alberta Theatre", in Wild Words, 61-75.
9. Van Herk, Aritha. "Introduction: Wrestling Impossibility: Wild Words in Alberta", in Wild Words, 1-10.
10. Walker, Craig S. The Buried Astrolabe: Canadian Dramatic Imagination and Western Tradition. Montreal and Kingston: McGill-Queen's University Press, 2001.
11. Watson, J. Wreford. "Canadian Regionalism in Life and Letters". The Geographical Journal, 131.1 (March 1965): 21-33. CrossRef
12. Wylie, Herb. "Regionalism, Postcolonialism and (Canadian) Writing: A Comparative Approach for Postnational Times". Essays on Canadian Writing, 63 (Spring 1998): 139-61.
13. Online Sources
14. Freitag, Florian and Kirsten A. Sandrock. "Introduction: Transnational Approaches to North American Regionalism". European Journal for American Studies (2014): 9-3. https://journals.openedition.org/ejas/10402 (retrieved 4 December 2021). CrossRef
15. Keefer, Janice Kulyk Keefer. "Regionalism in Canadian Literature in English", in Encyclopedia of Post-Colonial Literatures in English. Abingdon: Routledge, 2005. https://www.proquest.com/docview/2137909500/fulltext/67045E59088B4542PQ/1?accountid=15115 (retrieved 1 December2021).
16. Prucha, Emily Prucha. "Czech Humour - SOS", Prague Daily Monitor, 23 September 2011. http://praguemonitor.com/2011/09/23/czech-humor-sos (retrieved 7 December 2021).
17. Ricou, Laurie. "Regionalism in Literature", in The Canadian Encyclopedia. https://www.thecanadianencyclopedia.ca/en/article/regionalism-in-literature (retrieved 1 December 2021).
18. Senohrábek, Jiří. "Recenze: Teď mě zabij v boleslavském divadle", 25 February 2018. https://boleslavsky.denik.cz/kultura_region/recenze-ted-me-zabij-v-boleslavskem-divadle-20180225.html (retrieved 7 December 2021).
19. "Společenská tabu odkrývá provokativní hra Teď mě zabij", Týden, 24. 5. 2017. https://www.tyden.cz/rubriky/kultura/divadlo/spolecenska-tabu-odkryva-provokativni-hra-ted-me-zabij_431154.html, (retrieved 7 December 2021).
20. Širmer, Pavel. "Pozoruhodná hra inscenovaná s citem a pochopením". 1. 3. 2018. https://www.i-divadlo.cz/blogy/pavel-sirmer/pozoruhodna-hra-inscenovana-s-citem-a-pochopenim (retrieved 7 December 2021).

"If Only They'd Stop Waiting": Staging Western Canadian Drama In Central Europe is licensed under a Creative Commons Attribution 4.0 International License.

vychází: 4 x ročně
cena tištěného čísla: 150 Kč
ISSN: 0567-8269
E-ISSN: 2464-6830
Ke stažení