AUC PHILOLOGICA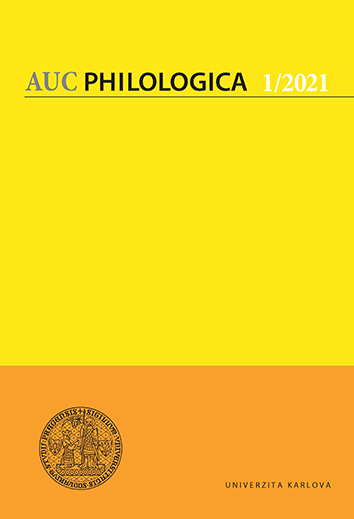 AUC Philologica (Acta Universitatis Carolinae Philologica) je akademický časopis publikující jak lingvistické, tak literárně historické a teoretické studie. Nedílnou součástí časopisu jsou i recenze odborných knih a zprávy z akademického prostředí.
Časopis je indexován v databázích CEEOL, DOAJ, EBSCO a ERIH PLUS.
Mot ett bredare arketextualitetsbegrepp: den augustinsk-lutherska diskurstypen i Birgitta Trotzigs Dykungens dotter
[Towards a Broader Notion of Architextuality. The Augustinian-Lutheran Type of Discourse in Birgitta Trotzig's Dykungens dotter (The Marsh King's Daughter)]
Krzysztof Bak
DOI: https://doi.org/10.14712/24646830.2021.10
zveřejněno: 30. 08. 2021
Abstract
This article has three aims, all of them related to the theory and practice of intertextuality. Firstly, the article makes an attempt to reconstruct the Augustinian-Lutheran type of discourse. A number of modern theologians and historians of philosophy have observed that the main currents within Christian theology have their basis in a specific discourse organization of textual utterances. With reference to these observations, the article maps out some dominant features of Augustine's and Luther's discoursive practices. The type of discourse thus reconstructed contains grammatical, logical-argumentative, narrative and rhetoric-figurative characteristics, and – as a matter of fact – it manifests a high degree of applicability in the field of literary studies. Secondly, the article applies the reconstructed type of discourse to analyze a masterpiece of Swedish twentieth-century literature, the novel Dykungens dotter (The Marsh King's Daughter, 1985) by Birgitta Trotzig (1929–2013). In several interviews, Trotzig makes evidently contradictory remarks on Augustine and Luther. She dissociates herself from their anthropology at the same time as she hints that their view of human conditions has made a deep impression on her. The article's application intends to throw light on this precarious hermeneutic situation. The intense presence of the Augustinian-Lutheran type of discourse in the novel made apparent through the application indicates that an interpretation of Trotzig's writings by means of Augustinian-Lutheran intertexts is hermeneutically motivated in spite of her own negative declarations. Thirdly, the article makes use of the reconstructed type of discourse in order to examin Gérard Genette's notion of architextuality. There is a theoretical incongruence in his notion. On an explicit definitory level, architextuality includes all types of discourse and modes of enunciation. On a conteptual level, however, the notion of architextuality is constructed on the pattern of literary genres. The article's application demonstrates that Genette's notion requires some corrections to live up to its definitory commitments. The Augustinian-Lutheran architext comes into conflict with some of Genette's linguisticly construed structuralistic categories and demands a more discoursive and hermeneutic way of thinking.
Klíčová slova: Architextuality; Birgitta Trotzig; Dykungens dotter; Gérard Genette; structuralism; Augustinian-Lutheran type of discourse; hermeneutics; Christian anthropology
reference (129)
1. Adam, Alfred, "Das Fortwirken des Manichäismus bei Augustin", Zeitschrift für Kirchengeschichte 66 (1958), s. 1-15.
2. Adam, Alfred, Lehrbuch der Dogmengeschichte, Gütersloh 1965ff.
3. Allen, Graham, Intertextuality, Abingdon 2011. CrossRef
4. Althaus, Paul, "Luthers Lehre von den beiden Reichen im Feuer der Kritik", Luther-Jahrbuch 24 (1957), s. 40-68.
5. Althaus, Paul, Die Theologie Martin Luthers, Gütersloh 1962.
6. Andersson, Helen, "Litteratur som virtuell verklighet och drömvision - exemplet Dykungens dotter", i: Mediekulturer. Hybrider och förvandlingar, red. Claes-Göran Holmberg & Jan Svensson, Stockholm 2004, s. 18-52.
7. Andersson, Pär-Yngve, Överskridandets strategier. Lyrisk romankonst och dess uttryck hos Rosendahl, Trotzig och Lillpers, Örebro 2004.
8. Anton, John Peter, Aristotle's Theory of Contrariety, London 1957.
9. Arseniew, Nicolas von, Ostkirche und Mystik, München 1925.
10. Asendorf, Ulrich, Eschatologie bei Luther, Göttingen 1967.
11. Asendorf, Ulrich, Gekreuzigt und Auferstanden. Luthers Herausforderung an die moderne Christologie, Hamburg 1971.
12. Augustinus, Opera omnia, i: Patrologiae cursus completus. Series Latina, red. Jacques-Paul Migne, Paris 1841ff., XXXII-XLVII (= PL).
13. Augustinus, Les Confessions. Livres I-VII, red. Martin Skutella, Paris 1962.
14. Augustinus. De civitate Dei, red. Christoph Horn, Berlin 1997.
15. Augustinus-Lexikon, red. Cornelius Mayer, Basel 1986ff.
16. Bak, Krzysztof, Den intersubjektiva synden i Birgitta Trotzigs Dykungens dotter, Kraków 2005.
17. Bak, Krzysztof, "Subjektivitetens tätaste mörker. Om tolkning av bildkonst hos Birgitta Trotzig", i: Det åskådliga och det bottenlösa. Tankar om konst och humaniora tillägnade Margaretha Rossholm Lagerlöf, red. Tomas Björk, Peter Gillgren m.fl., Stockholm 2010, s. 13-19.
18. Bak, Krzysztof, "Varats avigsida. Om en ontisk tolkning av Birgitta Trotzigs Dykungens dotter", Kritiker 93/17-18 (2010), s. 112-122.
19. Bak, Krzysztof, "Den kluvna kärnan. Läsningar av Birgitta Trotzigs 'Ormflickan'", Acta Universitatis Carolinae. Philologica. Germanistica Pragensia 21 (2012), s. 87-118.
20. Barth, Karl, Hiob, red. Helmut Gollwitzer, Neukirchen-Vluyn 1966.
21. Bilanz der Theologie im 20. Jahrhundert. Perspektiven, Strömungen, Motive in der christlichen und nichtchristlichen Welt, red. Herbert Vorglimler & Robert vander Gucht, Freiburg/B 1969f.
22. Billicsich, Franz, Das Problem des Übels in der Philosophie des Abendlandes, Wien-Köln 1952ff.
23. Blom, K. Arne, "'Jag tyckte Martin Luther hade fel!'", Tidningen Boken 12/5 (1998), s. 14-18.
24. Bornkamm, Karin, Luthers Auslegung des Galaterbriefes 1519 und 1531. Ein Vergleich, Berlin 1963. CrossRef
25. Burke, Kenneth, The Rhetoric of Religion. Studies on Logology, Berkeley 1970.
26. Campenhausen, Hans von, "Die Bilderfrage als theologisches Problem der alten Kirche", Zeitschrift für Theologie und Kirche 49 (1952), s. 33-60.
27. Collmar, Lars, "Varför kallas mina böcker svarta? Verkligheten är ju mycket värre", Vår Kyrka 112/47 (1973), s. 5-7.
28. Collmar, Lars, "Själv håller jag mig till den negativa teologin", Vår Kyrka 116/27-28 (1977), s. 2-3.
29. Congar, Yves M.-J., "Neuf Cents ans après. Notes sur le 'Schisme oriental'", i: 1054-1954. L'Église et les Églises. Neuf siècles de douloureuse séparation entre l'Orient et l'Occident. Études et travaux sur l'unité chrétienne offers à Dom Lambert Beauduin, Chevetogne 1954, I, s. 3-95.
30. Congar, Yves M.-J., La Foi et la Théologie, Tournai 1962.
31. Dictionnaire d'analyse du discours, red. Patrick Charaudeau & Dominique Maingueneau, Paris 2002.
32. Dihle, Albrecht, The Theory of Will in Classical Antiquity, Berkeley 1982. CrossRef
33. Dinkler, Erich, Die Anthropologie Augustins, Stuttgart 1934.
34. Dinkler, Erich, "Augustins Geschichtsauffassung", Schweizer Monatshefte 34 (1954), s. 514-526.
35. Duchrow, Ulrich, Christenheit und Verantwortung. Traditionsgeschichte und systematische Struktur der Zweireichenlehre, Stuttgart 1970.
36. Ebeling, Gerhard, Luther. Einführung in sein Denken, Tübingen 1965.
37. Escribano-Alberca, Ignacio, Glaube und Gotteserkenntnis in der Schrift und Patristik, Freiburg/B 1974.
38. Evans, Gillian R., Augustine on Evil, Cambridge 1982.
39. Evdokimov, Paul, Die Frau und das Heil der Welt, München 1960.
40. Flasch, Kurt, Augustin. Einführung in sein Denken, Stuttgart 1980.
41. Friis, Elisabeth, "Intertextualitet", i: Litteratur. Introduktion till teori och analys, red. Lasse Horne Kjældgaard m.fl., Lund 2015, s. 147-159.
42. Genette, Gérard, Introduction à l'architexte, Paris 1979.
43. Genette, Gérard,, Palimpsestes. La littérature au second degré, Paris 1982.
44. Gilson, Étienne, Introduction a l'étude de Saint Augustin, Paris 2003.
45. Godard, Barbara, "Intertextuality", i: Encyclopedia of Contemporary Literary Theory. Approaches, Scholars, Terms, red. Irena M. Makaryk, Toronto 1993, s. 568-571.
46. Greshake, Gisbert, Gnade als konkrete Freiheit. Eine Untersuchung zur Gnadenlehre des Pelagius, Mainz 1972.
47. Greshake, Gisbert, Geschenkte Freiheit. Einführung in die Gnadenlehre, Freiburg 1977.
48. Gross, Julius, Geschichte des Erbsündendogmas. Ein Beitrag zur Geschichte des Problems vom Ursprung des Übels, München-Basel 1960ff.
49. Hacker, Paul, Das Ich im Glauben bei Martin Luther, Graz 1966.
50. Harnack, Adolf von, Lehrbuch der Dogmengeschichte, Tübingen 1990.
51. Harnack, Adolf von, Dogmengeschichte, Tübingen 1991.
52. Heiler, Friedrich, Die Ostkirchen, München-Basel 1971.
53. Holte, Ragnar, Beatitudo och sapientia. Augustinus och de antika filosofiskolornas diskussion om människans livsmål, Stockholm 1958.
54. Häring, Hermann, Die Macht des Bösen. Das Erbe Augustins, Zürich 1979.
55. Jakobson, Roman, "Closing Statement: Linguistics and Poetics, i: Style in Language, red. Thomas A. Sebeok, New York-London 1960, s. 350-377.
56. Jakobson, Roman, Selected Writings. II. Word and Language, The Hague-Paris 1971.
57. Jay, Martin, Downcast Eyes. The Denigration of Vision in Twentieth-Century French Thought, Berkeley 1993. CrossRef
58. Jefferson, Ann, "Autobiography as Intertext. Barthes, Sarraute, Robbe-Grillet", i: Intertextuality. Theories and Practices, red. Michael Worton & Judith Still, Manchester-New York 1990, s. 108-129.
59. Joest, Wilfried, Gesetz und Freiheit. Das Problem des Tertius usus legis bei Luther und die neutestamentliche Parainese, Göttingen 1956.
60. Jüngel, Eberhard, Zum Wesen des Friedens. Frieden als Kategorie theologischer Anthropologie, München 1983.
61. Kraus, Hans-Joachim, Psalmen, Neukirchen 1960.
62. Kullbom, Pierre, "Religion, litteratur och nutid - ett samtal med Birgitta Trotzig", Signum 12/3 (1986), s. 69-73.
63. Lampey, Erich, Das Zeitproblem nach den Bekenntnissen Augustins, Regensburg 1960
64. Logik des Schreckens. Augustinus von Hippo. De diversis quaestionibus ad Simplicianum I 2, red. Kurt Flasch, Mainz 1995.
65. Lohse, Bernhard, Martin Luther. Eine Einführung in sein Leben und sein Werk, München 1981.
66. Lossky, Vladimir, Die mystische Theologie der morgenländischen Kirche, Graz 1961.
67. Lubac, Henri de, Catholicisme. Les aspects sociaux du dogme, Paris 1983.
68. Luther, Martin, Werke. Kritische Gesamtausgabe, Weimar 1883ff. (= WA)
69. Maier, Franz Georg, Augustin und das antike Rom, Stuttgart-Köln 1955.
70. Markus, Robert A., Saeculum. History and Society in the Theology of St Augustine, Cambridge 1970.
71. Marrou, Henri-Irénée, Saint Augustin et la fin de la culture antique, Paris 1938.
72. Martinez, Matias, "Intertextualität", i: Metzler Lexikon Literatur. Begriffe und Definitionen, red. Dieter Burdof m.fl., Stuttgart-Weimar 2007, s. 357-358.
73. Matthews, Gareth B., "Augustine's First-Person Perspective", i: Augustine and Philosophy, red. Phillip Cary m.fl., Lanham 2010, s. 41-60.
74. McHale, Brian, "Free Indirect Discourse. A Survey of Recent Accounts", PTL. A Journal for Descriptive Poetics and Theory of Literature 3 (1978), s. 249-287.
75. Miočević, Ljubica, "Intertextualitet", i: Litteraturvetenskap I, red. Sigrid Schottenius Cullhed m.fl., Lund 2020, s. 194-196.
76. Moraru, Christian, "Intertextuality", i: Routledge Encyclopedia of Narrative Theory, red. David Herman m.fl., London-New York 2008, s. 256-261.
77. Morgan, Thaïs, "The Space of Intertextuality", i: Intertextuality and Contemporary American Fiction, red. Patrick O'Donnell & Robert Con Davis, Baltimore-London 1989, s. 239-279.
78. Nagel, Peter, Die Motivierung der Askese in der alten Kirche und der Ursprung des Mönchtums, Berlin 1966.
79. Nilsson, Nils Gunnar, "'Den årstid där evigheten börjar'", Sydsvenska Dagbladet 7.4.1985.
80. O'Daly, Gerard, Augustine's Philosophy of Mind, London 1987.
81. Olsson, Ulf, I det lysande mörkret. En läsning av Birgitta Trotzigs De utsatta, Stockholm 1988.
82. Oort, Johannes van, Jerusalem and Babylon. A Study into Augustine's City of God and the Sources of His Doctrine of the Two Cities, Leiden 1991.
83. Pesch, Otto Hermann, Theologie der Rechtfertigung bei Martin Luther und Thomas von Aquin. Versuch eines systematisch-theologischen Dialogs, Mainz 1967.
84. Pesch, Otto Hermann & Albrecht Peters, Einführung in die Lehre von Gnade und Rechtfertigung, Darmstadt 1981.
85. Peters, Albrecht, Glaube und Werk. Luthers Rechtfertigungslehre im Lichte der Heiligen Schrift, Berlin-Hamburg 1962.
86. Pirholt, Mattias, Ett språk, ett spår. En studie i Birgitta Trotzigs författarskap, Stockholm-Stehag 2005.
87. Pfister, Manfred, "Konzepte der Intertextualität", i: Intertextualität. Formen, Funktionen, anglistische Fallstudien, red. Ulrich Broich & Manfred Pfister, Tübingen 1985, s. 1-30. CrossRef
88. Pieper, Franz & J.T. Mueller, Kristen dogmatik, Uppsala 1985.
89. Pleijel, Agneta, "Människan, skapelsen, skapandet. Ett samtal med Birgitta Trotzig", Ord och Bild 91/1 (1982), s. 3-18.
90. Quinones, Ricardo J., Dualisms. Agons of the Modern World, Toronto 2007. CrossRef
91. Ricœur, Paul, Le conflit des interprétations. Essais d'herméneutique, Paris 1969
92. Ricœur, Paul, "Qu'est-ce qu'un texte? Expliquer et comprendre", i: Hermeneutik und Dialektik. Aufsätze II, red. Rüdiger Bubner m.fl., Tübingen 1970, s. 181-200.
93. Ricœur, Paul, Le Mal. Un défi à la philosphie et à la théologie, Genève 2004.
94. Rist, John M., "Augustine on Free Will and Predestination", The Journal of Theological Studies 20 (1969), s. 420-447. CrossRef
95. Rist, John M., Augustine. Ancient thought baptized, Cambridge 1994.
96. Rottmanner, Odilo, Geistesfrüchte aus der Klosterzelle. Gesammelte Aufsätze, red. Rupert Jud, München 1908.
97. Ruge-Jones, Philip, Cross in Tentions. Luther's Theology of the Cross as Theologico-social Critique, Eugene 2008
98. Scheffczyk, Leo, Urstand, Fall und Erbsünde. Von der Schrift bis Augustinus, Freiburg/B 1981.
99. Schlink, Edmund, "Gesetz und Evangelium als kontroverstheologisches Problem", Kerygma und Dogma 3 (1961), s. 1-35.
100. Schueler, Kaj, Torgny om Lindgren, Stockholm 2013.
101. Schulz, Hans-Joachim, "Die 'Höllenfahrt' als 'Anastasis'. Eine Untersuchung über Eigenart und dogmengeschichtliche Voraussetzungen byzantinischer Osterfrömmigkeit", Zeitschrift für katholische Theologie 81 (1959), s. 1-66.
102. Schwanz, Peter, Imago Dei als christologisches Problem in der Geschichte der Alten Kirche von Paulus bis Clemens von Alexandrien, Halle 1970.
103. Schäfer, Peter, Das Schuldbewusstsein in den Confessiones des heiligen Augustinus. Eine religionspsychologische Studie, Würzburg 1930.
104. Seeberg, Reinhold, Lehrbuch der Dogmengeschichte, Basel-Stuttgart 1960.
105. Slenczka, Notger, "Luther's Anthropology", i: The Oxford Handbook of Martin Luther Theology, red. Robert Kolb m.fl., Oxford 2014, s. 212-232.
106. Solignac, Aimé, "Les excès de l''intellecus fidei' dans la doctrine d'Augustin sur la grâce", Nouvelle Revue Théologique 110/6 (1988), s. 825-849.
107. Stierle, Karlheinz, "Werk und Intertextualität", i: Dialog der Texte. Hamburger Kolloquium zur Intertextualität, red. Wolf Schmid & Wolf-Dieter Stempel, Wien 1983, s. 7-26.
108. Ström, Eva, "Den inre orten", Sydsvenska Dagbladet 28.8.1988.
109. Suda, Max Josef, Die Ethik Martin Luthers, Göttingen 2006. CrossRef
110. Svenska kyrkans bekännelseskrifter, Stockholm 1979.
111. Teilhard de Chardin, Pierre, L'avenir de l'homme, Paris 1959.
112. Teilhard de Chardin, Pierre, Comment je crois, Paris 1969.
113. Teilhard de Chardin, Pierre, Le cœur de la matière, Paris 1976.
114. TeSelle, Eugene, Augustine the Theologian, London 1970.
115. Thümmel, Hans Georg, Bilderlehre und Bilderstreit. Arbeiten zur Auseinandersetzung über die Ikone und ihre Begründung vornehmlich im 8. und 9. Jahrhundert, Würzburg 1991.
116. Trotzig, Birgitta, "Efterskrift 1974", i: Teilhard de Chardin, red. Jarl Hemberg, Stockholm 1975, s. 64-67.
117. Trotzig, Birgitta, "Tankens arbetare har i vårt århundrades mörker en uppgift - att skilja dödsprincip från livsprincip", Expressen 9.3.1981.
118. Trotzig, Birgitta, "Det outhärdliga får inte glömmas", Dagens Nyheter 17.4.1983.
119. Trotzig, Birgitta, [svar på] "Enkät om Ekelöf: vad han betytt för lyriker och andra", Allt om Böcker 1984/2, s. 12.
120. Trotzig, Birgitta, Dykungens dotter. En barnhistoria, Stockholm 1985.
121. Trotzig, Birgitta, "Vi håller på att vakna", Aftonbladet 27.9.1987.
122. Trotzig, Birgitta, "Det otillgängliga barnet", Artes 26/1 (2000), s. 41-45. CrossRef
123. [Trotzig, Birgitta & Martin Lönnebo], "Mystikens språk och erfarenhet. Ett samtal mellan Birgitta Trotzig och Martin Lönnebo", i: Mystik. Samtal och föredrag, Linköping 1993, s. 1-18.
124. Tyrberg, Anders, Anrop och ansvar. Berättarkonst och etik hos Lars Ahlin, Göran Tunström, Birgitta Trotzig, Torgny Lindgren, Stockholm 2002.
125. Uspenskij, Boris, A Poetics of Composition. The Structure of the Artistic Text and Typology of a Compositional Form, Berkeley 1973.
126. Vorländer, Dorothea, Deus Incarnatus. Die Zweinaturenchristologie Luthers bis 1521, Witten 1974.
127. Yannaras, Christos, Person und Eros. Eine Gegenüberstellung der Ontologie der griechischen Kirchenväter und der Existenzphilosophie des Westens, Göttingen 1982. CrossRef
128. Zaremba, Maciej, "'Jag går i vilka kyrkor jag vill'", Dagens Nyheter 20.12.1998.
129. Zernov, Nicolas, "Rome and Orthodoxy. Is Reunion Possible?", i: Pluralisme et Œcuménisme en Recherches Théologiques. Mélanges offerts au R.P. Dockx, O.P., Paris 1976, s. 237-244.

Mot ett bredare arketextualitetsbegrepp: den augustinsk-lutherska diskurstypen i Birgitta Trotzigs Dykungens dotter is licensed under a Creative Commons Attribution 4.0 International License.

vychází: 4 x ročně
cena tištěného čísla: 150 Kč
ISSN: 0567-8269
E-ISSN: 2464-6830
Ke stažení