AUC PHILOLOGICA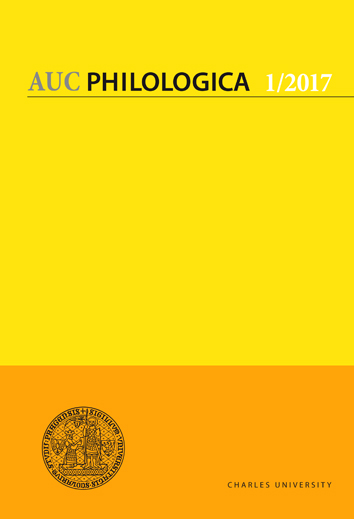 AUC Philologica (Acta Universitatis Carolinae Philologica) je akademický časopis publikující jak lingvistické, tak literárně historické a teoretické studie. Nedílnou součástí časopisu jsou i recenze odborných knih a zprávy z akademického prostředí.
Časopis je indexován v databázích CEEOL, DOAJ, EBSCO a ERIH PLUS.
Syntactic and FSP Aspects of Fronting as a Style Marker
Libuše Dušková
DOI: https://doi.org/10.14712/24646830.2017.5
zveřejněno: 20. 07. 2017
Abstract
The paper examines contextual and emphatic fronting in academic prose, fiction narrative and fiction dialogue in order to ascertain whether the types of fronting can serve as a style marker. The differences in the distribution and their effect on style are assumed to be connected with the respective FSP structures: in emphatic fronting the fronted element is the rheme, whereas in contextual fronting it is the diatheme. Hence emphatic fronting displays a prominent deviation from the basic distribution of communicative dynamism, whereas contextual fronting achieves agreement with it. As compared with the unmarked postverbal ordering, emphatic fronting intensifies the emphatic/emotional character of the content being expressed, which is a feature of speech, while contextual fronting serves as a direct link with what precedes, hence contributes to textual cohesion, which is a characteristic of academic prose, with fiction narrative presumably occupying an intermediate position. The results of the study show more types of fronting with diversified structures and less clear-cut relations between the types of frontings and the examined text sorts.
Klíčová slova: style marker; contextual fronting; emphatic fronting; functional sentence perspective; academic prose; fiction narrative; fiction dialogue
reference (13)
1. Adam, M. (2013) Presentation Sentences (Syntax, Semantics and FSP). Spisy Pedagogické fakulty Masarykovy univerzity 162. Brno: Masaryk University.
2. Chamonikolasová, J. and M. Adam (2005) The presentation scale in the theory of functional sentence perspective. In: Čermák, J., A. Klégr, M. Mala, P. Šaldová (eds.), Patterns. A Festschrift for Libuše Dušková, 59–69. Prague, Faculty of Arts, Charles University, and Czech Modern Language Association (Kruh modernich filologů).
3. Biber, D., S. Johansson, G. Leech, S. Conrad and E. Finegan (1999) Longman Grammar of Spoken and Written English. Harlow: Longman.
4. Dušková, L. (2015) Syntactic forms of the presentation scale and their differentiation. In: From Syntax to Text: the Janus Face of Functional Sentence Perspective, 202–208. Reprinted from Linguistica Pragensia 8, 1998/1, 36–43.
5. Firbas, J. (1992) Functional Sentence Perspective in Written and Spoken Communication. Cambridge: University Press. CrossRef
6. Firbas, J. (1994) Substantiating Daneš's view of givenness as a graded phenomenon. In: Čmejrková, S. and F. Šticha (eds.), The Syntax of Sentence and Text, 119–129. Amsterdam/Philadelphia: Benjamins. CrossRef
7. Firbas, J. (1995) Retrievability span in functional sentence perspective. Brno Studies in English 21, 17–45.
8. Hajičová, E., B. Partee and P. Sgall (1998) Topic-Focus Articulation, Tripartite Structures and Semantic Content. Dordrecht: Kluwer. CrossRef
9. Huddleston, R. and G. K. Pullum (2002) The Cambridge Grammar of the English Language. Cambridge: University Press. CrossRef
10. Pípalová, R. (2000) Intersentential connectives – a textual analysis. Acta Universitatis Carolinae, Philologica, 5/1997, Prague Studies in English, XXII, 91–115.
11. Quirk, R., S. Greenbaum, G. Leech, and J. Svartvik (1985) A Comprehensive Grammar of the English Language. London: Longman.
12. Stehlíková, L. (2016) Contextual Disengagement in FSP. Doctoral dissertation. Brno: Masaryk University, Faculty of Arts.
13. Svoboda, A. (1981) Diatheme. Brno: Univerzita J. E. Purkyně, Spisy Filozofické fakulty 229.

Syntactic and FSP Aspects of Fronting as a Style Marker is licensed under a Creative Commons Attribution 4.0 International License.

vychází: 4 x ročně
cena tištěného čísla: 150 Kč
ISSN: 0567-8269
E-ISSN: 2464-6830
Ke stažení