AUC PHILOLOGICA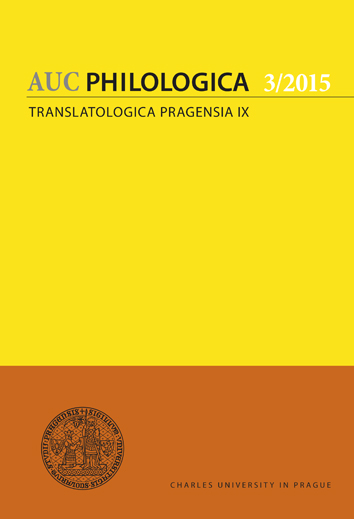 AUC Philologica (Acta Universitatis Carolinae Philologica) je akademický časopis publikující jak lingvistické, tak literárně historické a teoretické studie. Nedílnou součástí časopisu jsou i recenze odborných knih a zprávy z akademického prostředí.
Časopis je indexován v databázích CEEOL, DOAJ, EBSCO a ERIH PLUS.
Polish studies in translation: re-mapping an interdisciplinary field
Piotr de Bończa Bukowski, Magda Heydel
zveřejněno: 10. 03. 2016
Abstract
Developing dynamically since the 1950s, contemporary Polish studies in translation have their roots in earlier anthropological and philosophical writings of Bronisław Malinowski and Roman Ingarden. The impact of Structuralism, arguably the most influential paradigm for translation theory in Poland, was decisive in defining its goals, methods and tools as well as in opening new vistas. The interdisciplinary character of the field of Polish translation studies has been visible from very early on; we claim that this factor makes it such a rich and inspiring body of work in the 1960s and later. Looking at the phases of its development and its relationships with what was going on in translation studies elsewhere, we seek to re-map the established points of view on the nature of translation theories and descriptions developed in Poland. We reassess the importance of the creative dialogues within the field against the background of theoretical discourses these studies both stemmed from and invoked. This lets us see how Polish writings on translation relate to the discourses of today's Translation Studies, especially that in many cases they seem to precede and herald them. We look at the ways in which Polish scholars have entered the area of Translation Studies, the positions they have been theorizing from and the contribution they have been making to the interdisciplinary area of international research in translation. Our paper is centred around a set of texts selected for a reader presenting the highlights of Polish studies in translation we worked on in 2013.
Klíčová slova: translation studies; Polish translation studies; structuralism; interdisciplinary research; transdisciplinary research

vychází: 4 x ročně
cena tištěného čísla: 150 Kč
ISSN: 0567-8269
E-ISSN: 2464-6830
Ke stažení