PRAEHISTORICA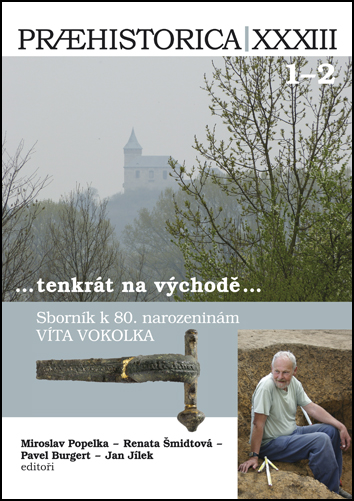 Praehistorica jsou odborným akademickým časopisem zaměřeným na archeologii ve Střední Evropě. Časopis vychází od roku 1938 a specializuje se zejména na období pravěku a ranné doby dějinné.
Sídliště z doby halštatské z Podhoří u Lipníku nad Bečvou, okr. Přerov
[Hallstatt settlement in Podhoří near Lipník nad Bečvou, distr. Přerov]
Arkadiusz Tajer
DOI: https://doi.org/10.14712/25707213.2017.32
zveřejněno: 16. 03. 2017
Abstract
An archaeological research was done in summer 2002 during the construction of the D47 Highway Lipník nad Bečvou – Ostrava. The site is called Podhoří, track "Shony" and it lies in the Bečevská brána (south-west part of the Moravská brána) on the right bank of the Bečva River, approx. 3.5 km from its current flow and 1.5 km from the Oderské vrchy foothills. During this research of approximate area 2.3 ha we have examined 189 settlement objects which can be dated to the Hallstatt period. Majority of these objects were post holes. In 5 cases these post holes were arranged into regular structures which can be, based on the shape, inner disposition of the holes and size, divide into 4 kinds of above-ground buildings. All structures were built in semi-circle around the central empty space on the area of 133 meters in length and 55 meters in width. The rest of the settlement objects – storage and labor pits – were located on the eastern and western border of the settlement. Hallstatt settlement in Podhoří is an example of the village with exact inner construction planning concentrated around the central space and reminding of the fenced structure. We can meet this type of construction on another settlements from this period. An indirect evidence of the metallurgy production is a piece of iron slag founded in one of the objects.
Klíčová slova: Moravská brána – doba halštatská – sídliště

Sídliště z doby halštatské z Podhoří u Lipníku nad Bečvou, okr. Přerov is licensed under a Creative Commons Attribution 4.0 International License.
210 x 297 mm
vychází: 2 x ročně
ISSN: 0231-5432
E-ISSN: 2570-7213
Ke stažení