HISTORICKÁ SOCIOLOGIE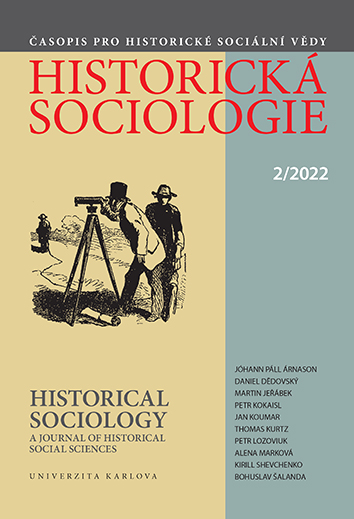 Interdisciplinární časopis se zaměřuje především ze sociologického, politologického a historického hlediska na problematiku dlouhodobých sociálních procesů a trendů, modernizace, globalizačních tendencí a vlivů. Časopis vytváří širší platformu pro badatele v historických sociálních vědách. Epistemologické pole časopisu není striktně ohraničené a počítá s přesahy do civilizacionistiky, kulturní sociologie a dalších spřízněných oblastí.
Časopis vydává nakladatelství Univerzity Karlovy v Praze Karolinum ve spolupráci s Fakultou humanitních studií Univerzity Karlovy v Praze.
Historická sociologie je vědecký časopis s otevřeným přístupem, což znamená, že veškerý obsah je volně k dispozici bez poplatku pro uživatele nebo instituci. Uživatelé mohou číst, stahovat, kopírovat, distribuovat, tisknout, vyhledávat nebo odkazovat na plné texty článků v tomto časopise, aniž by potřebovali předchozí povolení od vydavatele nebo autora.
Recenzovaný vědecký časopis vychází dvakrát ročně, v červnu a v prosinci.
Časopis je abstraktován a indexován v CEEOL, CEJSH, DOAJ, EBSCO, Emerging Sources Citation Index, ERIH PLUS, OAJI, recensio.net, Scopus, SSOAR, Ulrichsweb.
Dlouhodobou archivaci elektronického obsahu časopisu zajišťuje Portico.
Státní ideologie a národnostní otázka v sovětské Střední Asii na příkladu proměny etnické identity Dunganů
[State Ideology and the National Question in Soviet Central Asia on the Example of the Transformation of the Ethnic Identity of the Dungans]
Petr Kokaisl
DOI: https://doi.org/10.14712/23363525.2022.18
zveřejněno: 15. 11. 2022
Abstract
The paper shows the role of the totalitarian state in the transformation of ethnic identity. The Soviet Union's approach to the national question was based on the ideologies of 19th century ultra-radical theorists, whose aim was to change society by eliminating a number of institutions – in addition to membership of a national group, this included the elimination of private property or the family. There were many paradoxes in putting these theories into practice because the initial theories were fraught with internal contradictions. The example of the Central Asian Dungans shows how the state created a new ethnic group, which it supported in every possible way, and in the next stage, on the contrary, it was clearly persecuted. In the implementation of state intervention, it is evident that the main declared elements of ethnic identity (in the case of the Dungans, it is mainly the Muslim religion) are very volatile and their meaning changes considerably. While earlier Soviet ideology sought to present the Dungans as a group very different from their ancestors in China, a Chinese ideology is now emerging that points to the similarities between the two groups.
klíčová slova: Dungans; Central Asia; ethnic identity; transformations proceses; national question in Soviet Union; ideology
reference (46)
1. Akiner, Shirin [2013]. Islamic Peoples Of The Soviet Union. London: Routledge.
2. Anderson, Benedict [1983]. Imagined Communities. London: Verso.
3. Baldauf, Ingeborg [1991]. Some Thoughts on the Making of the Uzbek Nation. Cahiers du monde russe et soviétique 32 (1): 79-95. CrossRef
4. Bromlej, Julian Vladimirovič [1983]. Ocherki teorii etnosa. Moskva: Nauka.
5. CSU SSSR [1928]. Vsesoyuznaya perepis' naseleniya 1926 goda. Moskva: CSU SSSR.
6. Čumakova, T. [2012]. "Karta religij" dlja něudavšejsja Vsesojuznoj perepisi 1937 g.: zabytaja stranica sovetskogo religioveděnija. Gosudarstvo, religija, Cerkov' v Rossii i za rubežom 3-4 (30).
7. Dillon, Michael [2013]. China's Muslim Hui Community. London: Routledge.
8. Ditrych, Ondřej [2004]. Vymysliti si středoasijské národy… Navýchod 2004 (3): 11-12.
9. Engels, Friedrich - Marx, Karl [1845]. Die heilige Familie, oder Kritik der kritischen Kritik. Frankfurt: J. Rütten.
10. Fiľakovský, Ján - Baar, Vladimír [2018]. Kľúčové elementy bieloruskej národnej identity. Kulturní studia 6 (11): 3-35. CrossRef
11. Gellner, Ernst [1975]. The Soviet and the Savage. Current Anthropology 16 (4): 595-617. CrossRef
12. Gins, Georgij Konstantinovič [1911]. Tarantchi i Dungane. Istoricheskiy vestnik 8.
13. Gladney, Dru C. [2003]. Islam in China: Accommodation or Separatism? The China Quarterly 174: 451-467. CrossRef
14. Herder, Johann Gottfried von [1792]. Zerstreute Blätter. Gotha.
15. Horálek, Adam [2011]. Etnicita Číny - kdo je Hui a kdo Dungan? Praha: FF UK.
16. Chakimov, Malik Chakimovič [1975]. Znatchenie sovetskogo federalizma dlya resheniya problem natsional'noy gosudarstvennosti. In. Proceedings of the XVth World Congress of Philosophy, pp. 261-264.
17. Chošamberdy, Kacharman [2007]. Ujgury. Almaty: Mir.
18. Kamalov, Ablet Kaiumovič [2006]. Uyghur Studies in Central Asia. Toyo Bunko.
19. Kokaisl, Petr - Kokaislová, Pavla [2019]. The Ethnic Identity of Turkmenistan's Baloch. Asian Ethnology 78 (1): 181-196.
20. Kokaisl, Petr - Usmanov, Amirbek [2012]. Dějiny Kyrgyzstánu očima pamětníků: 1917-1938. Praha: Nostalgie.
21. Kokaisl, Petr [2018]. Koreans in Central Asia - a different Korean nation. Asian Ethnicity 19 (4): 428-452. CrossRef
22. Kuropatkin, Aleksej Nikolajevič [1877]. Istoričeskij očerk Kašgarii. Vojennyj sbornik 11.
23. Leibold, James [2004]. Positioning "Minzu" within Sun Yat-Sen's discourse of Minzuzhuyi. Journal of Asian History 38 (2): 163-213.
24. Li, Yan [2017]. China's Soviet Dream: Propaganda, Culture, and Popular Imagination. Routledge.
25. Madzhun, D. S. [1992] Kuľturnoe stroiteľstvo dungan Kyrgyzstana. Biškek: KGSU.
26. Maksudov, Sergei [1999]. Migracii v SSSR v 1926-1939 godah. Cahiers du monde russe 40 (4): 763-796. CrossRef
27. Masaryk, Tomáš Garrigue (ed.) [1898]. Naše doba. Praha: Jan Laichter.
28. Morgan, Lewis Henry [1877]. Ancient society; or, researches in the lines of human progress from savagery, through barbarism to civilization. New York: H. Holt.
29. Nědopekina, E. M. [2017]. Političeskij i sociaľnyj status jazykov "starych" diaspor na těrritorii SSSR. Vestnik Rossijskogo universitěta družby narodov. Serija: Těorija jazyka. Semiotika. Semantika.
30. Orwell, George [1992]. Nineteen Eighty-four. New York: Knopf.
31. Otto, Jan [1894]. Ottův slovník naučný. 8. díl. Praha: J Otto.
32. Perepis' naseleniya i zhilischnogo fonda Kyrgyzskoy Respubliki 2009 goda [2010]. Biškek: Nacionaľnyy statisticheskiy komitet KR.
33. Proudhon, Pierre-Joseph [1849]. Qu'est-ce que la propriété?, ou Recherches sur le principe du droit et du gouvernement premier mémoire par P.-J. Proudhon. Paris: Garnier.
34. Prževaľskij, Nikolaj Michajlovič [1946]. Mongolija i strana tangutov. Moskva: OGIZ.
35. Rimsky-Korsakoff Dyer, Svetlana [1991]. Soviet Dungans in 1985. Taipei: Center for Chinese Studies.
36. Rukoděľnikova, Marija Borisovna [2012]. Něgativnye konstrukcii v dunganskom jazyke s točki zrenija tipologičeskoj perspektivy jego razvitija. Vestnik RGGU 8 (88).
37. Shirokogoroff, Sergei Mikhailovich [1942]. Ethnographic investigation of China. Folklore Studies 1-8. CrossRef
38. Smailova, A. A. [2011]. Itogi Nacionaľnoj perepisi naselenija Respubliki Kazachstan 2009 goda. Astana: Agentstvo Respubliki Kazachstan po statistike.
39. Sovet Narodnykh Komissarov [1917]. Deklaratsiya prav narodov Rossii, 2. 11. 1917 (15).
40. Sušanlo, M. [1967]. Očerki istorii sovetskih dungan. Frunze: Akad. Nauk Kirgizskoj SSR.
41. Šatava, Leoš [2015]. Evropská etnika bez státu. Trnava: FF UC.
42. Šejšekejeva, G. M. [2014]. Migracionnyj process i pereselenije dungan na těrritoriju Kyrgyzstana. Voprosy istorii Kyrgyzstana 1-2: 54-61.
43. Trojnitskij, N. A. (ed.) [1897]. Pervaya vseobshchaya perepis' naseleniya Rossiyskoy Imperii, 1897 g. St. Petersburg: TSK.
44. Vserossijskaja perepis' naselenija 2010 goda [2013]. Moskva: Feděraľnaja služba gosudarstvennoj statistiki.
45. Weikart, Richard [1994]. Marx, Engels, and the Abolition of the Family. History of European ideas 18 (5): 657-672. CrossRef
46. Zenzinov, Vladimir [1929]. Bezprizornye. Paris: Sovremenny Zapisk.

Státní ideologie a národnostní otázka v sovětské Střední Asii na příkladu proměny etnické identity Dunganů is licensed under a Creative Commons Attribution 4.0 International License.
230 x 157 mm
vychází: 2 x ročně
cena tištěného čísla: 120 Kč
ISSN: 1804-0616
E-ISSN: 2336-3525
Ke stažení