ORBIS SCHOLAE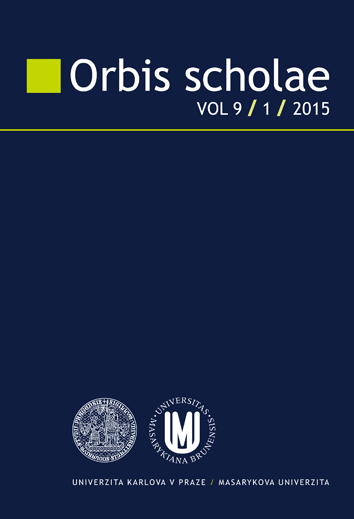 Orbis scholae is an academic journal published by Charles University, Prague. It features articles on school education in the wider socio-cultural context. It aims to contribute to our understanding and the development of school education, and to the reflection of teaching practice and educational policy.
XIV. česko-slovenská konference Kvalitativní přístup a metody ve vědách o člověku
[XIV. Czech and Slovak Conference Qualitative Approach and Methods in Human Sciences]
Karel Starý, Jana Stará, Veronika Laufková
DOI: https://doi.org/10.14712/23363177.2018.20
published online: 01. 11. 2015
abstract
Ve dnech 2. a 3. února 2015 proběhla zajímavá metodologická konference věnovaná kvalitativnímu přístupu v sociálních a humanitních vědách. Již čtrnáctý ročník se tentokrát zaměřil na analytické procesy a jejich význam pro zajištění kvality kvalitativního výzkumu. Konference se konala v oduševnělých prostorách bývalého konviktu. Atmosféra byla příjemně neformální. Hostiteli byli psychologové z Olomoucké univerzity, ale mezi účastníky byly zastoupeny i mnohé další obory humanitních a sociálních věd.
references (5)
1. Finlay, L. (2002). "Outing" the researcher: The provenance, process and practice of reflexivity. Qualitative Health Research, 12(3), 531−545. CrossRef
2. Fries, S. (2011). Qualitative data analysis with atlas.ti. Thousand Oaks, CA: Sage Publications. Hammersley, M. (2007). The isme of quality in qualitative research. International Journal of Research and Method in Education, 30(3), 287−305.
3. Hattie, J. (2009). Visible Learning. A Synthesis of Over 800 Meta-Analyses Relating to Achievement. New York: Routledge.
4. Maxwell, J. A. (2013). Qualitative Research Design. An Interactive Approach. London: Sage.
5. Wertz, F. J., Charmaz, K., McMullen, L. M., Josselson, R., Anderson, R., & McSpadden, E. (2011). Qualitative Analysis Five Ways of Doing. New York: The Guilford Press.

XIV. česko-slovenská konference Kvalitativní přístup a metody ve vědách o člověku is licensed under a Creative Commons Attribution 4.0 International License.
230 x 157 mm
periodicity: 3 x per year
print price: 150 czk
ISSN: 1802-4637
E-ISSN: 2336-3177
Download