ORBIS SCHOLAE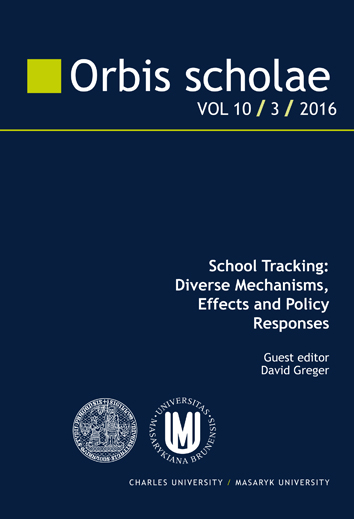 Orbis scholae is an academic journal published by Charles University, Prague. It features articles on school education in the wider socio-cultural context. It aims to contribute to our understanding and the development of school education, and to the reflection of teaching practice and educational policy.
Editorial
David Greger
DOI: https://doi.org/10.14712/23363177.2017.12
published online: 27. 11. 2017
abstract
references (3)
1. Chmielewski, A. K., Dumont, H. Trautwein, U. (2013). Tracking effects depend on tracking type: An international comparison of students' mathematics self-concept. American Research Journal, 50, 925−957. CrossRef
2. Kerckhoff, A. C. (2001). Education and social stratification processes in comparative perspective. Sociology of Education Extra Issue, 74, 3−18. CrossRef
3. LeTendre, G. K., Hofer, B. K., & Shimizu, H. (2003). What is tracking? Cultural expectations in the United States, Germany and Japan. American Educational Research Journal, 40(1), 43−89. CrossRef

Editorial is licensed under a Creative Commons Attribution 4.0 International License.
230 x 157 mm
periodicity: 3 x per year
print price: 150 czk
ISSN: 1802-4637
E-ISSN: 2336-3177
Download