AUC PHILOSOPHICA ET HISTORICA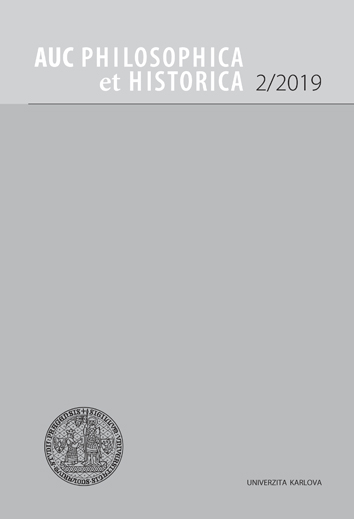 AUC Philosophica et Historica je víceoborový akademický časopis zaměřený na humanitní a společenskovědné obory (filozofie, psychologie, pedagogika, sociologie, obecné, české a hospodářské dějiny, pomocné vědy historické a archivnictví, etnologie).
Časopis je indexován v databázích CEEOL, DOAJ a EBSCO.
Via activa a via contemplativa vo vybraných interpretáciách renesančných diel Erwinom Panofskym
[Via Activa and Via Contemplativa in Selected Interpretations of Renaissance Artworks by Erwin Panofsky]
Stanislava Kustrová
DOI: https://doi.org/10.14712/24647055.2020.14
zveřejněno: 14. 09. 2020
Abstract
The paper deals with the processing of the theme of active and contemplative life in three selected examples of Renaissance art, namely in Dürer's engravings Knight, Death and the Devil and Saint Jerome in His Study and Titian's painting Sacred and Profane Love. These three artworks were also interpreted by Erwin Panofsky. According to the Panofsky's interpretations, the ideals of active and contemplative life in the three mentioned artworks are rendered as two mutually contrasting and incompatible ideals. After a brief introduction into the Renaissance Neo-platonic teachings on an active and contemplative life, which was also used by Panofsky in his interpretations, the paper points out that ideals of activity and contemplation depicted in the two Dürer's engravings and in the Titian's painting can also be interpreted as complementary and mutually penetrating ideals. Moreover, the paper points to the possibility that Erwin Panofsky was influenced by his own understanding of the subject in the perception and interpretation of the three artworks.
Klíčová slova: active life; contemplative life; Dürer; Titian; Panofsky; Ficino; neoplatonism
reference (32)
1. Heinrich Cornelius Agrippa von Nettesheim, Three Books of Occult Philosophy, St. Paul 2004.
2. Michael J. B. Allen, Marsilio Ficino: his theology, his philosophy, his legacy, Leiden - Boston - Köln 2002.
3. Giulia Bartrum et al., Albrecht Dürer and his legacy: the graphic work of a renaissance artist, London 2003 (2. vydání).
4. Andrea Bayer (ed.), Art and love in Renaissance Italy, New York 2008.
5. Heiner Borggrefe, Tizians sogenannte Himmlische und Irdische Liebe: Der Beistand der Venus im Hochzeitsbild der Laura Bagarotto, Zeitschrift für Kunstgeschichte LXIV, 2001, č. 3, s. 331-363. CrossRef
6. Melissa Meriam Bullard, The Inward Zodiac: A Development in Ficino's Thought on Astrology, Renaissance Quarterly XLIII, 1990, č. 4, s. 687-708. CrossRef
7. Eugene B. Cantelupe, Titian's Sacred and Profane Love Re-examined, The Art Bulletin XLVI, 1964, č. 2, s. 218-227. CrossRef
8. Sarah Carter, "Interpretation is the revenge of the intellect upon art:" Titian's Sacred and Profane Love, ARTHattack! V, 2012, s. 6-26.
9. Ernst Cassirer, Individuum und Kosmos in der Philosophie der Renaissance, Leipzig 1927. CrossRef
10. Ernst Cassirer - Paul Oskar Kristeller - John Herman Randall (eds.), The renaissance philosophy of man: Petrarca, Valla, Ficino, Pico, Pomponazzi, Vives, Chicago 1971 (2. vydání).
11. Albrecht Dürer - Daniel Hess - Beate Böckem, The early Dürer: exhibition organized by the Germanisches Nationalmuseum, Nuremberg, May 24 - September 2, 2012, Nuremberg 2012.
12. Dagmar Eichberger - Charles Zika, Dürer and his Culture, New York 2005 (3. vydání).
13. Erazmus, Enchiridion Militis Christiani or The Manual of the Christian Knight, London 1905.
14. Marsilo Ficino, Three Books on Life, Binghamton 2002 (3. vydání).
15. Marsilio Ficino - James Hankins - Michael J. B. Allen, Platonic theology. Vol. 1, Books 1-4, Cambridge 2001.
16. Marsilio Ficino - Sears Reynolds Jayne, Marsilio Ficino's Commentary on Plato's Symposium: the text and a translation with an introduction, Columbia 1944.
17. Michael Ann Holly, Panofsky and the Foundations of Art History, Ithaca - London 1985 (2. vydání). CrossRef
18. David Chambers, Patrons and artists in the Italian Renaissance, London 1970. CrossRef
19. Filip Karfík, Duplex Venus. Marsilio Ficino a druhý život jednoho filosofického mýtu, in: Jana Nechutová (ed.), Druhý život antického mýtu, Brno 2004.
20. Ladislav Kesner, Vizuální teorie: současné anglo-americké myšlení o výtvarných dílech, Jinočany 1995.
21. Raymond Klibansky - Erwin Panofsky - Fritz Saxl, Saturn and Melancholy: Studies in the History of Natural Philosophy, Religion and Art, Nendeln - Liechtenstein 1979.
22. Paul Oskar Kristeller, The philosophy of Marsilio Ficino, Gloucester 1964.
23. Ulrich Kuder, Dürers "Hieronymus im Gehäus". Der Heilige im Licht, Hamburg 2013.
24. Thomas Moore, Planety v nás: Astrologická psychologie Marsilia Ficina, Praha 2011.
25. Erwin Panofsky, Problems in Titian: mostly iconographic, New York 1969.
26. Erwin Panofsky, Renaissance and renascences in Western art, Boulder 1960.
27. Erwin Panofsky, Studies in Iconology: Humanistic Themes in the Art of the Renaissance, New York 1972.
28. Erwin Panofsky, The Life and Art of Albrecht Dürer, Princeton 2005.
29. Erwin Panofsky, Význam ve výtvarném umění, Praha 1981.
30. Bruno Reudenbach (ed.), Erwin Panofsky: Beiträge des Symposions Hamburg 1992, Berlin 1994. CrossRef
31. Larry Silver - Jeffrey Chipps Smith, The Essential Dürer, Philadelphia 2010. CrossRef
32. Stéphane Toussaint, "My Friend Ficino": Art History And Neoplatonism From Intellectual To Material Beauty, Mitteilungen des Kunsthistorischen Institutes in Florenz LXIX, 2017, č. 2, s. 147-173.

Via activa a via contemplativa vo vybraných interpretáciách renesančných diel Erwinom Panofskym is licensed under a Creative Commons Attribution 4.0 International License.

vychází: 2 x ročně
ISSN: 0567-8293
E-ISSN: 2464-7055
Ke stažení