AUC PHILOSOPHICA ET HISTORICA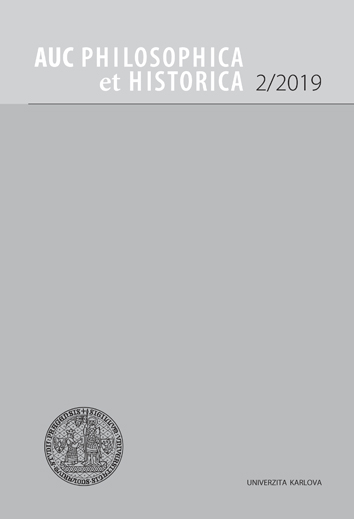 AUC Philosophica et Historica je víceoborový akademický časopis zaměřený na humanitní a společenskovědné obory (filozofie, psychologie, pedagogika, sociologie, obecné, české a hospodářské dějiny, pomocné vědy historické a archivnictví, etnologie).
Časopis je indexován v databázích CEEOL, DOAJ a EBSCO.
Za hranicemi jazyka. K teorii umění Susanne Langerové
[Beyond the language limit. Towards the theory of art of Susanne Langer]
Tereza Hadravová
DOI: https://doi.org/10.14712/24647055.2020.12
zveřejněno: 14. 09. 2020
Abstract
To discuss a question of the possibility of a"translation" of a visual work of art into language, the paper outlines the distinction between presentational and discoursive symbols as it was conceived by Susanne Langer. It emphasizes the fact that the disctinction does not overlap with a difference between the picture and the language. Since the arts (visual as well as literary ones) are a primary example of presentational symbolism, the paper focuses on the mechanism of "swallowing" or "recruiting" a variety of material, including the discoursive one, in the creation of works of art. It is emphasized that presentational symbolism is a form of non-discoursive knowledge; a claim that, eventually, implies that works of art are liable to discoursive treatement only provisionally, with an acknowledgement of the limits of such an endeavour. The discoursive exercise of the philosophy of art is then primarily oriented towards securing the conceptual space in which artworks are granted the status of genuine knowledge.
Klíčová slova: Susanne Langer; philosophy of art; feeling; language; expression
reference (10)
1. Daniel Albright, Ineffability, in: Michael Kelly (ed.), Encyclopedia of Aesthetics, II, Oxford - New York 1997, s. 493-497.
2. Seymour Chatman, What Novels Can Do That Films Can't (And Vice Versa), Critical Inquiry VII, č. 1, Autumn 1980, s. 121-140. CrossRef
3. Antonio Damasio - Hanna Damasio, Exploring the concept of homeostatis and considering its implications for economics, Journal of Economic Behavior & Organization CXXVI, Part B, 2016, s. 125-129. CrossRef
4. Nelson Goodman, On Some Questions Concerning Quotation, The Monist LVIII, 1974, č. 2, s. 294-306. CrossRef
5. Brad Haseman, A Manifesto for Performative Research, Media International Australia CXVIII, č. 1, s. 98-106. CrossRef
6. Susanne Langer, Abstraction in Science and Abstraction in Art, in eadem: Problems of Art. Ten Philosophical Lectures, New York 1957, s. 163-180.
7. Susanne Langer, Feeling and Form. A Theory of Art, New York 1953, s. 392.
8. Susanne Langer, Philosophy in a New Key. A Study in Symbolism of Reason, Art, and Rite, New York - Toronto, 1954.
9. Thi C. Nguyen, The Uses of Aesthetic Testimony, British Journal of Aesthetics LVII, č. 1, 2017, s. 19-36. CrossRef
10. Willard van Orman Quine, Překlad a význam, in: Jiří Fiala (ed.), Analytická filosofie. Třetí čítanka, Plzeň 2002, s. 98-100.

Za hranicemi jazyka. K teorii umění Susanne Langerové is licensed under a Creative Commons Attribution 4.0 International License.

vychází: 2 x ročně
ISSN: 0567-8293
E-ISSN: 2464-7055
Ke stažení