AUC IURIDICA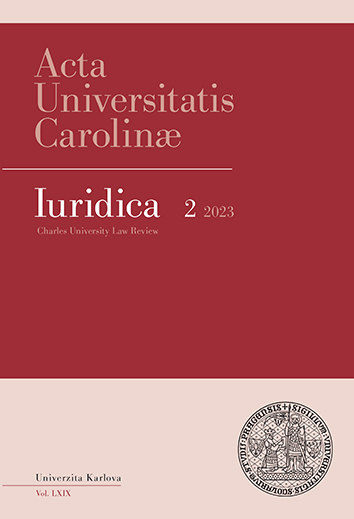 Acta Universitatis Carolinae Iuridica (dále jen AUCI) je hlavním časopisem Právnické fakulty UK. Vychází od roku 1954, patří tak mezi tradiční právnické časopisy teoretického zaměření.
Jako obecný právnický časopis přináší delší studie i kratší články o jakýchkoli relevantních otázkách v právní teorii i mezinárodním, evropském a vnitrostátním právu. AUCI také publikuje materiály vztahující se k aktuálním otázkám legislativy. AUCI je recenzovaný časopis a přijímá příspěvky od českých i zahraničních autorů. Příspěvky zahraničních autorů jsou zveřejňovány v původním jazyku – slovenštině, angličtině, němčině, francouzštině, polštině.
AUCI je teoretický časopis pro otázky státu a práva. Jeho vydavatelem je Univerzita Karlova v Praze, Právnická fakulta, prostřednictvím nakladatelství Karolinum. Vychází čtyřikrát ročně, termíny vydání časopisu naleznete na webu Právnické fakulty Univerzity Karlovy.
Články uveřejněné v časopise AUCI procházejí nezávislým recenzním řízením (peer review), které je oboustranně anonymní. Posuzovatelé z daného oboru vyjadřují své stanovisko k vědecké kvalitě příspěvku a vhodnosti publikace v časopisu. V případě připomínek je stanovisko zasíláno zpět autorovi s možností přepracování textu (blíže viz Pokyny pro autory – Recenzní řízení).
Časopis AUCI (ISSN 0323-0619) je evidován v České národní bibliografii (vedena Národní knihovnou ČR) a v Index to Foreign Legal Periodicals (veden American Association of Law Libraries). AUCI má přiděleno evidenční číslo periodického tisku MK E 18585.
AUCI je tzv. časopisem otevřeným a veškerý jeho obsah je zveřejňován jak na webu fakulty, tak na webových stránkách nakladatelství Karolinum. Přístup k němu je bezplatný.
Dlouhodobou archivaci digitálního obsahu časopisu zajišťuje Portico.
–––
S velkým potěšením Vás informujeme, že časopis Acta Universitatis Carolinae Iuridica byl jako první časopis Právnické fakulty Univerzity Karlovy zařazen do prestižní mezinárodní databáze SCOPUS. Tato databáze společnosti Elsevier je největší abstraktovou a citační databází recenzované literatury na světě. Od zařazení do elitní databáze SCOPUS si redakce časopisu slibuje nejen zvýšení čtenosti časopisu, ale také nárůst zájmu o publikaci příspěvků jak českých, tak zahraničních autorů.
Google Android: Behavioural Theories of Harm in the Light of New Judgments and Regulatory Tools
Miroslav Jakab
DOI: https://doi.org/10.14712/23366478.2023.17
zveřejněno: 07. 06. 2023
Abstract
This contribution takes a look at the recent Google Android judgement of the General Court as a case study of antitrust informed by behavioural economics – the study of not fully rational economic agents. It contrasts the General Court's pragmatic approach to economic evidence to the U.S. Supreme Court's willingness to delve into economic theory, where the latter can prove more of an obstacle to the development of behavioural antitrust. It further concedes that cases relying on behavioural theories of harm can prove to be less predictable from a legal standpoint. This, nevertheless, does not obviate older legal tests, which might just need to be reformulated as requiring an analysis of effects, in line with the General Court's rhetoric on the necessity to avoid false convictions in such cases. Lastly, the contribution argues that the relevance of behavioural antitrust will not fade in its entirety with new regulatory tools addressing similar issues.
klíčová slova: competition law; antitrust; theory of harm; behavioural economics; behaviouralism; Google Android
reference (20)
1. COLANGELO, G. - MAGGIOLINO, M. Intel and the Rebirth of the Economic Approach to EU Competition Law. IIC. International Review of Intellectual Property and Competition Law [online]. 2018, Vol. 49, No. 6, pp. 685-699 [cit. 2023-01-31]. Available at: https://link.springer.com/article/10.1007/s40319-018-0723-1. CrossRef
2. COLOMO, P. The notion of abuse after the Android judgment (Case T‑604/18): what is clearer and what remains to be clarified (I). In: Chillingcompetition [online]. 28.9.2022 [cit. 2023-01-31]. Available at: https://chillingcompetition.com/2022/09/28/the-notion-of-abuse-after-the-android-judgment-case-t%e2%80%91604-18-what-is-clearer-and-what-remains-to-be-clarified-i/.
3. European Commission. Shaping Europe's Digital Future. 2020, COM(2020) 67 final.
4. GRAVELLE, H. - REES, R. Microeconomics. 3rd ed. Harlow: Prentice Hall, 2004
5. HUFFMAN, M. A Look at Behavioral Antitrust from 2018. CPI Antitrust Cronicle [online]. 19.1.2019, p. 6 [cit. 2023-01-31]. Available at: https://papers.ssrn.com/abstract=3309341.
6. JAKAB, M. Benefits and Limitations of a Behaviourally Informed Regulatory Framework for Digital Market. Prague Law Working Papers [online]. 2022, No. 3, pp. 7-8 [cit. 2023-01-31]. Available at: https://papers.ssrn.com/sol3/papers.cfm?abstract_id=4275031.
7. JAKAB, M. Proč současný antitrust potřebuje psychologa? [Why does the current antitrust need a psychologist?]. In: GERLOCH, A. - ŽÁK KRZYŽANKOVÁ, K. (eds.), Právo v měnícím se světě. Praha: Vydavatelství a nakladatelství Aleš Čeněk, 2020, pp. 702-712.
8. KENDALL, K. The Use of Economic Analysis in Court Judgments: a Comparison between the United States, Australia and New Zealand. UCLA Pacific Basin Law Journal. 2011, Vol. 28, No. 2, pp. 107-147. CrossRef
9. LAUX, J. - WACHTER, S. - MITTELSTADT, B. Neutralizing online behavioural advertising: algorithmic targeting with market power as an unfair commercial practice. Common Market Law Review. 2021, Vol. 58, No. 3, pp. 719-750. CrossRef
10. MARTY, F. Pré-installations, biais de statu quo et consolidation de la dominance: les enseignements de l'arrêt du Tribunal de l'U.E. dans l'affaire Google Android. CIRANO - Cahier scientifique. 2022, No. 29, pp. 1-22. CrossRef
11. OECD. Integrating Consumer Behaviour Insights in Competition Enforcement: OECD Competition Policy Roundtable Background Note [online]. OECD, 2022 [cit. 2023-01-31]. Available at: www.oecd.org/daf/competition/integrating-consumer-behaviour-insights-in-competition-enforcement-2022.pdf.
12. PADILLA, A. J. - POLO, M. Tying in Platform Software: Reasons for a Rule-of-Reason Standard in European Competition Law. World Competition. 2002, Vol. 25, No. 4, pp. 509-514. CrossRef
13. POSNER, R. A. The Future of the Law and Economics Movement in Europe. International Review of Law and Economics. 1997, Vol. 17, No. 1, pp. 3-14. CrossRef
14. ROSCH, T. Behavioral Economics: Observations Regarding Issues That Lie Ahead [online]. Vienna: Federal Trade Commission, 2010 [cit. 2023-01-31]. Available at: https://www.ftc.gov/sites/default/files/documents/public_statements/behavioral-economics-observations-regarding-issues-lie-ahead/100609viennaremarks.pdf.
15. SAMUELSON, W. - ZECKHAUSER, R. Status Quo Bias in Decision Making. Journal of Risk and Uncertainty. 1988, Vol. 1, No. 1, pp. 7-59. CrossRef
16. ŠMEJKAL, V. Doktrinální souboj o evropský antitrust - odkud kam směřuje soutěžní politika a právo EU? [The doctrinal battle over European antitrust - where is EU competition policy and law going from here?]. Právník. 2014, Vol. 153, No. 2, pp. 89-111.
17. TOR, A. The Fable of Entry: Bounded Rationality, Market Discipline, and Legal Policy. Michigan Law Review. 2002, Vol. 101, No. 2, pp. 482-568. CrossRef
18. TOR, A. Understanding Behavioral Antitrust. Texas Law Review. 2014, Vol. 92, No. 3, pp. 573-668.
19. VAN CLEYNENBREUGEL, P. BPost and Nordzucker: Searching for the Essence of Ne Bis in Idem in European Union Law. European Constitutional Law Review. 2022, Vol. 18, No. 2, pp. 357-374. CrossRef
20. WITT, A. The European Court of Justice and the More Economic Approach to EU Competition Law-Is the Tide Turning? The Antitrust Bulletin. 2019, Vol. 64, No. 2, pp. 172-213. CrossRef

Google Android: Behavioural Theories of Harm in the Light of New Judgments and Regulatory Tools is licensed under a Creative Commons Attribution 4.0 International License.
230 x 157 mm
vychází: 4 x ročně
cena tištěného čísla: 65 Kč
ISSN: 0323-0619
E-ISSN: 2336-6478
Ke stažení