AUC GEOGRAPHICA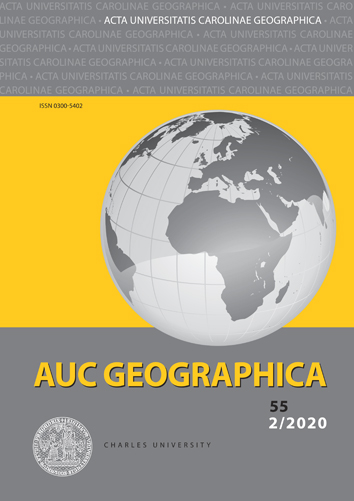 AUC Geographica (Acta Universitatis Carolinae Geographica) jsou recenzovaným vědeckým časopisem vycházejícím od roku 1966. Seznamují s aktuálními výsledky vědeckého výzkumu v geografických oborech: fyzické geografie a geoekologie, socioekonomické geografie a regionálního rozvoje, kartografie a geoinformatiky, demografie a geodemografie.
Geopolitics of geographical urbanonyms: evidence from Ukrainian cities
Olexiy Gnatiuk, Anatoliy Melnychuk
DOI: https://doi.org/10.14712/23361980.2020.19
zveřejněno: 03. 11. 2020
Abstract
This article focuses on geographical urbanonyms in Ukraine – names of streets, squares, lanes, etc. that refer to the names of other geographical objects like cities, regions, countries, or continents. It shows the role of geographical urbanonyms as a powerful instrument used by political regimes to shape political identity by constructing and legitimizing borders between "us" and "them" at different spatial scales. The analysis revealed a significantly higher presence of geographical urbanonyms in Ukraine compared to former state socialist countries in Central Europe. The widespread presence of street names related to the former USSR proves the absence of post-Soviet decolonization in semiotic space, going beyond the pure decommunization, in the majority of Ukrainian cities since 1991. Regional differences in the dynamics, distribution and structure of geographical urbanonyms in Ukraine are explained by the historical, cultural and (geo)political divisions.
Klíčová slova: urban toponyms; geographical urbanonyms; geopolitics; Ukraine

Geopolitics of geographical urbanonyms: evidence from Ukrainian cities is licensed under a Creative Commons Attribution 4.0 International License.
210 x 297 mm
vychází: 2 x ročně
cena tištěného čísla: 200 Kč
ISSN: 0300-5402
E-ISSN: 2336-1980
Ke stažení