EUROPEAN JOURNAL OF ENVIRONMENTAL SCIENCES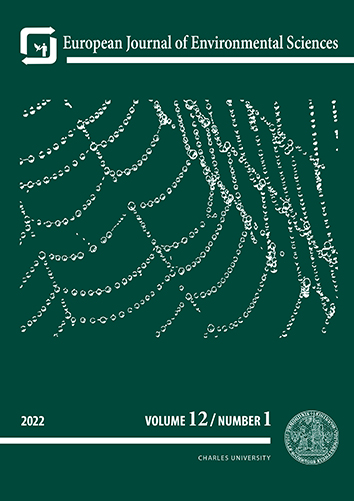 European Journal of Environmental Sciences nabízí původní recenzované články z oblasti environmentálních věd, mnohdy inter- a transdisciplinární povahy se zvláštním zřetelem na evropské problémy. Časopis rovněž publikuje kritické shrnující texty a přehledy situace v oblasti ochrany životního prostředí v konkrétních regionech a zemích. Zaměřuje se na širokou škálu témat, jako například přímé a nepřímé interakce živých a neživých složek životního prostředí, interakce s lidskou společností nebo environmentální udržitelnost.
Breeding mason bees for the pollination of fruit orchards in Central Europe
Martin Šlachta, Alena Votavová, Tomáš Erban, Ondřej Cudlín, Pavel Cudlín
DOI: https://doi.org/10.14712/23361964.2022.2
zveřejněno: 26. 06. 2022
Abstract
Solitary bees pollinate wild plants and crops. In the temperate zone, they mainly pollinate fruit trees. Most species nest in the soil, but mason bees nest in wooden cavities above ground. Their presence in orchards can be augmented by provision of artificial nesting sites. Two species of mason bees frequently use these artificial nesting opportunities in Central Europe. The red mason bee (Osmia bicornis) is the most common species in this region, which preferentially collects pollen from oak trees. The European orchard bee (Osmia cornuta) prefers pollen from fruit trees, but it is more thermophilic. Its spread to higher altitudes can be expected in response to climate change. A breeding technology based on detachable wooden nests is summarized in this paper based on a literature review and experimental experience in fruit orchards in Czechia.
Klíčová slova: artificial nesting sites; climate change; fruit orchards; mason bees; pollination

Breeding mason bees for the pollination of fruit orchards in Central Europe is licensed under a Creative Commons Attribution 4.0 International License.
210 x 297 mm
vychází: 2 x ročně
cena tištěného čísla: 150 Kč
ISSN: 1805-0174
E-ISSN: 2336-1964
Ke stažení