EUROPEAN JOURNAL OF ENVIRONMENTAL SCIENCES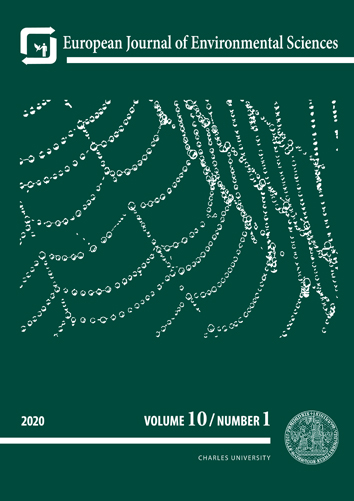 European Journal of Environmental Sciences nabízí původní recenzované články z oblasti environmentálních věd, mnohdy inter- a transdisciplinární povahy se zvláštním zřetelem na evropské problémy. Časopis rovněž publikuje kritické shrnující texty a přehledy situace v oblasti ochrany životního prostředí v konkrétních regionech a zemích. Zaměřuje se na širokou škálu témat, jako například přímé a nepřímé interakce živých a neživých složek životního prostředí, interakce s lidskou společností nebo environmentální udržitelnost.
Spatial analysis of the accessibility of urban greenspace at the city level
Panagiotis-Tsampikos Alexandros Koliotsis, Maria P. Papadopoulou
DOI: https://doi.org/10.14712/23361964.2020.3
zveřejněno: 22. 06. 2020
Abstract
The aim of this study was to analyse the access people have to urban greenspaces at the city level (Athens) using a combination and by comparing different methods. These two approaches are the Accessible Natural Greenspace Standards (ANGSt) Model and selected urban greenspace indices. According to the results, the accessibility of areas of urban greenspace is sufficient in most of Athens, which indicates that the majority of its residents have access to urban greenspaces. The correlation of accessibility with urban greenspace indices provided a better classification for Athens, in terms of citizens' quality of life, as 20% of the Municipalities have a higher value for greenspace than that recommended by the World Health Organization of 9 m2. If this percentage is expressed as a population equivalent, only 13.3% of the population of Athens has a higher value than the minimum recommended. In addition, 21% of the population has a much smaller value and, in particular, it does not exceed 2 m2 of greenspace per capita.
Klíčová slova: accessible natural greenspace standards model; Athens; climate change; multicriteria analysis; urban greenspace indices

Spatial analysis of the accessibility of urban greenspace at the city level is licensed under a Creative Commons Attribution 4.0 International License.
210 x 297 mm
vychází: 2 x ročně
cena tištěného čísla: 150 Kč
ISSN: 1805-0174
E-ISSN: 2336-1964
Ke stažení