AUC STUDIA TERRITORIALIA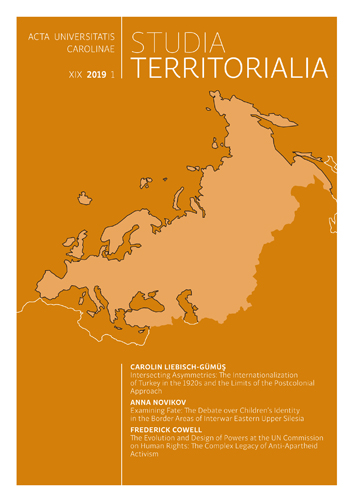 AUC Studia Territorialia je recenzovaný akademický časopis z oboru teritoriálních studií. Zaměřuje se na otázky politického, hospodářského, společenského a kulturního vývoje zemí Severní Ameriky, Evropy a postsovětské Eurasie ve 20. a 21. století. Vznikl v roce 2001; v současnosti vychází dvakrát ročně, a to v elektronické a tištěné podobě. Publikuje původní odborné studie, recenze, zprávy o knižních novinkách, konferencích a probíhajícím výzkumu, jakož i jiné kratší odborné texty. Časopis vydává Institut mezinárodních studií FSV UK.
Examining Fate: The Debate over Children's Identity in the Border Areas of Interwar Eastern Upper Silesia
Anna Novikov
DOI: https://doi.org/10.14712/23363231.2019.16
zveřejněno: 25. 11. 2019
Abstract
This article deals with two little-known disputes over the national identity of a population in the interwar border area of Eastern Upper Silesia. This area was transferred from Germany to Poland after World War I as a result of a plebiscite. Its local population, the Silesians, did not consider themselves entirely German or Polish, but still underwent a process of Polonization. The plebiscite took place in Upper Silesia in 1921, prompting international controversy and internal debate within the Polish state about how to define the nationality of the Silesians in the context of their internationally protected rights as a "minority." As this article shows, the Silesians were utilized by Central and Western European politicians as objects of international diplomacy and by the Polish authorities to advance their internal policies. The story of "Maurer's children" and Silesian children born out of wedlock illustrates the reaction of the Silesian population to the interwar politics of nationalization. These cases attracted international attention from 1926 to 1928 and brought questions of national minorities, bilingual children, and self-definition of nationality vis-à-vis the state's requirements to the level of international debate.
Klíčová slova: World War I; League of Nations; Poland; Upper Silesia; education; nation-building
Published by the Karolinum Press. For permission to use please write to journals@karolinum.cz.
148 x 210 mm
vychází: 2 x ročně
cena tištěného čísla: 180 Kč
ISSN: 1213-4449
E-ISSN: 2336-3231
Ke stažení