AUC STUDIA TERRITORIALIA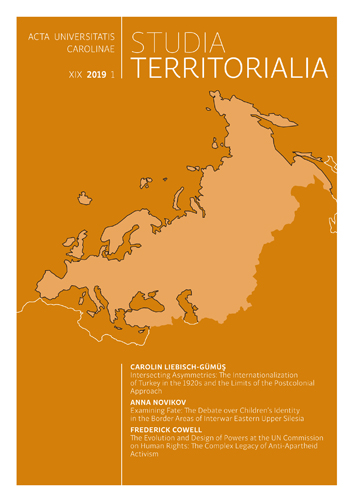 AUC Studia Territorialia je recenzovaný akademický časopis z oboru teritoriálních studií. Zaměřuje se na otázky politického, hospodářského, společenského a kulturního vývoje zemí Severní Ameriky, Evropy a postsovětské Eurasie ve 20. a 21. století. Vznikl v roce 2001; v současnosti vychází dvakrát ročně, a to v elektronické a tištěné podobě. Publikuje původní odborné studie, recenze, zprávy o knižních novinkách, konferencích a probíhajícím výzkumu, jakož i jiné kratší odborné texty. Časopis vydává Institut mezinárodních studií FSV UK.
Intersecting Asymmetries: The Internationalization of Turkey in the 1920s and the Limits of the Postcolonial Approach
Carolin Liebisch-Gümüş
DOI: https://doi.org/10.14712/23363231.2019.15
zveřejněno: 25. 11. 2019
Abstract
Previous studies of Turkey's relations with the League of Nations suggest that in the 1920s, the relationship was marked by Turkey's exclusion from the League and disputes over territories and sovereignty. Only at the end of the decade did Turkey begin to join the international community, culminating in its becoming a member of the League in 1932. This article proposes a fresh reading of Turkey's internationalization (i.e., its participation in international organizations) in the 1920s. Not only do we begin to see Turkish membership in a considerable number of smaller international organizations, but the government also developed ties with the League Secretariat and the International Labour Office, even though it formally remained a non-member of the League. These more subtle forms of cooperation, this article argues, were part of a balanced strategy of internationalization that reflected the (semi)colonial underpinnings of many international organizations and the Ottoman experience with them. This internationalization strategy was grounded in the Kemalists' ideological conceptualization of the global order as profoundly shaped by European hegemony. In so arguing, this article adopts a postcolonial perspective. However, it also points out the limits of such a perspective, stressing that power asymmetries on the international level were connected with internal asymmetries within Turkey itself.
Klíčová slova: Turkey; international organizations; League of Nations; International Labour Organization; nation building; post-colonialism
Published by the Karolinum Press. For permission to use please write to journals@karolinum.cz.
148 x 210 mm
vychází: 2 x ročně
cena tištěného čísla: 180 Kč
ISSN: 1213-4449
E-ISSN: 2336-3231
Ke stažení