AUC INTERPRETATIONES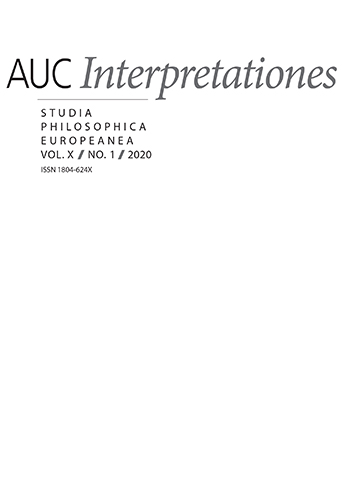 AUC Interpretationes (Acta Universitatis Carolinae Interpretationes Studia Philosophica Europeanea) je filosofický časopis zaměřený na evropskou filosofii 20. století, zejména na francouzskou a německou filosofii a fenomenologii.
Repenser la subjectivité incarnée. Levinas lecteur de Husserl
Rosa Spagnuolo Vigorita
DOI: https://doi.org/10.14712/24646504.2021.12
zveřejněno: 10. 01. 2022
Abstract
This paper intends to analyze the question of the embodied subjectivity in Emmanuel Levinas's work, starting from a specific point of view: the controversial reception of Husserl's phenomenology. In the early period of his confrontation with Husserl, Levinas criticizes the excess of theoreticism in transcendental idealism. However, he then seems to discover right inside of it the conditions to bring the philosophical debate out of the limits of knowledge theory. This is when he recognizes the important role played by the body in the husserlian description of the act of sense-giving (Sinngebung). Though, while praising Husserl for his conception of sensibility – as the "Commentaires nouveaux" clearly show – Levinas actually proceeds to an original rethinking of the meaning of incarnation, beyond the purity of the ego, and the supposed "property" of the flesh.

Repenser la subjectivité incarnée. Levinas lecteur de Husserl is licensed under a Creative Commons Attribution 4.0 International License.
148 x 210 mm
vychází: 2 x ročně
cena tištěného čísla: 180 Kč
ISSN: 1804-624X
E-ISSN: 2464-6504
Ke stažení