AUC GEOGRAPHICA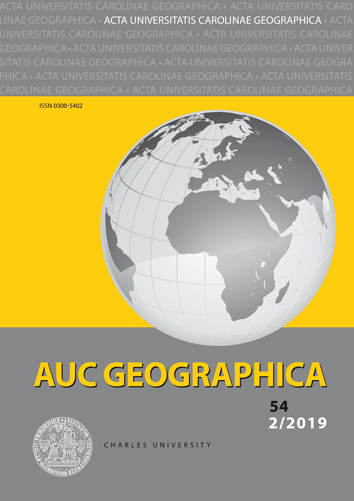 AUC Geographica (Acta Universitatis Carolinae Geographica) jsou recenzovaným vědeckým časopisem vycházejícím od roku 1966. Seznamují s aktuálními výsledky vědeckého výzkumu v geografických oborech: fyzické geografie a geoekologie, socioekonomické geografie a regionálního rozvoje, kartografie a geoinformatiky, demografie a geodemografie.
Economic impacts of landslides and floods on a road network
Mike G. Winter, David Peeling, Derek Palmer, James Peeling
DOI: https://doi.org/10.14712/23361980.2019.18
zveřejněno: 18. 12. 2019
Abstract
Even in the absence of serious injuries and fatalities, landslide and flood events can have significant socio-economic impacts. These include the severance of access to and from relatively remote communities for services and markets for goods; employment, health and educational opportunities; and social activities. The economic impacts can be classified as: direct economic impacts, direct consequential economic impacts, and indirect consequential economic impacts. In addition, the vulnerability shadow cast can be extensive, and its geographical extent can be determined by the transport network rather than the relatively small footprint of the event itself. Using a number of debris flow events and a flood event in Scotland this paper places values on the economic impacts of landslides and floods. It also demonstrates the widespread impact of the events by means of the vulnerability shadow that is cast.
Klíčová slova: landslides; floods; hazard; risk; economic; social

Economic impacts of landslides and floods on a road network is licensed under a Creative Commons Attribution 4.0 International License.
210 x 297 mm
vychází: 2 x ročně
cena tištěného čísla: 200 Kč
ISSN: 0300-5402
E-ISSN: 2336-1980
Ke stažení