AUC GEOGRAPHICA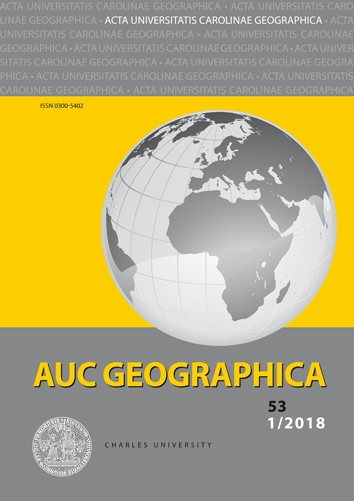 AUC Geographica (Acta Universitatis Carolinae Geographica) is a scholarly academic journal continuously published since 1966 that publishes research in the broadly defined field of geography: physical geography, geo-ecology, regional, social, political and economic geography, regional development, cartography, geoinformatics, demography and geo-demography.
AUC Geographica also publishes articles that contribute to advances in geographic theory and methodology and address the questions of regional, socio-economic and population policy-making in Czechia.
Periodical twice yearly.
Release dates: June 30, December 31
All articles are licenced under Creative Commons Attribution 4.0 International licence (CC BY 4.0), have DOI and are indexed in CrossRef database.
AUC Geographica is covered by the following services: EBSCO, GeoBibline, SCOPUS, Ulrichsweb and Directory of Open Access Journals (DOAJ).
The journal has been covered in the SCOPUS database since 1975 – today
https://www.scopus.com/source/sourceInfo.uri?sourceId=27100&origin=recordpage
The journal has been selected for coverage in Clarivate Analytics products and services. Beginning with V. 52 (1) 2017, this publication will be indexed and abstracted in Emerging Sources Citation Index.
The journal has been indexed by the Polish Ministry of Science and Higher Education (MSHE) on the list of scientific journals recommended for authors to publish their articles. ICI World of Journals; Acta Universitatis Carolinae, Geographica.
Scopus Journal Metric
SJR (SCImago Journal Rank) (2020): 0.193
SNIP (Source Normalized Impact per Paper) (2020): 0.842
CiteScore (2020): 1.00
The journal is archived in Portico.
Distance, integrity, hierarchy – the issue of regionalization of Central Europe based on air transport flows
Stanislav Kraft, Filip Rozkošný
DOI: https://doi.org/10.14712/23361980.2018.9
zveřejněno: 18. 05. 2018
Abstract
The purpose of this study is to contribute to the general understanding of air transport organization and creation of air interactions in view of three issues – distance, integrity and hierarchy. Although these issues are generally known from literature, they were not properly studied in the case of air transport. Therefore, the article brings a new perspective on the issue of air transport evaluation, the delimitation of functional regions based on air transport interactions, and the evaluation of their hierarchical organization. We analyze the database of flights between civil airports in Central Europe. We specify hinterlands of individual airports by using the modified version of Reilly's gravity law. The main results of this study confirmed the dominance of main airports (mainly Frankfurt and Vienna), while confirming a relatively large autonomy of airports localized in the former socialist countries (Warsaw, Prague).
klíčová slova: air transport; functional regions; distance; integrity; hierarchy

Distance, integrity, hierarchy – the issue of regionalization of Central Europe based on air transport flows is licensed under a Creative Commons Attribution 4.0 International License.
210 x 297 mm
vychází: 2 x ročně
cena tištěného čísla: 200 Kč
ISSN: 0300-5402
E-ISSN: 2336-1980
Ke stažení