AUC GEOGRAPHICA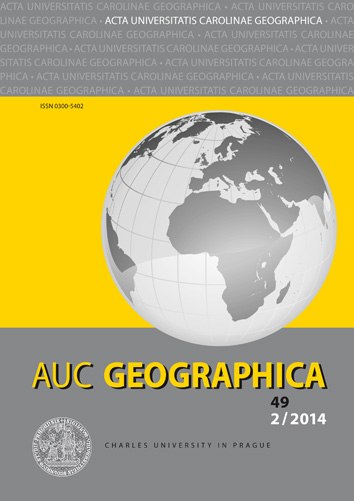 We are pleased to share that the AUC Geographica was awarded an Impact Factor of 0.6 in the 2022 Journal Citation Reports™ released by Clarivate in June 2023. AUC Geographica ranks (JCI) in Q3 in Geography.
AUC Geographica (Acta Universitatis Carolinae Geographica) is a scholarly academic journal continuously published since 1966 that publishes research in the broadly defined field of geography: physical geography, geo-ecology, regional, social, political and economic geography, regional development, cartography, geoinformatics, demography and geo-demography.
AUC Geographica also publishes articles that contribute to advances in geographic theory and methodology and address the questions of regional, socio-economic and population policy-making in Czechia.
Periodical twice yearly.
Release dates: June 30, December 31
All articles are licenced under Creative Commons Attribution 4.0 International licence (CC BY 4.0), have DOI and are indexed in CrossRef database.
AUC Geographica is covered by the following services: WOS, EBSCO, GeoBibline, SCOPUS, Ulrichsweb and Directory of Open Access Journals (DOAJ).
The journal has been covered in the SCOPUS database since 1975 – today
https://www.scopus.com/source/sourceInfo.uri?sourceId=27100&origin=recordpage
The journal has been selected for coverage in Clarivate Analytics products and services. Beginning with V. 52 (1) 2017, this publication will be indexed and abstracted in Emerging Sources Citation Index.
The journal has been indexed by the Polish Ministry of Science and Higher Education (MSHE) on the list of scientific journals recommended for authors to publish their articles. ICI World of Journals; Acta Universitatis Carolinae, Geographica.
Journal metrics 2022
Web of Science
Impact factor (JCR®): 0.6
Journal Citation Indicator (JCI): 0.24
Rank (JCI): Q3 in Geography
Scopus
Cite Score: 1.1
Rank (ASJC): Q3 in Geography, Planning and Development; Q3 in General Earth and Planetary Sciences
The journal is archived in Portico.
Automation of geospatial raster data analysis and metadata updating: an in-database approach
Lukáš Brůha
DOI: https://doi.org/10.14712/23361980.2014.14
zveřejněno: 20. 11. 2014
Abstract
This paper proposes a spatial data infrastructure (SDI) module for management of a continuous flow of geospatial images and related metadata. Continuously acquired map scans from the digitalization process of an old maps collection or the satellite imagery retrieved through a receiving station are examples of such data flows. Storage of the raster data in a database is a key feature of the system, which enhances the usual tasks and usability of SDI systems. The analytical procedures deployed within the data store perform automated raster analysis and content-based metadata extraction. This functionality is illustrated with two experiments – improving the display of early map scans and snow and cloud detection from satellite images. Applications of the proposed approach and utilization of the prototype application by geographers and cartographers are discussed.
klíčová slova: SDI; image data; metadata; in-database; automation

Automation of geospatial raster data analysis and metadata updating: an in-database approach is licensed under a Creative Commons Attribution 4.0 International License.
210 x 297 mm
vychází: 2 x ročně
cena tištěného čísla: 200 Kč
ISSN: 0300-5402
E-ISSN: 2336-1980
Ke stažení