ACTA MEDICA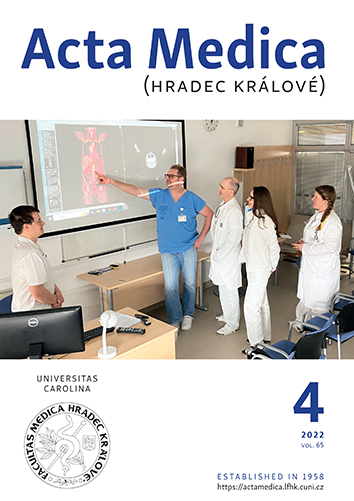 Acta Medica (Hradec Králové) je víceoborový vědecký recenzovaný časopis vycházející v angličtině. Acta Medica publikují review, původní články, stručná sdělení, případové studie a oznámení. Časopis byl založen v roce 1958 pod názvem Sborník vědeckých prací Lékařské fakulty Univerzity Karlovy v Hradci Králové. Je indexován v databázích Chemical Abstracts, CNKI, DOAJ, EBSCO, Hinari, Index Medicus, MEDLINE, Scopus a Ulrichsweb.
Gallstone Ileus in Octogenarians: Is Cholecystectomy Really Needed?
Nikolaos Koliakos, Dimitrios Papaconstantinou, Andrianos Serafeim Tzortzis, Efstratios Kofopoulos-Lymperis, Anargyros Bakopoulos, Konstantinos Nastos, Evangelos P. Misiakos, Emmanouil Pikoulis
DOI: https://doi.org/10.14712/18059694.2023.7
zveřejněno: 16. 03. 2023
Abstract
Gallstone ileus is an uncommon complication of cholelithiasis and occurs when a gallstone migrates through a cholecystoenteric fistula and impacts within the gastrointestinal tract. Surgical intervention remains the treatment of choice, which consists of a full-thickness incision of the visceral wall and removal of the impacted gallstone. In this paper we present the treatment approach of 6 cases of gallstone ileus in octogenarians. In our cohort, intestinal obstruction was resolved through an enterotomy or gastrotomy and lithotomy/stone extraction in every patient. No cholecystectomies were undertaken. Despite the fact that gallstone ileus is diagnosed in small percent of patients suffering from gallstone disease, it accounts for a large proportion of intestine obstruction in patients older than 65 years old. Since accurate diagnosis and timely intervention are vital, providers should be familiar with the diagnostic approach and the treatment of this clinical entity.
klíčová slova: gallstone ileus; bowel obstruction; intestinal obstruction; treatment

Gallstone Ileus in Octogenarians: Is Cholecystectomy Really Needed? is licensed under a Creative Commons Attribution 4.0 International License.
210 x 297 mm
vychází: 4 x ročně
cena tištěného čísla: 150 Kč
ISSN: 1211-4286
E-ISSN: 1805-9694
Ke stažení