ACTA MEDICA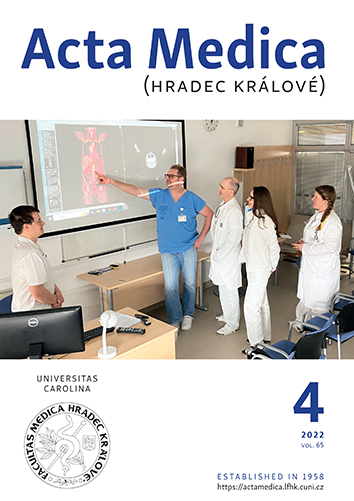 Acta Medica (Hradec Králové) je víceoborový vědecký recenzovaný časopis vycházející v angličtině. Acta Medica publikují review, původní články, stručná sdělení, případové studie a oznámení. Časopis byl založen v roce 1958 pod názvem Sborník vědeckých prací Lékařské fakulty Univerzity Karlovy v Hradci Králové. Je indexován v databázích Chemical Abstracts, CNKI, DOAJ, EBSCO, Hinari, Index Medicus, MEDLINE, Scopus a Ulrichsweb.
Association of Giant Cell Arteritis with Papillary Thyroid Carcinoma
Lucia Šípová, Barbora Havlínová, Martina Bělobrádková, Leoš Ungermann, Tomáš Soukup
DOI: https://doi.org/10.14712/18059694.2023.5
zveřejněno: 16. 03. 2023
Abstract
Previous studies suggest that there may be an association between cancer and autoimmune diseases. We describe the case of a 59-year-old patient who did not have any significant diseases in the last year. She had new onset of fever of unknown aetiology, headache, fatigue and night sweats. We used laboratory methods to rule out infectious diseases. Significant laboratory findings reported increased signs of inflammation and anti-nuclear antibody (ANA) positivity. Positron emission tomography/computed tomography (PET/CT) imaging showed the origin of the patient's difficulties, arteritis, with increased metabolic activity in the aortic wall and other arteries. Doppler ultrasonography of the arteries did not show pathology in the temporal arteries but found accelerated blood flow in the superior mesenteric artery (AMS). Another finding from PET/CT was a tumour in the thyroid gland, later verified histologically as papillary thyroid carcinoma (PTC). We investigated the link between rheumatological disease and papillary carcinoma, applying similar therapy, corticosteroids and immunosuppressants.
klíčová slova: giant cell arteritis; thyroid gland; papillary thyroid carcinoma; corticosteroids; fever; PET/CT; vasculitis

Association of Giant Cell Arteritis with Papillary Thyroid Carcinoma is licensed under a Creative Commons Attribution 4.0 International License.
210 x 297 mm
vychází: 4 x ročně
cena tištěného čísla: 150 Kč
ISSN: 1211-4286
E-ISSN: 1805-9694
Ke stažení