AUC IURIDICA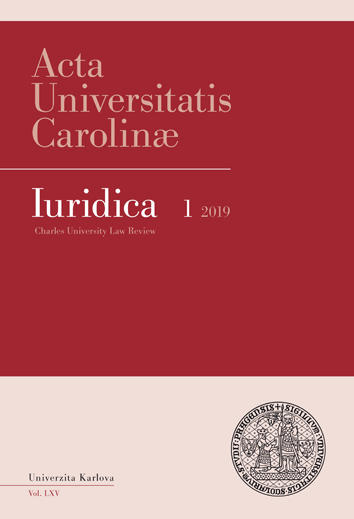 Acta Universitatis Carolinae Iuridica (AUC Iuridica) is a legal journal published since 1955, which presents longer essays as well as short articles on topics relevant for legal theory and international, European and Czech law. It also publishes works concerning current legislative problems.
Although intended primarily for domestic audience, AUC Iuridica is useful also for foreign experts, who can take advantage of summaries in foreign languages (English, German and French) and key words, which are systematically added to the main articles and essays.
The published articles are subject to peer reviews. If necessary, reviewed texts are sent back to the author for revision.
AUC Iuridica accepts contributions from any contributor on any current legal topic.
The journal is registered in the Czech National Bibliography (kept by the National Library of the Czech Republic) and in the Index to Foreign Legal Periodicals (kept by the American Association of Law Libraries).
The journal is archived in Portico.
–––
We are pleased to inform you that the journal Acta Universitatis Carolinae Iuridica was the first journal of the Faculty of Law of Charles University to be included in the prestigious international database SCOPUS. This Elsevier database is the largest abstract and citation database of peer-reviewed literature in the world. The editors of the journal expect from the inclusion in the elite SCOPUS database not only an increase in the readership of the journal, but also an increase in interest in the publication of papers by both Czech and foreign authors.
Římskoprávní základy úpravy závislé práce
[Roman-Law Basics of the Dependent Labour]
David Falada, Kamila Stloukalová
DOI: https://doi.org/10.14712/23366478.2019.2
published online: 22. 03. 2019
abstract
The article endeavours to introduce certain basic aspects of the position of a dependent labourer in the Roman world. Such introduction involves information on the systemisation of the relevant employment contract (the locatio conductio operarum) within the framework of Roman obligations, as well as its distinction from similar contracts having identical roots, i.e., the lease of an object (the locatio conductio rei) and the contract for work (the locatio conductio operis). In addition, a brief description of the values respected by the Romans must be included as well, as the behaviour of the Roman society establishes a contextual environment for the limited utilisation of the employment contract.
keywords: Roman law; employment law; dependent labour; locatio conductio; employment contract
references (19)
1. Alföldy, G. Storia sociale dell'antica Roma. Bologna: Il Mulino 1987.
2. Bartošek, M. Encyklopedie římského práva. Praha: Academia 1994.
3. Bartošek, M. Škola právnického myšlení. Praha: Karolinum 1993.
4. Berger, A. A Labor Contract of A.D. 164: CIL, III, P. 948, No. X. Classical Philology, 1948, 43(4), 231–242. CrossRef
5. Bible. Písmo svaté Starého a Nového zákona. Ekumenický překlad, Praha: Ústřední církevní nakladatelství 1979.
6. Brunt, P. A. Free Labour and Public Works at Rome, The Journal of Roman Studies, 1980, 70, s. 81–100. CrossRef
7. Conradie, M. The Constitutional Right to Fair Labour Practices: A Consideration of the Influence and Continued Importance of the Historical Regulation of (Un)Fair Labour Practices Pre-1977. Fundamina, 2016, vol. 22, Nr. 2, s. 163–204. CrossRef
8. Dajczak, W. – GIARO, T. – LONGCHAMPS DE BÉRIER, F. Právo římské. Základy soukromého práva. České vydání P. Dostalík. Olomouc: Iuridicum Olomoucense 2013.
9. Digesta seu Pandectae, tomus I, liber I–XV, fragmenta selecta. Digesta neboli Pandekty, svazek I, kniha I–XV, vybrané části. Překlad Peter Blaho, Michal Skřejpek, Jarmila Vaňková, Jakub Žytek. Praha: Karolinum 2015.
10. Heyrovský, L. Dějiny a systém soukromého práva římského. Díl II. 5 vyd. Praha: J. Otto, 1921.
11. Jolowicz, H. F. – NICHOLAS, B. Historical Introduction to the Study of Roman Law. 3rd edition. Cambridge-New York-London-Melbourne: Cambridge University Press 1972.
12. KINCL, J. – URFUS, V. – SKŘEJPEK, M. Římské právo. Praha: C. H. Beck 1995 (2. vyd. / 1. vyd. v C. H. Beck v tomto kolektivu autorů).
13. Perozzi, S. Istituzioni di diritto romano. Vol. II. Firenze: G. Barbèra, editore 1908.
14. PRAŽÁK, J. M. – NOVOTNÝ, F. – SEDLÁČEK, J. Latinsko-český slovník k potřebě gymnasií a reálných gymnasií. 10. vyd. Praha: Československá grafická unie 1937.
15. REBRO, K. – BLAHO, P. Rímske právo. Bratislava-Trnava: Wolters Kluwer (Iura Edition), 2003.
16. Skřejpek, M. Římské soukromé právo. Systém a instituce. Plzeň: Aleš Čeněk 2011.
17. Ürogdi, G. Tak žil starý Řím. Praha: Orbis 1968.
18. VARRO, MARCUS TERENTIUS. De lingua Latina V–VII. Přel. Lucie Pultrová. Praha: Filozofická fakulta Univerzity Karlovy 2015.
19. Zimmermann, R. The Law of Obligations. Roman Foundations of the Civilian Tradition. Oxford: Claredon Press 1996. CrossRef

Římskoprávní základy úpravy závislé práce is licensed under a Creative Commons Attribution 4.0 International License.
230 x 157 mm
periodicity: 4 x per year
print price: 65 czk
ISSN: 0323-0619
E-ISSN: 2336-6478
Download