AUC IURIDICA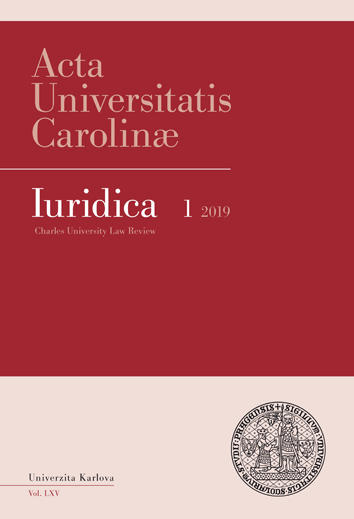 Acta Universitatis Carolinae Iuridica (AUC Iuridica) is a legal journal published since 1955, which presents longer essays as well as short articles on topics relevant for legal theory and international, European and Czech law. It also publishes works concerning current legislative problems.
Although intended primarily for domestic audience, AUC Iuridica is useful also for foreign experts, who can take advantage of summaries in foreign languages (English, German and French) and key words, which are systematically added to the main articles and essays.
The published articles are subject to peer reviews. If necessary, reviewed texts are sent back to the author for revision.
AUC Iuridica accepts contributions from any contributor on any current legal topic.
The journal is registered in the Czech National Bibliography (kept by the National Library of the Czech Republic) and in the Index to Foreign Legal Periodicals (kept by the American Association of Law Libraries).
The journal is archived in Portico.
–––
We are pleased to inform you that the journal Acta Universitatis Carolinae Iuridica was the first journal of the Faculty of Law of Charles University to be included in the prestigious international database SCOPUS. This Elsevier database is the largest abstract and citation database of peer-reviewed literature in the world. The editors of the journal expect from the inclusion in the elite SCOPUS database not only an increase in the readership of the journal, but also an increase in interest in the publication of papers by both Czech and foreign authors.
Právní postavení sportovních trenérů v české republice
[Legal Position of Sport Coaches in the Czech Republic]
David Kohout
DOI: https://doi.org/10.14712/23366478.2019.3
published online: 22. 03. 2019
abstract
This article seeks to review the legal position of sport coaches in the Czech Republic. It examines the general legal framework for their activity in terms of the applicable public and private law regulation. More specifically it looks into the contractual basis of their relationship with sport clubs and individual athletes, which is very variable in terms of the types of contracts used under the Czech law and usually using other types of contracts than employment contract. The reason for this can seen principally in the absence of specific sport-based type of contract, which would be foreseen for such legal relationships in the Czech Republic (in contrast to a number of other countries, which adopted legislation in this respect). From another perspective, this article also discusses the impact of internal regulation of sport associations on the performance of coaches' duties in the respective sport discipline. This regulation also has significant impact on the coaches as it governs the system of their licencing and thus sets out eligibility criteria for exercising their profession.
keywords: coach; sports law; sport; sports contracts
references (7)
1. Colucci, M. Foreword. In: VANDELLÓS ALAMILLA, J. F. Football Coach-related Disputes. A Critical Analysis of the FIFA Players' Status Committe Decisions and CAS Awards. B. n.: Sports Law and Policy Centre, 2018.
2. Greguš, J. Vyváženosť práv a povinností medzi športovou organizáciou a športovcom v zákone o športe. In: Barancová, H., Olšovská, A. (eds.) Súčasný stav a nové úlohy pracovného práva. Praha: Leges, 2016, s. 367–369.
3. JURKA, H. Právní úprava profesionálního sportu v České republice a v zahraničí. Praha: Wolters Kluwer, 2018.
4. Pichrt, J. (ed.). Sport a (nejen) pracovní právo. Praha: Wolters Kluwer, 2014.
5. Pichrt, J. Profesionální sportovec zaměstnancem? In: Pichrt, J. (ed.). Sport a (nejen) pracovní právo. Praha: Wolters Kluwer, 2014.
6. SEPEŠI, P. Závery okrúhleho stola k téme odvodov profesionálnych športovcov – zamestnancov. Záznam a závěry diskuze v rámci kulatého stolu na konferenci "Šport a právo 2018", dostupné online na http://www.ucps.sk/Zavery_okruhleho_stola_k_teme_odvodov.
7. Stádník, J. Sportovní činnost a závislá práce. In: Pichrt, J. (ed.). Sport a (nejen) pracovní právo. Praha: Wolters Kluwer, 2014.

Právní postavení sportovních trenérů v české republice is licensed under a Creative Commons Attribution 4.0 International License.
230 x 157 mm
periodicity: 4 x per year
print price: 65 czk
ISSN: 0323-0619
E-ISSN: 2336-6478
Download