CENTRAL EUROPEAN JOURNAL FOR CONTEMPORARY RELIGION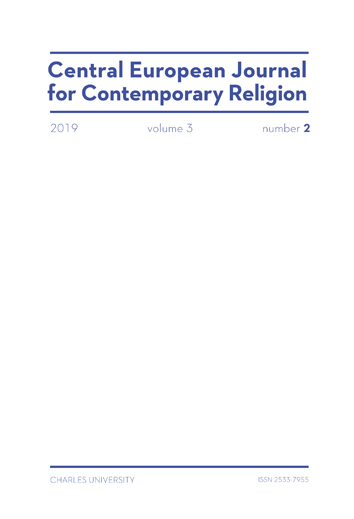 Central European Journal for Contemporary Religion je recenzovaný vědecký časopis zaměřený na srovnávací religionistiku a příbuzné obory, přičemž se věnuje zejména problematice současných náboženství ve střední a východní Evropě. Časopis vychází dvakrát ročně a je vydávám společně Husitskou teologickou fakultou Univerzity Karlovy a nakladatelstvím Karolinum.
The Reflection of Carlos Castaneda and His Work in the Milieu of Contemporary Czech Shamanism
Helena Dyndová
DOI: https://doi.org/10.14712/25704893.2020.1
zveřejněno: 02. 10. 2020
Abstract
The article deals with the analysis of Carlos Castaneda's legacy in the contemporary Czech shamanic milieu, with his literary successors, and with continuity of his teachings explained in famous decalogy about shaman-sorcerer don Juan. The first part is dedicated to the zeitgeist of Castaneda's writings, focusing on Mircea Eliade's and Michael Harner's influence. The second part analyses more narrowly the reflection on Castaneda's personality and work from the current shamanic point of view. The following part introduces Castaneda's literary impact within the specific Czech context and discusses his more successful followers. The last part compares the message of Castaneda's work and current Czech shamans' teachings considering the similarities and differences, namely the relationship with nature and with spiritual allies, following with shaman's image, purpose, and responsibility. The article concludes that despite respecting Castaneda's importance in the history of shamanic revival, the contemporary Czech shamans share little with the original Castaneda's teachings.
Klíčová slova: Contemporary shamanism; Czech shamanism; Neo-Shamanism; Contemporary Spirituality; Czech Spirituality; Carlos Castaneda

The Reflection of Carlos Castaneda and His Work in the Milieu of Contemporary Czech Shamanism is licensed under a Creative Commons Attribution 4.0 International License.
157 x 230 mm
vychází: 2 x ročně
cena tištěného čísla: 180 Kč
ISSN: 2533-7955
E-ISSN: 2570-4893
Ke stažení