AUC STUDIA TERRITORIALIA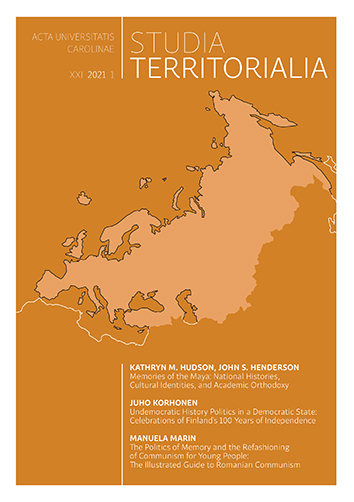 AUC Studia Territorialia je recenzovaný akademický časopis z oboru teritoriálních studií. Zaměřuje se na otázky politického, hospodářského, společenského a kulturního vývoje zemí Severní Ameriky, Evropy a postsovětské Eurasie ve 20. a 21. století. Vznikl v roce 2001; v současnosti vychází dvakrát ročně, a to v elektronické a tištěné podobě. Publikuje původní odborné studie, recenze, zprávy o knižních novinkách, konferencích a probíhajícím výzkumu, jakož i jiné kratší odborné texty. Časopis vydává Institut mezinárodních studií FSV UK.
Memories of the Maya: National Histories, Cultural Identities, and Academic Orthodoxy
Kathryn M. Hudson, John S. Henderson
DOI: https://doi.org/10.14712/23363231.2021.8
zveřejněno: 02. 08. 2021
Abstract
John Lloyd Stephens and Frederick Catherwood's travel account celebrating ancient Maya sculpture and architecture set the stage for the emphasis of the Maya as the pinnacle of cultural development in Mexico and Central America and for the appropriation of Maya prehistory as the foundation of modern national histories and identities. In the twentieth century, these discourses intensified into two interconnected hegemonic narratives – one in syntheses of precolumbian history by North American archaeologists and the other in national histories produced in Central America – that privileged the Maya as a source of history, legitimacy, and identity. This paper explores these narratives as they occur in Honduras through three distinct but interrelated lenses: academic discourse on Honduran archaeology; the conceptualization and development of a Honduran national identity; and the engagement of descendant groups with this constructed heritage. Considered together, these perspectives illuminate the complex cultural and political foundation(s) of memory.
Klíčová slova: United States; Honduras; Maya; archaeological sites; indigenous people; identity discourses; memory

Memories of the Maya: National Histories, Cultural Identities, and Academic Orthodoxy is licensed under a Creative Commons Attribution 4.0 International License.
148 x 210 mm
vychází: 2 x ročně
cena tištěného čísla: 180 Kč
ISSN: 1213-4449
E-ISSN: 2336-3231
Ke stažení