AUC STUDIA TERRITORIALIA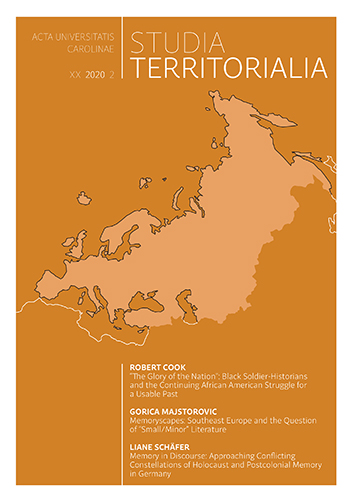 AUC Studia Territorialia je recenzovaný akademický časopis z oboru teritoriálních studií. Zaměřuje se na otázky politického, hospodářského, společenského a kulturního vývoje zemí Severní Ameriky, Evropy a postsovětské Eurasie ve 20. a 21. století. Vznikl v roce 2001; v současnosti vychází dvakrát ročně, a to v elektronické a tištěné podobě. Publikuje původní odborné studie, recenze, zprávy o knižních novinkách, konferencích a probíhajícím výzkumu, jakož i jiné kratší odborné texty. Časopis vydává Institut mezinárodních studií FSV UK.
Memory in Discourse: Approaching Conflicting Constellations of Holocaust and Postcolonial Memory in Germany
Liane Schäfer
DOI: https://doi.org/10.14712/23363231.2021.4
zveřejněno: 15. 04. 2021
Abstract
In today's Germany, the memory of the Holocaust has become institutionalized. However, its institutionalization should not be mistaken for stability. In fact, Holocaust memory has been and still is questioned and contested. At the same time, a global phenomenon, postcolonial memory, is receiving increased attention in Germany. As postcolonial memory is better understood, new questions are arising about Germany's memory culture in the twenty-first century. Precisely because of Germany's experience with National Socialism, the memory of colonialism exists in a memory space that is heavily influenced by discussions of the Holocaust. The memories of the two phenomena appear in constellations that conflict with each other. In this paper, I address the two conflicting constellations of Holocaust memory and postcolonial memory, and propose a discursive perspective on Germany's memory culture. Analyzing a national memory culture as a creation of discourse provides an opportunity to resolve the argumentative standoff between Holocaust memory and postcolonial memory, and instead put German memory culture itself at the center of criticism.
klíčová slova: Holocaust memory; postcolonial memory; discourse; Germany; Achille Mbembe
Published by the Karolinum Press. For permission to use please write to journals@karolinum.cz.
148 x 210 mm
vychází: 2 x ročně
cena tištěného čísla: 180 Kč
ISSN: 1213-4449
E-ISSN: 2336-3231
Ke stažení