AUC STUDIA TERRITORIALIA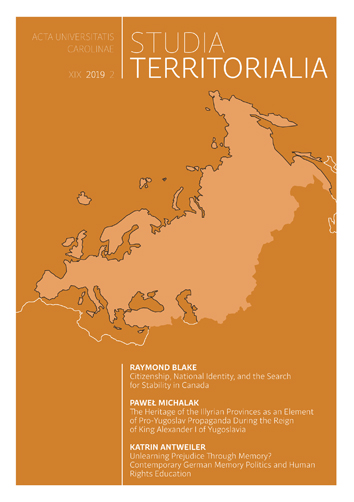 AUC Studia Territorialia je recenzovaný akademický časopis z oboru teritoriálních studií. Zaměřuje se na otázky politického, hospodářského, společenského a kulturního vývoje zemí Severní Ameriky, Evropy a postsovětské Eurasie ve 20. a 21. století. Vznikl v roce 2001; v současnosti vychází dvakrát ročně, a to v elektronické a tištěné podobě. Publikuje původní odborné studie, recenze, zprávy o knižních novinkách, konferencích a probíhajícím výzkumu, jakož i jiné kratší odborné texty. Časopis vydává Institut mezinárodních studií FSV UK.
Unlearning Prejudice Through Memory? Contemporary German Memory Politics and Human Rights Education
Katrin Antweiler
DOI: https://doi.org/10.14712/23363231.2020.4
zveřejněno: 05. 02. 2020
Abstract
This article is about contemporary memory politics in Germany, with a special focus on memory education as a function of governmentality. It describes the linkage of the memory of the Holocaust with present-day human rights causes and examines education that is intended to use that memory to create better German citizens. I look into the widely accepted idea that in a democracy, citizens not only have rights but also obligations to behave in accordance with the society's values. By examining the citizen's alleged obligations and how they are characterized by different forms of memorializing historical events, I offer insight into the rationale for injecting a retrospective view into present-day politics and educational efforts that are intended to accomplish that. Contemporary German memory education is to a great extent influenced by global educational programs such as those supported by UNESCO. I come to the conclusion that many of the programs aimed at German citizens include education about the Holocaust and are considered to be "naturally" complementary to promoting human rights. Nevertheless, the German government's proclaimed aim of advancing respect for human rights and thereby creating a more peaceful future carries with it a risk of becoming a stepping stone to the assumption of a morally superior position that will result in new forms of exclusion.
Klíčová slova: Germany; Memorium Nuremberg Trials; global citizenship education; governmentality; human rights; Holocaust
Published by the Karolinum Press. For permission to use please write to journals@karolinum.cz.
148 x 210 mm
vychází: 2 x ročně
cena tištěného čísla: 180 Kč
ISSN: 1213-4449
E-ISSN: 2336-3231
Ke stažení