AUC INTERPRETATIONES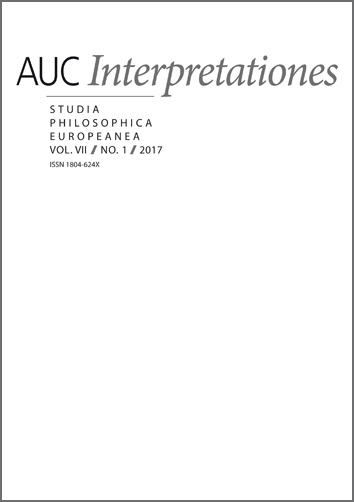 AUC Interpretationes (Acta Universitatis Carolinae Interpretationes Studia Philosophica Europeanea) je filosofický časopis zaměřený na evropskou filosofii 20. století, zejména na francouzskou a německou filosofii a fenomenologii.
The Life of Inwardness. Asubjectivity in Patočka's War Manuscripts
Martin Ritter
DOI: https://doi.org/10.14712/24646504.2018.4
zveřejněno: 30. 05. 2018
Abstract
The paper identifies asubjective elements in manuscripts written by Patočka in the first half of the 1940s. After explicating the key concept of inwardness, with which Patočka substitutes Husserl's notion of the ego, I elucidate the world-disclosing performance of inwardness as irreducible to world-constituting activity. After this explication, the paper inspects Patočka's method: his attempt to capture the life of inwardness subjectively. The appearing of the world, however, cannot be reduced to subjectivity, which is also revealed by Patočka's reflection on the relation between inwardness and the things in the world. Although the war manuscripts factually point to and call for the desubjectification of phenomenology, Patočka's adherence to transcendental phenomenology, his emphasis on life notwithstanding, does not allow for it.

The Life of Inwardness. Asubjectivity in Patočka's War Manuscripts is licensed under a Creative Commons Attribution 4.0 International License.
148 x 210 mm
vychází: 2 x ročně
cena tištěného čísla: 180 Kč
ISSN: 1804-624X
E-ISSN: 2464-6504
Ke stažení