ACTA MEDICA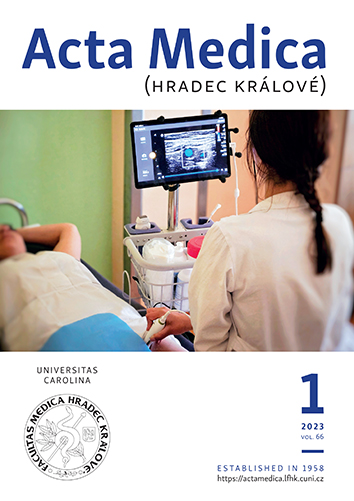 Acta Medica (Hradec Králové) je víceoborový vědecký recenzovaný časopis vycházející v angličtině. Acta Medica publikují review, původní články, stručná sdělení, případové studie a oznámení. Časopis byl založen v roce 1958 pod názvem Sborník vědeckých prací Lékařské fakulty Univerzity Karlovy v Hradci Králové. Je indexován v databázích Chemical Abstracts, CNKI, DOAJ, EBSCO, Hinari, Index Medicus, MEDLINE, Scopus a Ulrichsweb.
Antithrombin Deficiency: Frequency in Patients with Thrombosis and Thrombophilic Families
Maria Anna Pejková, Eva Ivanová, Petr Sadílek, Radovan Malý, Zuzana Thibaud, Petr Dulíček
DOI: https://doi.org/10.14712/18059694.2023.10
zveřejněno: 26. 06. 2023
Abstract
Purpose: Antithrombin (AT) deficiency is a well-known inherited risk factor for venous thromboembolism (VTE). However, F V Leiden and F II20210a mutations have drawn much more attention in the recent years. Therefore, we have decided to analyze the frequency of antithrombin deficiency in different cohorts of patients and tried to formulate indications for its testing. Results: Antithrombin deficiency was found in 4% of patients with recurrent VTE ≤ 50 years of age with, in 1% of patients with splanchnic vein thrombosis and in 2% of cases associated with combined oral contraceptives (COC) use or pregnancy. In patients with central venous thrombosis, antithrombin deficiency was not found. Recommendation: We consider antithrombin testing useful in patients with thrombosis occuring up to 45 years of age without any risk factors. Namely, females with VTE in pregnancy and puerperium should be tested as well as females with thrombosis on COC, if VTE occurred within the first year of their use. Conclusion: In spite of degressive interest in thrombophilia work up, we still consider antithrombin testing useful in defined clinical situations.
klíčová slova: thrombophilia; venous thromboembolism; antithrombin; pregnancy

Antithrombin Deficiency: Frequency in Patients with Thrombosis and Thrombophilic Families is licensed under a Creative Commons Attribution 4.0 International License.
210 x 297 mm
vychází: 4 x ročně
cena tištěného čísla: 150 Kč
ISSN: 1211-4286
E-ISSN: 1805-9694
Ke stažení