ACTA MEDICA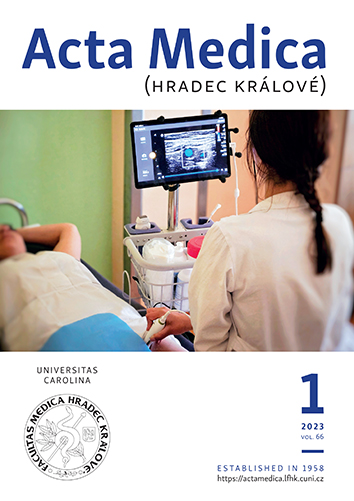 Acta Medica (Hradec Králové) je víceoborový vědecký recenzovaný časopis vycházející v angličtině. Acta Medica publikují review, původní články, stručná sdělení, případové studie a oznámení. Časopis byl založen v roce 1958 pod názvem Sborník vědeckých prací Lékařské fakulty Univerzity Karlovy v Hradci Králové. Je indexován v databázích Chemical Abstracts, CNKI, DOAJ, EBSCO, Hinari, Index Medicus, MEDLINE, Scopus a Ulrichsweb.
Bacterial Resistance in Hospital-Acquired Infections Acquired in the Intensive Care Unit: A Systematic Review
Walter Martinez Loaiza, Anny Katheryne Rivera Ruiz, Cristian Camilo Ospina Patiño, Mónica Chavez Vivas
DOI: https://doi.org/10.14712/18059694.2023.8
zveřejněno: 26. 06. 2023
Abstract
Purpose: In this review we present the status of the prevalence of bacteria resistant to antibiotics and the main antibiotic resistance genes that are reported in infections acquired in intensive care units (ICU) around the world. Methods: A systematic review based on the PRISMA guide was carried out, from the Science Direct, Redalyc, Scopus, Hinari, Scielo, Dialnet, PLOS, ProQuest, Taylor, Lilacs and PubMed/Medline databases. Inclusion criteria of this review were original research study published in a scientific journal in a 10-year time span from 1 January 2017 and 30 April 2022. Results: A total of 1686 studies were identified, but only 114 studies were considered eligible for inclusion. Klebsiella pneumoniae and Escherichia coli resistant to carbapenems and producers of extended-spectrum β-lactamases (ESBL) are the most frequently isolated pathogens in ICUs in Asia, Africa and Latin America. The blaOXA and blaCTX were antibiotic resistance genes (ARG) most commonly reported in different geographic regions (in 30 and 28 studies, respectively). Moreover, multidrug-resistant (MDR) strains were reported in higher frequency in hospital-acquired infections. Reports of MDR strains vary between continents, with the majority of publications being in Asia and between countries, with Egypt and Iran being highlighted. There is a predominance of few bacterial clones with MDR phenotype, for example, clonal complex 5 Methicillin-Resistant Staphylococcus aureus (CC5-MRSA) circulates frequently in hospitals in the United States, clone ST23-K. pneumoniae is reported in India and Iran, and clone ST260 carbapenemase-producing P. aeruginosa in the United States and Estonia. Conclusion: Our systematic review reveals that ESBL- and carbapenemase-producing K. pneumoniae and E. coli are the most problematic bacteria that are reported, mainly in tertiary hospitals in Asia, Africa, and Latin America. We have also found propagation of dominant clones with a high degree of MDR, becoming a problem due to its high capacity to cause morbidity, mortality and additional hospital costs.
klíčová slova: drug resistance; antibiotic resistant bacteria; antibiotic resistance genes; intensive care units

Bacterial Resistance in Hospital-Acquired Infections Acquired in the Intensive Care Unit: A Systematic Review is licensed under a Creative Commons Attribution 4.0 International License.
210 x 297 mm
vychází: 4 x ročně
cena tištěného čísla: 150 Kč
ISSN: 1211-4286
E-ISSN: 1805-9694
Ke stažení