ACTA MEDICA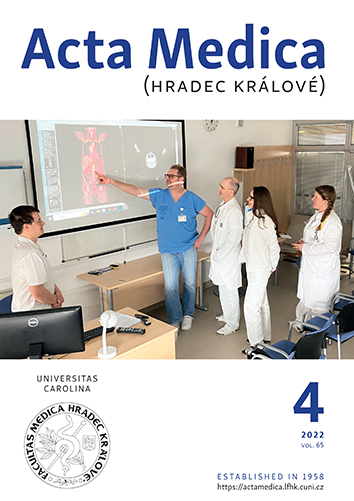 Acta Medica (Hradec Králové) je víceoborový vědecký recenzovaný časopis vycházející v angličtině. Acta Medica publikují review, původní články, stručná sdělení, případové studie a oznámení. Časopis byl založen v roce 1958 pod názvem Sborník vědeckých prací Lékařské fakulty Univerzity Karlovy v Hradci Králové. Je indexován v databázích Chemical Abstracts, CNKI, DOAJ, EBSCO, Hinari, Index Medicus, MEDLINE, Scopus a Ulrichsweb.
Primary Duodenal Melanoma: Challenges in Diagnosis and Management of a Rare Entity
Konstantina Dimopoulou, Anastasia Dimopoulou, Dimitra Dimopoulou, Eleni Panopoulou, Andriani Zacharatou, Paul Patapis, Nikolaos Zavras
DOI: https://doi.org/10.14712/18059694.2023.2
zveřejněno: 16. 03. 2023
Abstract
Primary melanoma of the duodenum is an extremely rare, aggressive and life-threatening malignant neoplasm. Published data regarding the effectiveness of current treatment strategies is limited, and our knowledge relies mostly on sporadic case reports. The diagnosis of primary duodenal melanoma is challenging and is based on the patient's medical history and findings from physical examination and radiological and endoscopic imaging as well as proper and careful pathological examinations of the tumor. Despite the many advances in cancer treatment, the prognosis for patients with this type of melanoma remains extremely poor. Delayed diagnosis at advanced disease stage, the general aggressive behavior of this neoplasm, the technical difficulty in achieving complete surgical resection, along with the rich vascular and lymphatic drainage of the intestinal mucosa, all have a negative impact on patients' outcome. In the present review, we aimed to collect and summarize the currently available data in the literature regarding the pathogenesis, clinical features, diagnosis, management and long-term outcomes of this rare, malignant tumor, in order to expand knowledge of its biological behavior and investigate optimal therapeutic options for these patients. Additionally, we present our experience of a case involving a 73-year-old female with primary duodenal melanoma, who was successfully treated with complete surgical resection.
klíčová slova: primary duodenal melanoma; diagnosis; management; outcome; treatment; prognosis

Primary Duodenal Melanoma: Challenges in Diagnosis and Management of a Rare Entity is licensed under a Creative Commons Attribution 4.0 International License.
210 x 297 mm
vychází: 4 x ročně
cena tištěného čísla: 150 Kč
ISSN: 1211-4286
E-ISSN: 1805-9694
Ke stažení