ACTA MEDICA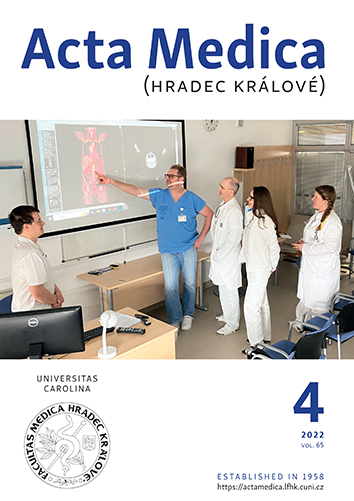 Acta Medica (Hradec Králové) je víceoborový vědecký recenzovaný časopis vycházející v angličtině. Acta Medica publikují review, původní články, stručná sdělení, případové studie a oznámení. Časopis byl založen v roce 1958 pod názvem Sborník vědeckých prací Lékařské fakulty Univerzity Karlovy v Hradci Králové. Je indexován v databázích Chemical Abstracts, CNKI, DOAJ, EBSCO, Hinari, Index Medicus, MEDLINE, Scopus a Ulrichsweb.
Current Status, Prevention and Treatment of BK Virus Nephropathy
Ester Kurašová, Jakub Štěpán, Karel Krejčí, František Mrázek, Pavel Sauer, Jana Janečková, Tomáš Tichý
DOI: https://doi.org/10.14712/18059694.2023.1
zveřejněno: 16. 03. 2023
Abstract
All renal transplant recipients should undergo a regular screening for BK viral (BKV) viremia. Gradual reduction of immunosuppression is recommended in patients with persistent plasma BKV viremia for 3 weeks after the first detection, reflecting the presence of probable or suspected BKV-associated nephropathy. Reduction of immunosuppression is also a primary intervention in biopsy proven nephropathy associated with BKV (BKVN). Thus, allograft biopsy is not required to treat patients with BKV viremia with stabilized graft function. There is a lack of proper randomised clinical trials recommending treatment in the form of switching from tacrolimus to cyclosporin-A, from mycophenolate to mTOR inhibitors or leflunomide, or the additive use of intravenous immunoglobulins, leflunomide or cidofovir. Fluoroquinolones are not recommended for prophylaxis or therapy. There are on-going studies to evaluate the possibility of using a multi-epitope anti-BKV vaccine, administration of BKV-specific T cell immunotherapy, BKV-specific human monoclonal antibody and RNA antisense oligonucleotides. Retransplantation after allograft loss due to BKVN can be successful if BKV viremia is definitively removed, regardless of allograft nephrectomy.
klíčová slova: BK virus nephropathy; BK virus-specific T-cell immunotherapy; monoclonal anti-BK virus antibodies; BK virus vaccine; immunosuppressive therapy; RNA antisense oligonucleotides; kidney transplantation

Current Status, Prevention and Treatment of BK Virus Nephropathy is licensed under a Creative Commons Attribution 4.0 International License.
210 x 297 mm
vychází: 4 x ročně
cena tištěného čísla: 150 Kč
ISSN: 1211-4286
E-ISSN: 1805-9694
Ke stažení