ACTA MEDICA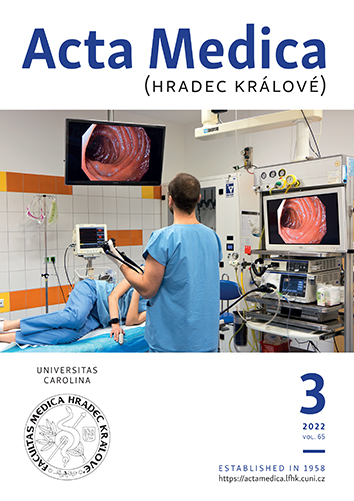 Acta Medica (Hradec Králové) je víceoborový vědecký recenzovaný časopis vycházející v angličtině. Acta Medica publikují review, původní články, stručná sdělení, případové studie a oznámení. Časopis byl založen v roce 1958 pod názvem Sborník vědeckých prací Lékařské fakulty Univerzity Karlovy v Hradci Králové. Je indexován v databázích Chemical Abstracts, CNKI, DOAJ, EBSCO, Hinari, Index Medicus, MEDLINE, Scopus a Ulrichsweb.
Risk Factors for Candidemia in Intensive Care Unit: A Matched Case Control Study from North-Western India
Ekadashi Rajni, Ashish Jain, Shilpi Gupta, Yogita Jangid, Rajat Vohra
DOI: https://doi.org/10.14712/18059694.2022.23
zveřejněno: 02. 02. 2023
Abstract
Candidemia is one of the significant causes of mortality amongst critically ill patients in Intensive Care Units (ICUs). This study aimed to assess the incidence, risk factors and antifungal susceptibility pattern in candidemia cases admitted in ICU in a tertiary care hospital in Jaipur, Rajasthan from June 2021 to November 2021. Candida species isolated from blood culture of clinically suspected patients of sepsis were defined as candidemia cases. Blood culture and antifungal susceptibility testing were performed as per standard laboratory protocol. Analyses of risk factors was done between candidemia cases and matched controls in a ratio of 1 : 3. Forty-six candidemic cases and 150 matched controls were included in the study. C. tropicalis was the most prevalent species (22/46; 48%) followed by C. auris (8/46; 17%) and C. albicans (7/46; 15%). Candida species showed good sensitivity to echinocandins (97%) followed by amphotericin B (87%) and voriconazole (80%). In multivariate analysis, longer stay in ICU, presence of an indwelling device, use of immunosuppressive drugs and positive SARS-CoV-2 infection were associated with increased risk of candidemia. The constant evaluation of risk factors is required as prediction of risks associated with candidemia may help to guide targeted preventive measures with reduced morbidity and mortality.
klíčová slova: candidemia; invasive candidiasis; antifungal susceptibility; ICU; risk factors

Risk Factors for Candidemia in Intensive Care Unit: A Matched Case Control Study from North-Western India is licensed under a Creative Commons Attribution 4.0 International License.
210 x 297 mm
vychází: 4 x ročně
cena tištěného čísla: 150 Kč
ISSN: 1211-4286
E-ISSN: 1805-9694
Ke stažení