ACTA MEDICA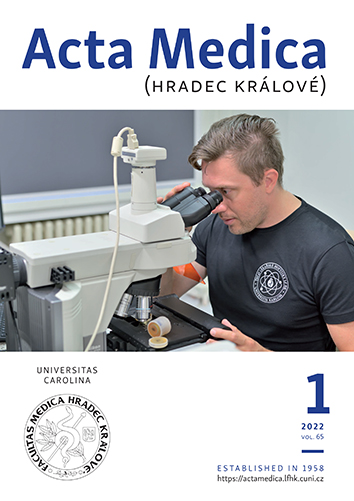 Acta Medica (Hradec Králové) je víceoborový vědecký recenzovaný časopis vycházející v angličtině. Acta Medica publikují review, původní články, stručná sdělení, případové studie a oznámení. Časopis byl založen v roce 1958 pod názvem Sborník vědeckých prací Lékařské fakulty Univerzity Karlovy v Hradci Králové. Je indexován v databázích Chemical Abstracts, CNKI, DOAJ, EBSCO, Hinari, Index Medicus, MEDLINE, Scopus a Ulrichsweb.
Transient Hyperphosphatasemia in a Child with Autism Spectrum Disorder
Štěpán Kutílek, Eva Rondziková-Mlynarčíková, Kamila Pečenková, Richard Pikner, Toáš Šmída, Eva Sládková, Tomáš Honzík, Eva Sládková, Martin Magner
DOI: https://doi.org/10.14712/18059694.2022.16
zveřejněno: 29. 06. 2022
Abstract
ntroduction: Autism spectrum disorder (ASD) is a neurodevelopmental disorder characterized by deficits in social communication and the presence of restricted interests and repetitive behaviors. Transient hyperphosphatasemia of infancy and early childhood (THI) is a benign laboratory disorder characterized by transiently extremely elevated activity of serum alkaline phosphatase (S-ALP). Case Report: We present a 21-month-old girl with a right leg limp, most probably due to reactive arthritis after febrile viral infection, and deterioration of psychomotor development with concomitant transient elevation of S-ALP (61.74 μkat/L; normal 2.36–7.68 μkat/L). Normal values of serum creatinine, aspartate-aminotransferase, alanin-aminotransferase, calcium, phosphate, together with normal wrist X-ray ruled out rickets or other bone or hepatic cause of high S-ALP. The S-ALP gradually decreased within 3 months, thus fulfilling the THI criteria. Screening for inborn errors of metabolism was negative and meticulous neurologic, psychologic and psychiatric assessment pointed to the diagnosis of autism spectrum disorder (ASD). There was no causal relationship between THI and ASD, as high S-ALP was an accidental and transient finding within the routine laboratory assessment. However, when THI occurs in a child with an onset of a new disorder, or with a pre-existing bone or liver disease, it might seriously concern the physician. Conclusion: Children with THI should be spared from extensive evaluations and unnecessary blood draws.
klíčová slova: autism spectrum disorder; alkaline phosphatase; transient hyperphosphatasemia

Transient Hyperphosphatasemia in a Child with Autism Spectrum Disorder is licensed under a Creative Commons Attribution 4.0 International License.
210 x 297 mm
vychází: 4 x ročně
cena tištěného čísla: 150 Kč
ISSN: 1211-4286
E-ISSN: 1805-9694
Ke stažení