ACTA MEDICA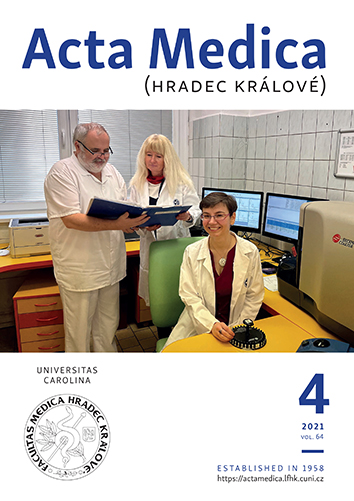 Acta Medica (Hradec Králové) je víceoborový vědecký recenzovaný časopis vycházející v angličtině. Acta Medica publikují review, původní články, stručná sdělení, případové studie a oznámení. Časopis byl založen v roce 1958 pod názvem Sborník vědeckých prací Lékařské fakulty Univerzity Karlovy v Hradci Králové. Je indexován v databázích Chemical Abstracts, CNKI, DOAJ, EBSCO, Hinari, Index Medicus, MEDLINE, Scopus a Ulrichsweb.
Goeckerman Regimen Reduces Alarmin Levels and PASI Score in Paediatric Patients with Psoriasis
Drahomíra Holmannová, Barbora Císařová, Pavel Borský, Zdeněk Fiala, Ctirad Andrýs, Květoslava Hamaková, Tereza Švadláková, Jan Krejsek, Vladimír Palička, Lenka Kotingová, Lenka Borská
DOI: https://doi.org/10.14712/18059694.2022.3
zveřejněno: 04. 03. 2022
Abstract
Background. Psoriasis is a chronic systemic inflammatory disease with (extra-)cutaneous manifestations. Inflammation is associated with cellular stress and tissue damage which lead to the release of alarmins (signals of danger). Goeckerman regimen (GR) is a highly efficacious treatment consisting of the application of pharmaceutical crude tar and UVB light exposure. The reduction of inflammatory processes in the skin is accompanied by changes in the levels of inflammatory markers - alarmins (HMBG-1, S100A7, S1000A8, S100A9, S100A12, IL-17, IL-22, and IL-33). Methods. The alarmin levels in sera of 19 paediatric patients with psoriasis were determined before and after GR using commercial ELISA kits. The Psoriasis area severity index (PASI) was used to determine the disease severity. Results. GR reduced both PASI and the levels of all measured alarmins. The levels of S100A7, S100A9, IL-22, IL-33, and HMGB-1 were significantly decreased. Positive correlations between IL-22 and PASI, between S100A9 and IL-17, S100A9 and IL-22, and a negative correlation between S100A8 and IL-33 were found. Conclusions. Goeckerman regimen is a very effective, safe and low-cost therapy. We confirmed, it modulates the immune system reactivity, ameliorates the severity of the disease and reduces the levels of alarmins reflecting the presence and intensity of inflammation.
Klíčová slova: alarmins; children; psoriasis; HMGB1; S100

Goeckerman Regimen Reduces Alarmin Levels and PASI Score in Paediatric Patients with Psoriasis is licensed under a Creative Commons Attribution 4.0 International License.
210 x 297 mm
vychází: 4 x ročně
cena tištěného čísla: 150 Kč
ISSN: 1211-4286
E-ISSN: 1805-9694
Ke stažení