ACTA MEDICA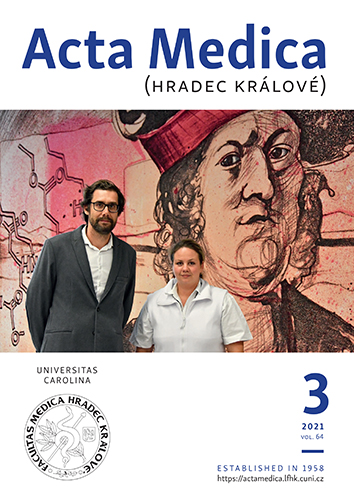 Acta Medica (Hradec Králové) je víceoborový vědecký recenzovaný časopis vycházející v angličtině. Acta Medica publikují review, původní články, stručná sdělení, případové studie a oznámení. Časopis byl založen v roce 1958 pod názvem Sborník vědeckých prací Lékařské fakulty Univerzity Karlovy v Hradci Králové. Je indexován v databázích Chemical Abstracts, CNKI, DOAJ, EBSCO, Hinari, Index Medicus, MEDLINE, Scopus a Ulrichsweb.
Chondroblastoma of the Temporal Bone: A Case Report and Literary Review
Katarína Obtulovičová, Marián Sičák, Adrian Kališ, Tomáš Buday
DOI: https://doi.org/10.14712/18059694.2021.29
zveřejněno: 11. 11. 2021
Abstract
Introduction: Temporal bone chondroblastoma is a rare, locally aggressive tumour originating from immature cartilage, which recurs to a high degree. Treatment is surgical. Radiotherapy is reserved for recurrence. We describe a case of a 15-year-old-boy choosing a conservative surgical approach with reconstruction of the posterior canal wall. This study aims to report a rare pediatric case. Methods: A literature review was performed to better understand temporal bone chondroblastomas, to describe their histopathological and radiological characteristics and to establish the optimal surgical and non-surgical treatments. The research of previous published data was done using PubMed with keywords mentioned below. Results: Authors present a case of a 15-year-old boy with hearing impairment and facial nerve palsy. Conservative surgery with reconstruction of the tympanic membrane and posterior wall of the external auditory canal, restoring the hearing has been performed. We did not administer any adjuvant therapies. No sign of recurrence was observed 1 year after primary surgery. Facial nerve function is normal, and hearing is satisfactory. Conclusion: Chondroblastomas account for less than 1% of primary bone tumours. Temporal bone chondroblastoma is rare, locally aggressive, with a high prevalence of recurrence. This study describes specific histopathological and radiological findings, the chosen surgical approach and follow-up to improve the management and the prognosis of patients affected with this particular clinical entity.
Klíčová slova: chondroblastoma; temporal bone tumour; facial nerve palsy

Chondroblastoma of the Temporal Bone: A Case Report and Literary Review is licensed under a Creative Commons Attribution 4.0 International License.
210 x 297 mm
vychází: 4 x ročně
cena tištěného čísla: 150 Kč
ISSN: 1211-4286
E-ISSN: 1805-9694
Ke stažení