ACTA MEDICA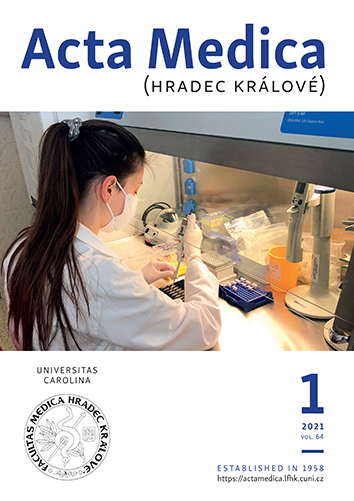 Acta Medica (Hradec Králové) je víceoborový vědecký recenzovaný časopis vycházející v angličtině. Acta Medica publikují review, původní články, stručná sdělení, případové studie a oznámení. Časopis byl založen v roce 1958 pod názvem Sborník vědeckých prací Lékařské fakulty Univerzity Karlovy v Hradci Králové. Je indexován v databázích Chemical Abstracts, CNKI, DOAJ, EBSCO, Hinari, Index Medicus, MEDLINE, Scopus a Ulrichsweb.
Urban or Rural GP? In the Czech Republic It Is not just Distances That Matter
Jan Bělobrádek, Luděk Šídlo, Kateřina Javorská, David Halata
DOI: https://doi.org/10.14712/18059694.2021.3
zveřejněno: 14. 04. 2021
Abstract
This article proposes a combined mixed methods approach to categorising GP practices. It looks not only at location but also at differences in the nature of the work that rural GPs perform. A data analysis was conducted of the largest health insurance company in the Czech Republic (5.9 million patients, 60% of the population, 100% coverage within the Czech Republic). We performed two data analyses, one for 2014–2015 and one for 2016, and divided GP practices into urban, intermediate, and rural groups (taking into account the OECD methodology). We compared groups in terms of the total annual cost in CZK per adult registered insurance holders. The total volume of data indicated the financial costs of €1.52 billion and €2.57 billion respectively. Both analysis showed differences between all groups of practises which confirmed the assumption that the work of the GP is influenced by regionality. A multidisciplinary hospital is the main factor that fundamentally affects the way a GP's work in that area. The proposed principle of categorising general practices combines geographical and cost characteristics. This requires knowledge of the cost data of healthcare payer and on the basic demographic knowledge of the area. We suggest this principe may be transferrable and particularly suitable for categorising general practice.
Klíčová slova: general practice; rural health; regional typology; workforce; efficiency

Urban or Rural GP? In the Czech Republic It Is not just Distances That Matter is licensed under a Creative Commons Attribution 4.0 International License.
210 x 297 mm
vychází: 4 x ročně
cena tištěného čísla: 150 Kč
ISSN: 1211-4286
E-ISSN: 1805-9694
Ke stažení