ACTA MEDICA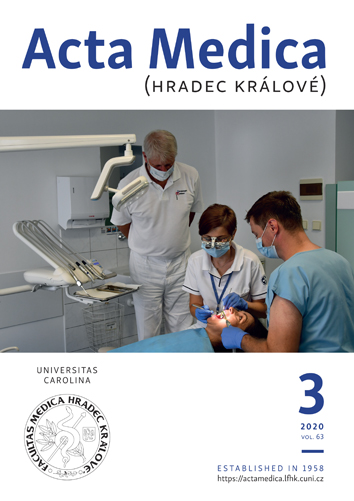 Acta Medica (Hradec Králové) je víceoborový vědecký recenzovaný časopis vycházející v angličtině. Acta Medica publikují review, původní články, stručná sdělení, případové studie a oznámení. Časopis byl založen v roce 1958 pod názvem Sborník vědeckých prací Lékařské fakulty Univerzity Karlovy v Hradci Králové. Je indexován v databázích Chemical Abstracts, CNKI, DOAJ, EBSCO, Hinari, Index Medicus, MEDLINE, Scopus a Ulrichsweb.
Oral Manifestations of Nutritional Deficiencies: Single Center Analysis
Vladimíra Radochová, Radovan Slezák, Jakub Radocha
DOI: https://doi.org/10.14712/18059694.2020.25
zveřejněno: 01. 10. 2020
Abstract
Introduction: Oral manifestations of deficiency of iron, vitamin B12 and folic acid are thought to be common. Prevalence of these deficiencies among patients with compatible symptoms is not well known. The goal of this study was to summarize evidence from a dental practice of iron, vitamin B12 and folic acid deficiency in patients presenting with compatible oral manifestations. Methods: 250 patients who presented with burning mouth syndrome, angular cheilitis, recurrent aphthous stomatitis, papillar atrophy of the tongue dorsum or mucosal erythema were identified. Patients underwent clinical examination, and the blood samples were taken. Results: 250 patients (208 females; 42 males, mean age 44.1 years) with at least one corresponding symptom or sign were identified. The nutritional deficiency of one or more nutrients was found in 119 patients (47.6%). Seven times more females than males were noted to have one type of deficiency (104 females, 15 males). Iron deficiency as defined was diagnosed in 62 patients (24.8%), vitamin B12 or folic acid deficiency in 44 patients (17.6%) and both deficiencies (iron + vitamin B12/folic acid) in 13 patients (5.2%). The only predictive factor was gender and only for iron deficiency. The presence of more than one deficiency was noted in 10 patients (4.9%). Conclusion: The most commonly observed deficiency in dental practice over the course of 11 years was an iron deficiency in the female population. Age, diet and reported co-morbidities did not show statistically significant predictable value in recognizing these deficiencies.
Klíčová slova: anemia; oral manifestations; iron deficiency; vitamin B12; folic acid

Oral Manifestations of Nutritional Deficiencies: Single Center Analysis is licensed under a Creative Commons Attribution 4.0 International License.
210 x 297 mm
vychází: 4 x ročně
cena tištěného čísla: 150 Kč
ISSN: 1211-4286
E-ISSN: 1805-9694
Ke stažení